Rodriguez represents Columbia in New York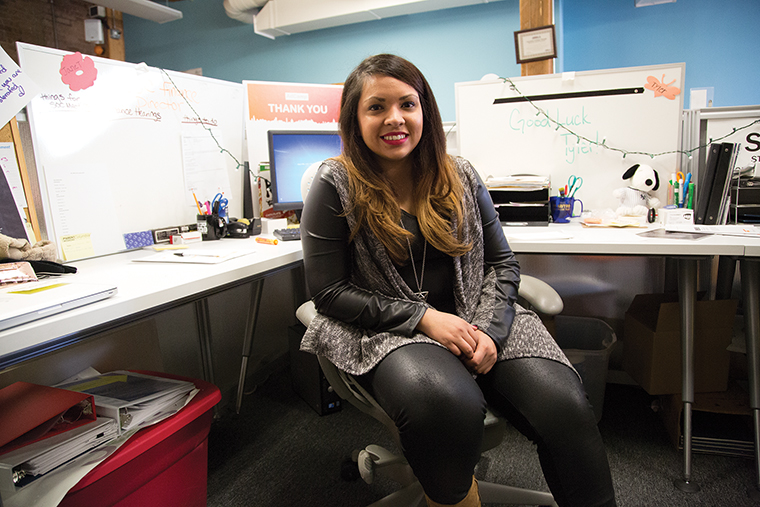 After learning she was the only Columbia student accepted into the American Advertising Federation Most Promising Minority Students program, senior marketing communications major Janet Rodriguez created the hashtag #DrivenByMyTalentsto describe her plans for her career.
The hashtag represents how Rodriguez hopes to obtain her goal of changing the way people perceive Hispanics.
"I've always wanted to make a change in the world, and one of the things I want to change is how Hispanics are portrayed in the media," Rodriguez said. "I think it's a huge problem and I pretty much just want to make it a norm and not something that is unheard of."
Rodriguez will fly on an all-expenses -paid trip to New York City on Feb. 11 and will be meeting with top advertising companies in a recruiters expo put on by the program. Companies participating in the expo will be Wieden+Kennedy, Leo Burnett and Draftfcb Chicago.
Rodriguez is participating in the Most Promising sessions as part of a week-long program in New York.
There, she will join other AAF Most Promising Minority members  and share her plans to address Hispanic representation in the media. Rodriguez was nominated by one of her professors and joined a pool of 80–90 other applicants, according to Melissa Wong, assistant vice president of the AAF. Then five to eight AAF judges selected 50 applicants as finalists to represent the organization, according to Wong.
"We look for someone who shows a lot of potential, a high achiever in the advertising industry," Wong said. "We are looking for students who have exceptional passion for marketing and have started to show evidence of significant contributions you expect them to make as they embark on their career."
To be eligible for the program, a student must be a college senior and nominated by a faculty advisor, advertising professional or AAF member,  in a letter of reccomendation Wong said.
The federation also considers the applicant's GPA, resumé and essay responses, Wong said.
Peg Murphy, a professorin the MarketingCommunicationDepartment and advisor to Columbia's chapter of the AAF, said she nominated Rodriguez because of Rodriguez's drive and work ethic.
"Janet is a terrific go-getter, inside and outside of Columbia," Murphy said. "[During] the first-ever advertising camp that we did here at Columbia, she was a great help working with the two main sponsor agencies. She is a shining example of what a woman can do."
When Rodriguez arrives in New York, she will give a presentation that communicates her vision for a more accurate Hispanic representation in advertisements and media for ad companies.
"I'm excited now because I'm going to be doing something that is going to benefit me in the end," Rodriguez said. "I feel like I've accomplished a lot at Columbia because I've been so active and it's finally paying off so I'm going to make the best of it, just rock it out, make a great impression on people and see where that leads me."
Rodriguez was not always interested in marketing. She transferred to Columbia in the spring of 2011 from the College of Lake County to take advertising classes, which taught her to conceptualize campaigns and ideas and how to write copy, she said.
Rodriguez said she noticed in her previous internships that there was a lack of diversity in the marketing field and she believes the Most Promising Minority program will allow her to address that issue.
Rodriguez plans on working in media planning, where she hopes to advise companies on more accurate ways of portraying Hispanics in advertisements and how to integrate more cultures in advertising offices across the country.
"I can definitely see myself working in an agency that focuses on multiculturalism," Rodriguez said. "That is what I want to get out of being the most promising minority student—to feel comfortable about where I will be working and really know that this is for me."