24-Hour Night a spooky success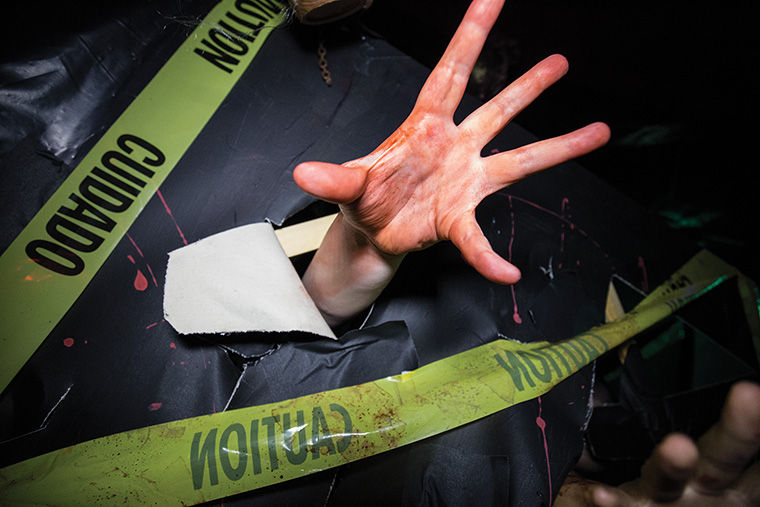 For Columbia students, Halloween is more than just one evening.
24-Hour Night, an annual two-day celebration, took place Oct. 29–30 and featured several student-led events, including a haunted house.
Rachel Anderson, coordinator of Student Activities and Leadership, helped coordinate the celebration.
"We've been prepping this [haunted house event] since about July," Anderson said. "It's not your typical 10-month planned haunted house, but we have been working on it for quite a while. We recruited student organizations as well as individual students who wanted to take on their own room so there isn't one theme throughout."
The haunted house included rooms modeled after a circus, a freak show, a butcher shop and more, according to Anderson. She said the students cleared out the third-floor workroom and built the entire haunted house from scratch. This was the only aspect of 24-Hour Night that was available both nights of the event.
"I want people to take in the creativity of Columbia students," Anderson said. "It was my idea to do a haunted house last year because just being around students here, it is so apparent that an opportunity to create and have a blank canvas [is worthwhile for the students]."
Anderson said the main goal of the haunted house was to scare people and for those attending to have fun.
Another event offered at the 916 S. Wabash Ave. Building was face painting in the lobby, where students could sit down with a professional make-up artist and become a zombie or skeleton for the night.
Shannon Bourne, coordinator of Student Engagement, also helped organize 24-Hour Night this year.
"It's definitely been a combined group effort," Bourne said. "It's fun because this is one event [on campus] that we can be creative and do just about anything we want."
Bourne was in charge of coordinating the Masqueerade Ball at the Conaway Center in the 1104 S. Wabash Ave. Building. Bourne said this event gave students the opportunity to dance to music played by a student DJ and allowed the Renegades Poms team to perform.
"We want to have fun," Bourne said. "Everyone loves Halloween. [The holiday fell] right in the middle of the semester, and it's a good time to have fun and celebrate."
The fun and dancing continued at HAUS in the Quincy Wong Center, 623 S. Wabash Ave. The lobby was converted into the Lobby of Oddities, Anderson said. Students could travel to different stations and events throughout the first floor of the building. There was a tattoo parlor where students could get temporary ink, professional psychic readings, a "Mad Alchemist" with an apothecary making fool's gold and the HAUS party hosted by the "Club Management Practicum" class.
Shelby Genovese, senior business & entrepreneurship major, was named marketing director for the 24-Hour Night HAUS party.
"We want people to be more aware [of HAUS]," Genovese said. "Just having [students] put a name to HAUS would be awesome."
The HAUS party kicked off with pizza and dancing but took a break for a karaoke competition and for a professional mind reader who interacted with the student audience.
Russell Alexander, a senior business & entrepreneurship major and another student in the class, said he helped check students in at the door but caught the event and said the turnout was what he expected.
"I figured people would be walking around [to the different events]," Alexander said. "The only thing that [didn't work in our favor] was that everyone who came in just grabbed pizza and walked out, which is fine, but I was hoping for more people to stick around."
Despite students filtering in and out, the event picked up throughout the night. Many attendees had positive things to say about 24-Hour Night,  especially the haunted house at the 916 S. Wabash Ave. Building and the HAUS party and Lobby of Oddities at the 623 S. Wabash Ave. Building.
Jeremiah Morales, a sophomore audio arts & acoustics major, said the haunted house had very talented performers inside original and interesting rooms.
"It's been nice to see people in costume and I'm excited to get my fortune read," Morales said. "I've been excited for everything really."
Morales said the few events he had attended thus far had lived up to his expectations.
Four freshmen students agreed that their first 24-Hour Night experience was an impressive and creative Columbia production.
Olivia Bennett, advertising and public relations major, and Taylor Robinson, Thea Rice and Isabelle Myers, all cinema art + science majors, started their night out by going through the haunted house and planned to attend the other events as the night went on.
"It was really creative, and the production design was awesome," Myers said. "Everything has been really cool."