Dill Magazine spotlights Asian food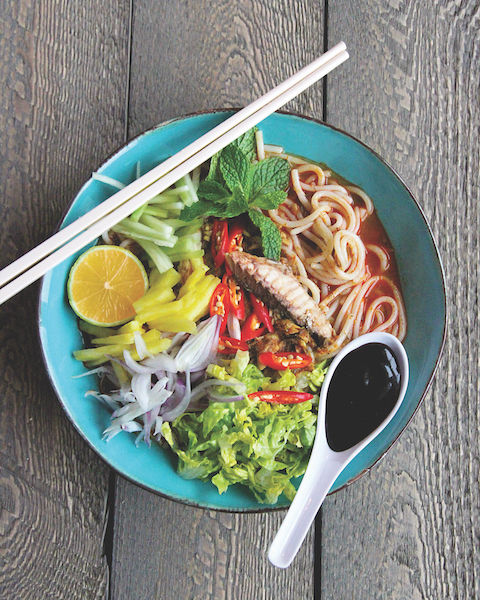 Asian noodles are the theme of Dill Magazine's first issue, released July 17, as the magazine strives to uncover untold stories and "journey deep into the cuisine of Asia," according to its website.
Shayne Chammavanijakul, the magazine's founder, grew up enjoying food, and after listening to her Hakka Thai grandmother's stories one summer, she was inspired to report on underrepresented cultures, cuisines and countries.
"I wanted [a] publication that explores Asian cooking in this detailed and nerdy academic way, focused on home cooks [and] mom-and-pop shops," Chammavanijakul said.
An avid reader of food literature, Chammavanijakul said she noticed writing on Asian food concentrated just on celebrity chefs and famous restaurants. She wanted to fill a niche by sharing recipes with historical, cultural and political backgrounds.
"We really value knowing where these dishes, where these people, these cuisines came from," she said. "We try to seek out these nerdy stories, and we want to share them with the world."
The print quarterly's first issue features 26 recipes, 10 stories and a Pad Thai recipe published in English for the first time, according to Chammavanijakul. Dill's kitchen also triple tests every recipe it publishes to ensure successful results.
Accessibility for home cooks is a big part of Chammavanijakul's vision, and many ingredients can be found in regular supermarkets or local Asian grocery stores, she said. Dill Magazine's premium online content also includes Amazon links to simplify the search, she added.
Yida Zhao, a sophomore cinema and television art major of Chinese descent, often cooks authentic Chinese food but said he struggles to find certain key ingredients in Chicago, making the meals taste slightly different. He said he sometimes orders ingredients online but hesitates because he does not see himself using them often enough to warrant the purchase.
"If I do need [specific ingredients], I'd rather not cook [that meal] since the taste is different," Zhao said.
Even food in Chinatown can taste quite different from home, said Jing Wang, a sophomore cinema and television art major who moved to the U.S. from China, adding that American food is often less spicy and more sweet. 
One thing Wang said she would like Chinatown to have is more unconventional meat like chicken feet. Although animal parts such as organs can be unfamiliar to many Americans, they are often found in many Asian cuisines.
Asian food accessibility does not necessarily mean removing the authenticity of the recipe, Chammavanijakul said. Instead, Dill offers a spectrum of food from a simple noodle stir-fry that can be done after school to big weekend projects with page-long ingredient lists, she added.
"There's a treasure trove of stories that have yet to be told,"Chammavanijakul said. "One thing I remember my high school newspaper adviser drilling into my head was that journalism is about giving a voice to the people. We're hoping that with Dill [magazine] coming out, we'll spur on that mindset and spark that curiosity."