Premium Blend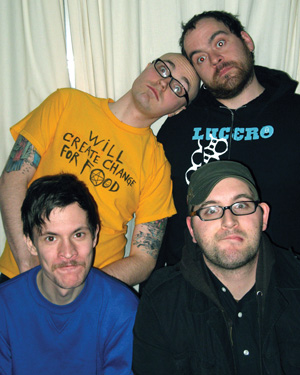 By Evan Minsker
May 3, 2009
In 2005, when two artists decided to leave everything familiar about music behind, Yea Big + Kid Static was born.
Stefen Robinson (Yea Big) used to be in a bluegrass band but now makes the beats on his laptop. Moses Harris Jr. (Kid Static) creates rhymes about sandwiches, Chicago and Mega Man. Together they create a monstrous musical mash-up which they classify as "hip-hop for the stationarily challenged."
The Chronicle spoke to the band about what type of music they have played in the past, what they play now and why their music keeps changing.
The Chronicle: What genre is your music?
Kid Static: It's rap. It's hip-hop, but it's fringe. I truly feel like we're on to something different, but how many acts say that? We play a lot of rock shows and weird line-ups, and people always come up to us and say, "I don't really listen to hip-hop, but I really like you guys." So I don't know what that makes us.
Have you always done this type of music?
Yea Big: No, I like hillbilly stuff, like playing the mandolin. I was in a bluegrass band before I was into this stuff.
KS: I'm into bread-and-butter hip-hop, the stuff that [Yea Big] really finds annoying.
YB: I don't really like rap music.
KS: Which is surprising because you're making it now, buddy.
How did you start?
KS: It was three years ago, right before the Internet bubble collapsed.
YB: We met through a dating service.
KS: No [it wasn't actually for dating], we met on the Internet. He was looking for an emcee, and I was looking for something different to do. We made four tracks and liked it.
YB: And we got chicks out of it, too.
KS: No we didn't.
What do you strive to bring to your performances?
KS: Even if only three people show up, I want to leave it all out there. Just do the best show possible. Even if it's just the bartenders, I would do the same show for them as for 150 people. It's like your responsibility almost-to put it all out there every single time.
Why are you always changing your music?
KS: We play Chicago a lot because we're from here. We just played the Hideout, [1354 W. Wabansia Ave.], and if people come out to both shows and see the exact same show then they'll feel cheated.
YB: If we play the same songs, even with the vocals I deliver, I try to change stuff up and keep it organic. The end of "Stomp the Pedal" will always be different.
How do you create your beats and lyrics?
YB: I have OCD, and I sit down and drink a lot of coffee. By the time I get up, I got a beat done.
KS: Usually [Yea Big] sends me a beat. Sometimes he'll name a track that instantly gives me an idea of what to write for it. Other times I'll struggle with it for three days and not be able to come up with anything. I'll fall asleep listening to it, and in the state right between awake and asleep, s–t will just pop into my head, and I'll actually get up out of my bed to work on the track.
What's the back story to the song "Eatchyo Samwich"?
KS: We played at a hardcore/metal show. It was seven groups and us. Yea Big doesn't really drink. He was outside eating a sandwich and this guy comes up to him. This dude's wasted, and he says something, but Yea Big kind of asked him to leave him alone. And the dude goes, "Fine then, eatchyo samwich." And he backs away and says, "I'll kick yo samwich." Later, when we were on tour we kept brainstorming; we came up with the first line, "Don't be flashin' your samwich like you better than me," and that was the end of it. We had to do it.
Where do you want to be in the future with your music careers?
YB: I want to be making a very modest living out in the country. We're touring a couple months out of the year, making records and being on my porch playing banjo the rest of the year, drinking iced coffee and playing with my dog.
KS: I figure I'll get really into heroin. Burn out at maybe 32.
YB: I was going to say 32.
KS: And then probably get clean, see what Lindsay Lohan is up to, move to LA, get into the movie business, produce a couple films and then fade into oblivion where nobody has ever heard of me.
Yea Big + Kid Static will play Sept. 21 at the Abbey Pub, 3420 W. Grace St., at 8 p.m. The band might hand out flashlights to the crowd and dim the lights, or just break out into choreographed dance. They've done it before.
For more information, visit MySpace.com/YeaBigKidStatic.