Student debt a national epidemic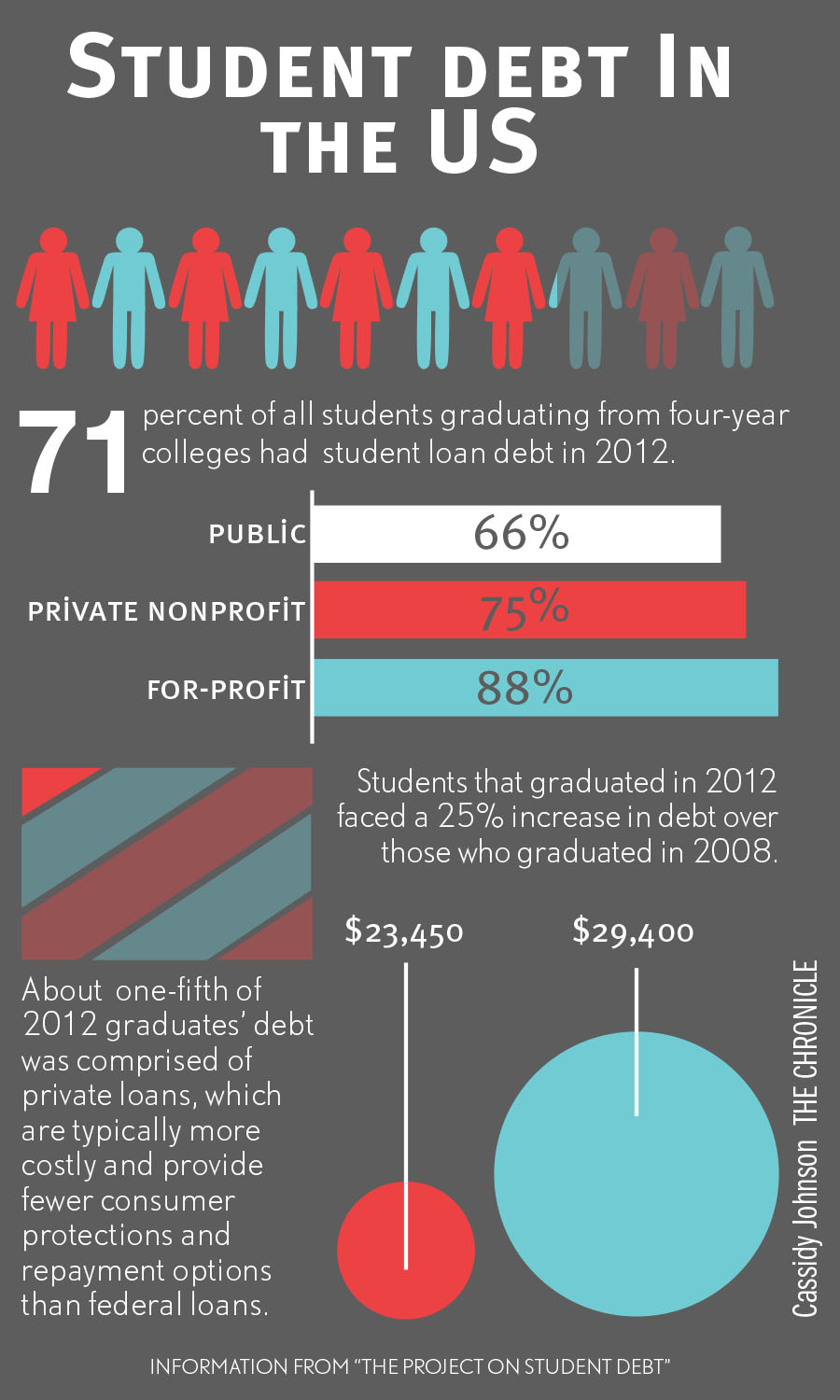 As tuition at colleges across the country continues to rise, student debt remains an epidemic that plagues many students and graduates, and Strike Debt has taken notice.
Strike Debt, an organization that began after the Occupy Wall Street movements, is creating Debt Collective, a debtors' union that is the first of its kind. The project launched last week and aims to combat the massive amounts of debt that students have accumulated in the U.S.
Thomas Gokey, an organizer of Strike Debt and its debt purchasing project, Rolling Jubilee, said the organization raised money through crowdfunding on the organization's website from Nov. 15, 2012–Dec. 21, 2013 to abolish all types of liabilities, beginning with medical debt. Strike Debt was able to purchase $20 worth of debt for every $1 donation and has since abolished approximately $15 million dollars of medical debt.
"That sort of exceeded the ratio of being able to abolish debt for five cents on the dollar," Gokey said. "At that point, we felt we fulfilled our public obligation on that front and can now finally move on to other forms of debt."
Student debt became the next step because many people involved with Strike Debt have it. Gokey said he personally has $67,000 worth of student debt and that 40 million other Americans are in the same situation.
"The reason students on average are graduating with $33,000 worth of debt is [because], by design over the last 30 years, we have cut state appropriations to higher education every single year, and we've shifted the cost of education onto individual students in the form of increasing tuition," Gokey said.
According to Gokey, Strike Debt determined it would cost $12.4 billion annually to make every public two- and four-year institution in America completely free to everyone who is enrolled, but this change is going to have to come from the people, he said. Strike Debt and Rolling Jubilee have no plans to do another student debt buy because focusing their efforts on the Debt Collective instead could help solve the student debt issue, Gokey said.
"In order to actually solve the problem, we're going to have to shift tactics," Gokey said. "It's going to take a mass movement in order to actually solve the underlying problem, so that's sort of where we're shifting our energies away from Rolling Jubilee as a tactic."
In other countries, a world-class education can come without debt, which is what the Debt Collective is trying to advocate for in the U.S., Gokey said.
"Nobody should be forced to mortgage their future just to get an education," Gokey said.
Kat Lucid, a senior theater major, transferred to Columbia from Moraine Valley Community College in suburban Palos Hills, three semesters ago and had to take out loans from the beginning of her education, she said.
"There are so many countries in the world where higher education is free because people see it as investing in the future," Lucid said. "The way it's set up now, people are almost competing to be able to go to college instead of it actually contributing to society."
Many in society have finally begun taking notice of the student debt crisis, especially online, she said. The Internet community is beginning to raise awareness and the government  addressing the problem by implementing loan relief plans, she said.
Pearl Natali, director of outreach, education and financial planning in the Student Financial Services office, said student debt is a national concern that is not just specific to Columbia. However, she said the college is starting to recognize the problem because the majority of Columbia students use some sort of financial aid, whether it be a loan, scholarship or other type of aid, she said.
"It's definitely on everyone's mind in [terms of] how we can make everybody fully aware of the terms and what they're taking on," Natali said. "It's definitely one of our top priorities."
Natali said she works closely with families and students to inform and guide them on financial responsibilities, funding options and procedures to obtain funding. The college allocates resources to make students aware of their finances starting at the admissions process.
"[The process] includes continuously putting in that information for students through the whole process of matriculation once they're enrolled and then once they leave," Natali said. "It's not like a one-time type of interaction with a student. It's built into pretty much everything so it can really be connected across the board."
Although Lucid said she thinks she is knowledgeable on what it will take to pay back her loans because information is readily available to her, she said she does not know if she will have a steady income to pay them back because she will not immediately start work in her field.
"With a liberal arts degree, it's going to be way more difficult for us to pay it back just because typically we have to start out in careers that aren't exactly what our major was," Lucid said. "Living what you love comes at a cost."