Day of the Dead event celebrates all cultures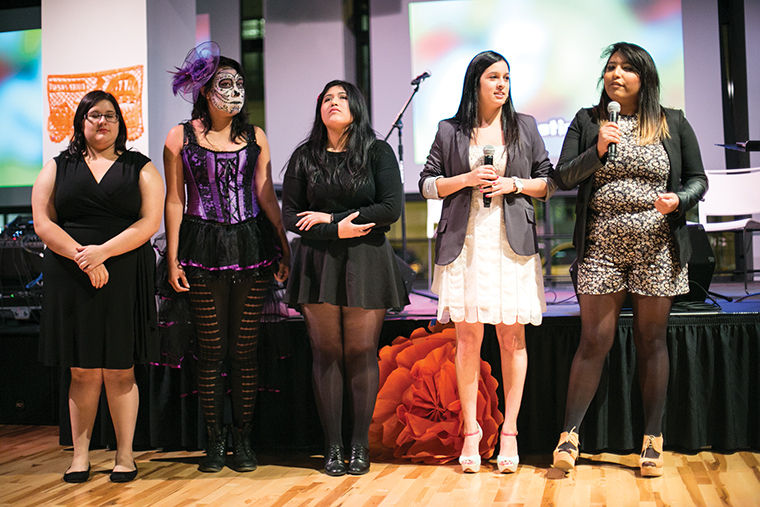 Students from all cultures gathered at the Conaway Center in the 1104 S. Wabash Ave. Building on Nov. 7 for the annual Mexican celebration known the Day of the Dead, held by Columbia's Latino Alliance student organization.
The evening featured spoken word, dance and song performances adjacent to a room containing an altar to commemorate loved ones who have died.
Alexis Castanos, junior journalism major and president of the Latino Alliance, said she was excited about the event and was pleased with the at-capacity turnout.
"I could just cry," Castanos said. "This is the first big event that I've planned as president of the Latino Alliance and having to go through the struggles and all the challenges we've faced with creating an event and seeing people connecting through the event and  finding common ground and then pulling off something like this is rewarding."
Castanos said she wanted everyone present to feel the familial warmth of the Latino Alliance where people can feel comfortable and connect. All cultures were welcome to attend and celebrate Day of the Dead at Columbia, she added.
"Something we focused on this year was making it so people from different cultures can all relate to the sentiment behind Day of the Dead," Castanos said. "We're all coming together to remember lost loved ones. Everyone's lost somebody in their life that they loved, so why not come together? Through this event, we give a chance for Columbia students and anybody in the Chicago area the ability to have this same sense of celebration, connection and family. That's what [this event and organization] are about."
Kip Knight, a senior cinema art + science major, said the chance to learn about a different culture than his own was what drew him to attend the celebration.
"My friend said, 'Hey, let's go to the Day of the Dead event,' and I was like, 'Why not?'" Knight said. "I've always loved the [Mexican] culture, and I've always been fond of it. It's never too much to learn about a culture that you love so much."
Knight said any event that celebrates cultures outside of one's own is a good enough reason to go.
"The history of Day of the Dead is very  powerful and inspiring, and [celebrating this known event on campus] brings people together," Knight said.
Gerardo Galván, the coordinator of Latino Cultural Affairs and adviser of the Latino Alliance, said it is important for students to learn about many different cultures, especially celebrations like Day of the Dead.
"I hope that [attendees] see that there are a lot of different cultures on campus," Galván said. "There are a lot of cultural organizations and cultural departments, so we're trying to spread a lot of the culture that the city has just within the campus  [environment] and for students to go around and learn about those kinds of cultures."
He said he hopes students will be able to remember the true meaning of the Day of the Dead. It is easily attributed to Halloween, which is not the intention, he added.
"Death is still a sad part of life, but it's a good way to see a twist and kind of celebrate it and remember the lost loved ones that we've had and celebrate those good memories," Galván said.
The event was a success, according to Castanos and Galván. Both said they had a lot of support on campus in bringing off the event. The Latino Alliance hosted the event Friday evening after losing its usual space on Stage Two in the 618 S. Michigan Ave. Building and having to face the many challenges of the Conaway Center and its different and unusual architecture, Castanos said.
"I definitely feel like it was a success," Knight said. "I came in and started smiling immediately from ear-to-ear. The feel, the atmosphere, the people, the performances, [basically] everything was just great and superb."