Neo-Futurists time warp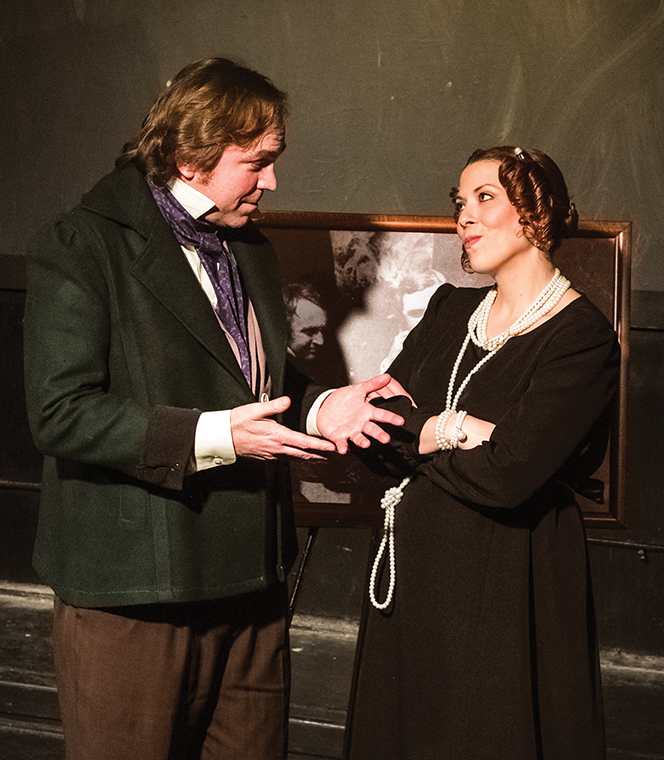 By Jaclyn Jermmyn
March 17, 2014
Forget guzzling cheap beer in a friend's apartment. Instead, Chicagoans could pull out their most dapper 1800s attire and head to Andersonville, where the night could be better spent with a bit of boozy theater.
Presented by the Neo-Futurists theater, "The Earliest Known Photo of Men Drinking Beer" plays with history by parodying the photo- graph "Edinburgh Ale," thought to be the first photo taken of anyone with alcohol. Partners in photography Robert Adamson and David Octavius Hill took the photo fea- turing Hill, Scottish political re- former Dr. George Bell and writer James Ballantine, circa 1843 in Edinburgh, Scotland.
According to writer and director Sean Benjamin, viewers are in for a raucous work of comedic historical fiction that explores the ideas of identity and commemoration during the show's run until April 12 at the Neo-Futurists, 5153 N. Ashland Ave.
"Edinburgh Ale" serves as an ideal subject for the Drinking & Writing Theater, a series of shows put on by the Neo-Futurists that focuses on alcohol. The show imagines the subjects' emotions in the moments leading up to the photograph being taken. Each actor embodies both a real historical figure as well as flaunting their own personalities, creating a commentary on the events of the play as they unfold.
The inspiration for the play came with a little help from The Chicago Beer Society.
Benjamin said when its members found the photograph, they contacted him immediately.
He said he began to wonder about the lives of the men pictured as soon as he saw it. Hill was originally a painter who experimented with photography as a way to capture scenes that he could later paint. According to Benjamin, at that time, photography was a brand new medium and was not yet considered an art form.
Bell was a commissioner for Scotland's Poor Law of 1845, which was enacted by Parliament to reform poverty relief in Scotland. Ironically, Bell thought the poor should not have access to alcohol and advocated for prohibition among lower classes.
"The most famous picture that he's in is with him drinking a beer," Benjamin said. "The hypocrisy of it made me laugh."
In the fall of 2002, Benjamin co-founded the Drinking & Writing Theater with friend Steve Mosqueda after doing a show with the Neo-Futurists theater group called "Drinking and Writing." The show's popularity led the two friends to expand on the idea of mixing creativity and alcohol. At the beginning, the Drinking & Writing Theater was less focused on theater and ran its program more similar to lecture series.
"We could consider it like a survey course," Benjamin said. "It covered a lot of the drinkers and writers in America."
The real fun began for Benjamin and Mosqueda after expanding to their own stage in 2007. After adding member Carolyn Shoemaker-Benjamin, the Drinking & Writing Theater started to put together more theatrical performances.
Since embracing performance, the Drinking & Writing Theater has played with various unconventional styles of playwriting. In "The Earliest Known Photo of Men Drinking Beer," characters are continuously breaking the fourth wall to talk directly to audience members and comment on the show's other characters. For actor Kevin Alves, who plays Adamson, the atypical show style was a new undertaking.
"Breaking walls and talking directly to the audience is a style I haven't had a chance to work in a while bunch so it was nice to be able to push myself a little bit that way," Alves said. "The product has turned out great. I have really enjoyed myself working with this group."
The characters remain aware of their own storylines and eventual fates, adding to the show's atmosphere. The embedded sense of mortality is often passed on to audience members, prompting them to question the legacy they will leave after they are gone, according to Benjamin.
Linking art and audience is an essential skill to create an experience that evokes a positive response, he said. "Drinking is an integral part of any culture," said local tavern historian Liz Garibay. "When you're having a drink with someone, whether it's a beer or a cocktail in whatever environment you choose to be in, you're doing what because you want to sit down with someone and have a conversation with them."
Like sharing a good drink, "The Earliest Known Photograph of Men Drinking Beer" sparks a unique and often humorous conversation between the actors and audience while blending the past and present into one alcohol-infused event.