Poetry that soothes the soul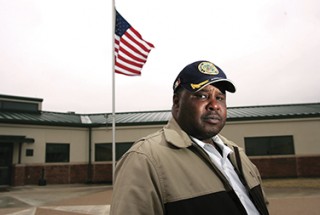 One Chicago writer is helping war veterans cope with the tension caused by trauma experienced during military duty.
Kathleen Nesbitt, a certified Poetry Therapist, is offering a 16-week workshop that aids in helping veterans, as well as active military personnel, cope with their experiences during their transitional period-from soldier to civilian.
The free workshop, which started on Oct. 18, is held every Saturday at the National Vietnam Veterans Art Museum, 1801 S. Indiana Ave., and will give veterans an outlet to tell their own personal stories that some people may not have heard.
"They are from all different experiences," Nesbitt said. "We have Vietnam veterans, peacetime veterans who have had significant experiences with the veteran administration, veterans from the Balkan conflicts and a half-dozen veterans who participated in Operation Enduring Freedom and Operation Iraqi Freedom."
The workshop is offered to members who are a part of support groups like Jesse Brown VA Medical Center's Family Members Transition group and The Soldier Project, a nonprofit that provides free counseling to service members and veterans.
"Any type of self-expressive medium can be an avenue to help overcome [post-traumatic stress disorder] typically found in people who have been to war or any traumatic experience," said Andrea Skoglund, a licensed clinical social worker at the Jesse Brown VA Medical Center.
Poetry therapy can be particularly useful for veterans groups, said Diane Allerdyce, president of the National Association of Poetry Therapy.
"It depends on if the person is there for therapy or support," Allerdyce said. "They're used for both especially in support groups, [where people] are gathered to deal with life issues and transition."
Working with veterans is something close to Nesbitt. Her father, a World War II veteran, was troubled, wounded and an alcoholic, which she said made her suffer from secondary post-traumatic stress.
Nesbitt, now 47, went on to marry two Vietnam veterans who also struggled with their own post-traumatic stress disorders which resulted in very violent and unsuccessful relationships.
Writing her own story about what she's been through made her realize the kinds of patterns she followed and has enabled her, through this project, to come full circle.
"It's total forgiveness on my part, understanding and wanting to help people not repeat [the] same cycles so they [don't feel] trauma," Nesbitt said. "What affects one member of the family, affects the whole family."
Nesbitt said people tend to repeat the patterns they were raised with, whether it is subconscious or not.
Although it's called "poetry therapy," Allerdyce said, there is a much broader meaning that utilizes an individual's experiences and helps them cope through the creative use of language-not just poetry-to promote well being and insight on personal development.
"When people get deployed, they find themselves in [a] set of challenges, and when they come home, it's hard for them to talk about their experiences with [people who are close to them]," Skoglund said.
Nesbitt sees poetry therapy as a venue for healing and said the program is a place where veterans can start to recognize the difficulties they are having in trying to transition back into society and help heal in post-traumatic stress disorder.
"It's a place to share and bear witness to the difficulties and traumatic experiences [the veterans and active members] have experienced," Nesbitt said.