College enrollment numbers show steady increase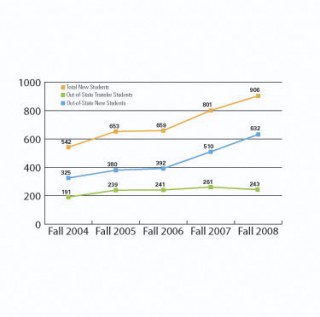 Columbia's most recent enrollment numbers, which the college released on Sept. 12, show upward trends in out-of-state and minority enrollment, as well as a higher ratio of full-time students to part-time students.
According to the annual fall report, Columbia has seen a 13 percent rise in its number of minority students since 2004. That includes a 16 percent increase in the number of new freshman minority students, from 705 in 2007 to 835 this semester.
The number of students from outside Illinois and neighboring states has also almost doubled in just four years, from 542 students in 2004 to 904 students now.
Mark Lloyd, associate vice president of Marketing and Communications, said these numbers are encouraging for everyone.
"We think this means our students find the experience here to be valuable and worthy of investing time and their family's money," Lloyd said. "People chose to come here as their first choice. This enhances the value of every student's degree."
Murphy Monroe, executive director of undergraduate admission, said the college's conscious effort to recruit minority students-including black, Latino and Asian students-is starting pay off, not only in the number of students who enroll but in their academic preparedness.
"That's a really important combination," Monroe said. "Lots of national institutions with major-name identification are recruiting just as aggressively as we are. It's a big deal that in the final outcome, students in large numbers are choosing Columbia."
While the college is actively recruiting minority students within the Chicago area, it's also stepping up its recruitment efforts both nationally and internationally. Mark Kelly, vice president of Student Affairs, said this can partially account for the 67 percent increase in out-of-state enrollment in just four years.
"That's an extraordinary number," Kelly said. "We're targeting them down to the high school level. We've worked to develop relationships with individual high schools in about 20 different out-of-state markets that are now really starting to bring results."
Kelly said Columbia is now a leading importer of out-of-state freshmen in Illinois, second only to Northwestern University. Monroe said it all points to the fact that the college outreach efforts are starting to come to fruition.
"Students coming here from Seattle aren't finding us-we're finding them," Monroe said. "They're learning about Columbia because of the college reps we're sending to their area."
The ratio of full-time to part-time students is continuing to shift steadily. This semester, 89 percent of the student body attends Columbia on a full-time basis, up from 86 percent in 2004.
Lloyd said this trend is fostered by Columbia's evolution into a more "traditional" college, as well as the addition of new on-campus residence options.  He said the cost and pressures of attendance also discourage those who have to work and go to school simultaneously from ever enrolling.
"It's harder and harder for students to attend college while they're working," Lloyd said. "All colleges are more expensive than they were in the past, and it's difficult for students to balance the expenses of work life and a student life."
While Kelly said Columbia hasn't changed its generous enrollment policy, it has changed its expectations of students who do decide to attend.
"If you don't follow all the procedures, you can't come," Kelly said. "We're treating enrollment and attendance really seriously. We're not changing our philosophy, but we're expecting a lot from students-just as they should expect a lot from us."