Students to debut Columbia's first late night show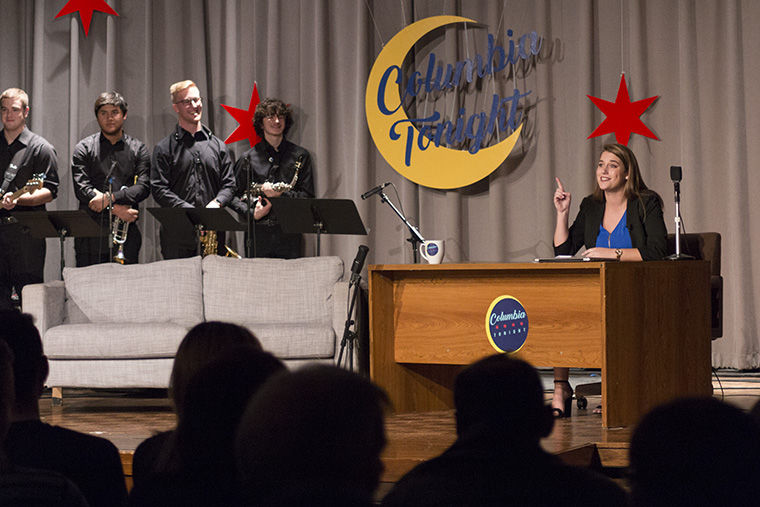 Drawing inspiration from other colleges and several popular late night shows, students created Columbia's first late night style talk show, showcasing student talent and entertainment, according to the show's creators.
Kate McDermott, a sophomore television major, and Natalie Toland, a sophomore theatre major, said they founded "Columbia Tonight," after learning about University of Pittsburgh's late night show, "Pitt Tonight,"
"Columbia Tonight's" first live taping Nov. 18 was free for students and open to the public at Stage Two of the 618 S. Michigan Ave Building. The show plans to air online Dec. 2, and the creators hope to film new episodes every five weeks. The episodes can be found on the organization's website, Facebook and YouTube.
"The purpose of 'Columbia Tonight' is to give students seeking a career in writing, producing or marketing an opportunity to exercise their creative talents while learning and experiencing the implementation and production of late night TV," the creators said on the show's website.
According to McDermott, the show's executive producer, the student organization the produces the show was approved in late August and began advertising open positions early September. She said she expected about 45 participants but was speechless when 140 students arrived to the first meeting.
"To see that so many people shared a dream Natalie and I had, and to see our idea of creating this and making something any student can be involved in really coming to life was exciting," McDermott said.
The show is produced using the college's television equipment and plans to raise money through fundraising and audience donations, McDermott said.
Unlike other Columbia TV programs, "Columbia Tonight" is produced completely by students, offering them more creative freedom, Toland said.
"We have the freedom to be creative and think differently, and we don't have guidelines," Toland said. "These are all students who might not have had their voices heard before and now are able to. This is revolutionary."
Co-founder Toland, who is also the vice president and host of the show, said most of the executive board members, producers and writers are female, which is important to her because women in comedy are often overlooked.
"I want to see more representation out there, so this is a great way to start that," she added. "Our female voices are outstanding and really are unrecognizable, so that was something we really wanted to focus on."
Although she does not watch late night shows currently on TV, Arely Anaya, a sophomore creative writing major, said she is interested in seeing "Columbia Tonight."
"It would be interesting to see something created from Columbia, especially [having] a woman host," Anaya said. "I don't watch too many [late night shows] at all and to see that [female representation] would be a bonus."
With four more shows planned this school year, McDermott said she is looking forward to their upcoming tapings and  hopes to build viewership.
"We're going to do our best to make sure our show represents Columbia and our city," McDermott said. "I hope that if Columbia students enjoy it, they'll like it, share it or want to get involved."