NASA discusses future goals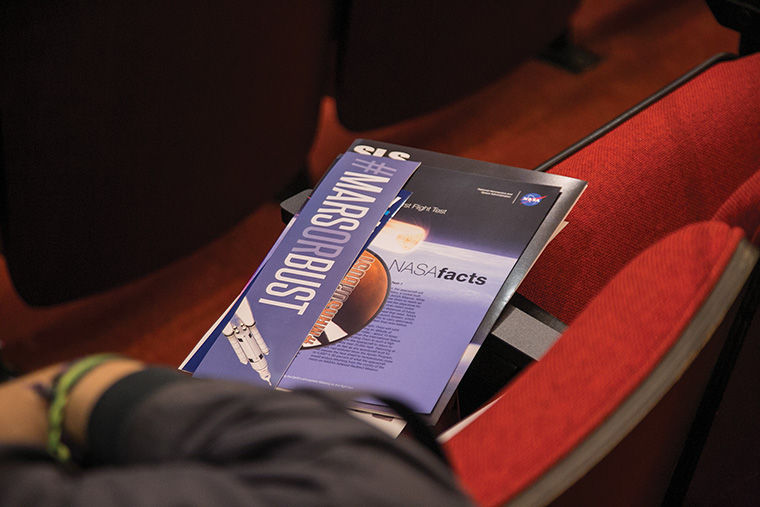 As the 15th annual World Space Week came to a close, Columbia students gathered at Ferguson Hall in the 600 S. Michigan Ave. Building on Oct. 8 for a presentation on NASA's new Orion spacecraft.
Linda Singleton, senior communications manager of Lockheed Martin, and Kay Anderson, communications leader of the space program at ATK Aerospace Group, spoke about NASA's deep space, unmanned Exploration Flight Test 1, which is expected to launch Dec. 4. Sarah Schlieder, a sophomore journalism student at Columbia and a media intern at NASA, helped organize the event.
NASA aims to send people out on missions to Mars in the near future, but the process requires several tests, such as the EFT-1, to ensure safety, according to Singleton.
"This is not going to happen overnight," Singleton said. "It's a long process that requires a lot of testing of unique machining and tooling of products. You have to get everything hand-crafted."
Singleton said the testing process could last up to 30–40 years to ensure all tests are successful. Astronauts in the International Space Station stay in low orbit near Earth for nearly a year to make observations and see how the body reacts to a zero-gravity environment.
"Our next mission [after EFT-1]will be Exploration Mission 1," Singleton said. "[It is] a 'lunar fly-by,' which will be our first test of the Space Launch System, which ATK is currently working on."
EM-1 will not have a crew on board and will only go near the moon for a couple of days, but it will test the new SLS vehicle, which will be the main system on the Orion spacecraft to carry astronauts and cargo into deep space.
"If all of that goes well, we can put a crew on our next flight, which is called Exploration Mission 2, [which is tentatively] slated for 2021," Singleton said.
NASA also has plans to go to an asteroid and bring it into lunar orbit so astronauts can analyze interstellar rocks closer to home.
All the missions are ambitious and costly, but one of the biggest issues that these media representatives say they come across is the lack of public awareness. NASA is a government-run agency much of whose funding comes from taxes, and Singleton and Anderson said more people need to be part of the experience so they can feel secure about where their money is going.
"We try to do a 'space chat' on Twitter with astronauts and engineers at our companies, trying to connect with events that are going on," Anderson said.
Aeronautics companies, such as Aerojet Rocketdyne, Boeing and ATK, use social media to show the public why humans should further explore space.
There is also an educational aspect to expanding public awareness. Singleton, Anderson and Schlieder, along with other NASA employees and contractors, have been traveling the U.S. to visit museums and science centers and offer virtual field trips to young children.
The team happened to be in Chicago during this year's World Space Week, which takes place Oct. 4–10 annually. Their stop at the Adler Planetarium to present a 45-foot-long mock Launch Abort System rocket, known as the LAS Pathfinder, gave them the opportunity to speak with fans of space exploration on Columbia's campus.
Opportunities for student involvement in these organizations are vast and open to anyone.
"A lot of people look at space and say, 'Oh, I'm not an engineer, or I'm not a rocket scientist; I can't do that,' but actually the program takes all kinds of people to make it successful," Singleton said.
Schlieder is an example of NASA opening its doors to majors outside of the science field. As a media intern, Schlieder, who is enrolled in Columbia's Science Journalism program and has worked for The Chronicle, works closely with Anderson and Singleton, and receives hands-on experience while gaining knowledge on some of the most difficult-to-understand sciences. Schlieder said this is one of the best things she has done academically.
"The biggest project I've been given is writing a weekly report that we send to Congress in Washington D.C.," Schlieder said. "It's fun because you're working on the progress report all week and you send it in and think, 'My writing is being read to Congress, to our statesmen,' and it's cool to think about that."