Students talk sex safety during college assembly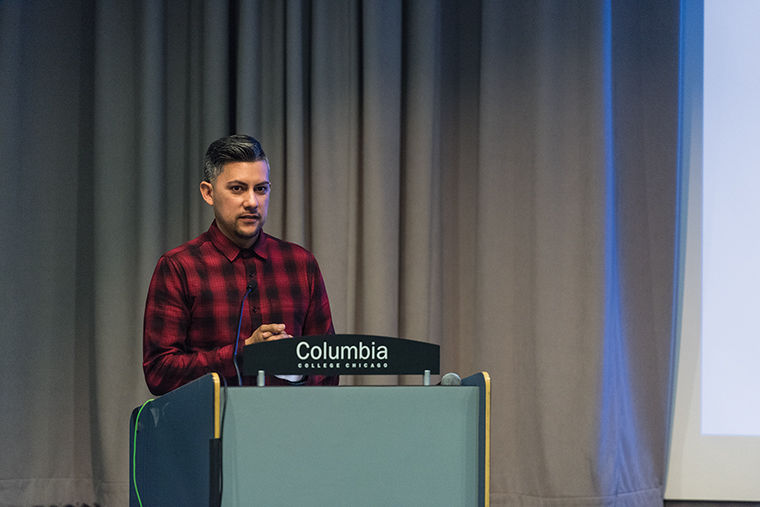 Columbia should send an annual email to students solely devoted to basic information about Title IX, said two student speakers at a college assembly in honor of Sexual Awareness Month.
Panelists, sophomore journalism major Mia DiSanto and junior theatre major Natalie Toland, discussed issues of student awareness the college could improve on, one being the way Title IX information is currently sent to students–embedded in the Annual Fire and Safety Report. 
Students, faculty and staff gathered at Stage Two, 618 S. Michigan Ave., for the April 10 assembly titled "Let's Talk About Sex." The Columbia College Chicago Assembly and Office of the Provost-sponsored event asked panelists to speak about aspects of sexual education they often encounter.
Although about 30 individuals  attended the assembly, most were students enrolled in a "Women's Healthcare Issues" class taught by adjunct professor in the Humanities, History and Social Sciences Department, Sharon Powell. 
Besides DiSanto and Toland, other panelists included Powell,  Email Marketing Manager in the Digital Group Office Geoffery Anderson and Chicago Alliance Against Sexual Exploitation educator Milton Coronado.
Powell discussed the history and previous accomplishments of her "Women's Healthcare Issues" course; Coronado shared his experience facilitating classes for young men about ending sexual exploitation through CAASE; and Sanderson spoke about a dating app he created that offers a platform specifically for people with disabilities. 
Powell's students, DiSanto and Toland, spoke to the audience about improvements Columbia could make to better inform students of its Title IX policy and other sexual education resources such as a mandatory first year class on the subject. 
"Giving students the opportunity to explore and talk about things [is important]," Powell said. "For me, it's not just about us giving them information and pushing but also getting pushback."
In addition, Associate Dean of Student Health and Support Beverly Anderson and Title IX  Investigator Janely Rivera spoke with students in a small group discussion after the assembly about the services offered by the Dean of Students and Equity Issues offices. 
Sophomore creative writing major and assembly attendee Christian Nisbit said it is important for students to have chances to learn about consent and sexual safety in college because when students first enter college, they have a new sense of freedom, and with that comes responsibility.
"When you go to a college environment, it is freedom, where you have so much you can do and there are so many structures that you had that are now gone," Nisbit said.
Both DiSanto and Toland addressed the audience on behalf of a campaign called "Presence of Yes," which aims to increase awareness of sexual assault and bring an end to the mistreatment of sexual assault cases on college campuses. The campaign is managed by the students in Powell's course, a group that changes each semester.
Although students participating in the campaign have also engaged in events outside the college, Powell said this was the first time they spoke at an on-campus event.
Besides discussing how to improve student sexual education, DiSanto also shared information about the history and previous accomplishments of her campaign.
Sexual education teacher Coronado spoke about the value that his work with CAASE offers young men everyday.
"I basically work to empower young men who go to high school, and soon universities, to become allies of survivors of sexual violence and exploitation, particularly women, in the ways they think, they talk and they react toward these issues," Coronado said.
Another aspect of Coronado's duties as an educator are one-session workshops, which are not specific to high schools but to any group that has an interest in learning more about issues such as consent, masculinity and sexual harassment.
Anderson, talked about Glimmer, his smartphone application that allows individuals with disabilities to meet. Anderson said he said he developed the app after noticing his brother, who has a moderate cognitive impairment, had always struggled to build relationships outside of his family.
"It's not directly connected to sex," Anderson said. "I like to say that sex is just a part of it because it is a part of relationships—hopefully a positive part. I think we can agree, based on all the discussions we have heard today, that too often, there is a negative association with a lot of the things that revolve around sex like exploitation and other areas."
DiSanto said assemblies like "Let's Talk About Sex" could be effective in spreading knowledge about sexual safety, but only if more people from the college community attend. A large portion of attendees were members of Powell's course and few came on their own accord.
"The biggest problem with really important assemblies like this, and even other assemblies at Columbia, is that there is not enough student involvement," DiSanto said. "We need to find a way to get students to think, 'This applies to my life, and I need to be here.'"