Student turns heads with Pac-Man design
By Michael Pedraza
March 2, 2009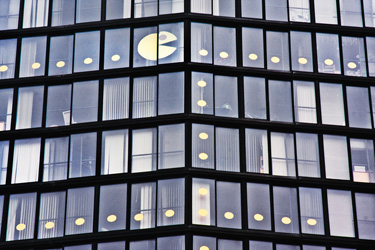 Joe Jacks' small idea has become a big reality. The 20-year-old television major was walking home from class several weeks ago when he noticed a tiny Pac-Man in a window at the 2 E. 8th St. Building.
"How cool would it be to make a giant Pac-Man of the whole building?" Jacks said.
Jacks took a photo of the building and made a grid, which outlined every window in the building. With a budget of $42, he bought 350 sheets of paper, 16 poster boards and 16 packages of tape.
He knocked on 80 doors and placed 450 circles on the inside of the windows, starting at the sixth floor and going up to the 21st floor.  And on Feb. 12, his vision became viewable to anyone who walked by the corner of State and 8th streets.
"Everyone was ecstatic about it," Jacks said.
Freshman theater major Amanda Wachholz, 19, said she also enjoys the Pac-Man design.
Sharon Ptak, community director at the 2 E. 8th St. Building, appreciates the creativity by Jacks and other students.
"As long as it is not offensive, they can pretty much express themselves however they want," Ptak said.
Hang on for a minute...we're trying to find some more stories you might like.