Students spin tracks
By Deborah Fellinger
March 2, 2009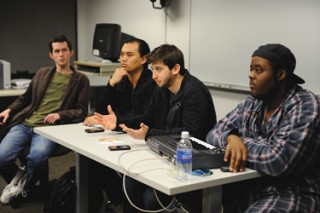 There is a notion that all it takes to be considered a DJ is a laptop computer and a futuristic sounding name. Not so, says the Columbia College DJ Collective.
"Originality in deejaying right now is a dying art," said Paul Evangelista, a sophomore majoring in audio arts and acoustics, who serves as president of the collective.
The collective, established in spring  2008, aims to educate aspiring DJs on the tradition and fundamentals of deejaying, in addition to helping DJs find gigs.
"The three things we're focusing on are networking, education and performance," Evangelista said.
The club holds two-hour, bi-monthly DJ workshops for Columbia students Tuesdays at the 33 E. Congress Parkway Building that go over basic and advanced techniques for all levels of deejaying, including information such as where to buy DJ equipment.
"It's a great workshop,"said junior audio engineering major Nick Stoynoff, who serves as the group's vice president.   "It's an opportunity to learn how to spin. There's a serious lack of education out there—people think being a DJ is playing a bunch of songs."
A Wednesday lunchtime DJ series has been hosted by the collective at the Hokin Annex in the Wabash Campus Building, 623 S. Wabash Ave., since the group's establishment. Three DJs each play a 40-minute set, which could include musical stylings ranging from hip-hop to electronica. Within electronica, various substyles include house—which originated in Chicago— drum and bass, electronic, techno and trance music, Stoynoff and Evangelista said.
"It creates more of an atmosphere," Evangelista said. "We've had nothing but positive feedback."
Because of advances in technology and the widespread use of new software programs that provide features to automatically match beats and replay looped segments of music, "everyone and their grandma today is a DJ," Stoynoff said.
The collective intends to help cultivate the skills and knowledge working with vinyl and CDs endeavoring DJ needs in order to be successful in Chicago.
"We educate students on formats," Evengelista said. "We can show them technique, but they really have to know their music. The DJ market in Chicago is very competitive."
Nevertheless, many DJs continue to use traditional DJ setups of a deck, mixer and an amplifier to play music.
"There's so much talent here," said Sean Kelly, 23, treasurer for the collective, who is in his first year majoring in arts, entertainment, and media management. "The infrastructure here supports it. You can go and see some awesome DJ shows."
When playing a club or party, "the bottom line is playing the right song at the right time," Stoynoff said. "What separates the pro from the amateur [is] reading the crowd."
Though patrons take note: "Most DJs do not like requests," Stoynoff said, as a requested song may not fit the mood and ambiance a DJ is trying to create. "You've got to make a journey, tell a story when you play. You have to work the crowd."
Some 90 members are currently active with the collective, which is an officially recognized student organization.
"We have a lot of organizations with a lot of different interests," said Aldo Guzman, director of Student Engagement. "We look for organizations that bring value to the college experience."
Being involved with a club is an extension beyond merely attending classes at school, Guzman said. "It helps students develop an entire college experience while they're here, become really involved with campus, find out what's going on and develop a lot of different skills."
While the popularity of using various mechanics to remix already recorded music has many wondering if such a genre is merely furor, "it's a necessary evolution of the age we live in," said Alex Grimes, junior music composition major. "Music doesn't just come out of nowhere, it's a tradition."
The collective will showcase DJs at this year's Manifest on May 15.
Hang on for a minute...we're trying to find some more stories you might like.