Featured Artist: Joseph Hogwood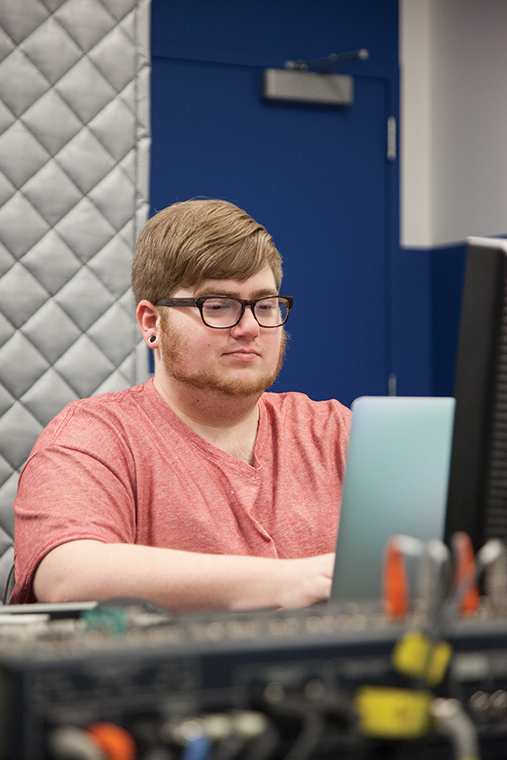 "Charlotte Seeker," an arcade-inspired video game that resembles a fast-pace, pupil-dilating "Pac-man," will allow players to blast through space as a heroic princess. The game's nostalgic sci-fi world was created by senior interactive arts & media major Joseph Hogwood and will be available to purchase and play with Sony electronics at the end of 2014.
Hogwood and his room mate, Dan Hernbrott, a fellow senior interactive arts & media major, have been working on the game for nine months and launched a Kickstarter for it Jan. 23.
Although this is Hogwood's first major project, "Charlotte Seeker" has already raised $2,307 of its $8,000 goal with 83 backers as of press time. The kickstarter funds will go towards purchasing Sony PlayStation rights for the game to be sold and played on the popular game console, Hogwood said.
Hogwood and Hernbrott collaborated with local artist Brent Eaton, aka TNERB, and Spencer Riedel, a 2013 Columbia interdisciplinary interactive arts & media and music alumnus, who is creating the game's action-packed soundtrack.
The Chronicle spoke to Hogwood about the future of "Charlotte Seeker," his passion for audio and his education.
THE CHRONICLE: How did you get the idea for "Charlotte Seeker?" 
JOSEPH HOGWOOD:  We were   working on a game inspired by another game called "Binding of Isaac," and as we started playing around with the game, it morphed into what it is today. Game design is a really inverted process, so you start with one idea and as you keep working on it, it generally starts to change and turn into something different.
CC: How did you end up meeting your fellow collaborators? 
JH: [Hernbrott] and I do all of the programming and all of the design, and I handle everything else with working on the game. [Hernbrott] and I met after I transferred [to Columbia]. My first semester, [I was in] a class called Game Culture and [Hernbrott] was also in the class. Both of us were vocal in the discussion, so we ended up hanging out and we just ended up working on all of our projects together. It just so happens that we work really well together. All of the game design work that we have done before has been with each other.
CC: What made you want to go to school for interactive arts and media? 
JH: I grew up like a lot of people in their 20s by playing video games and I never had any aspirations about working on them. I was a musician growing up and loved music. I threw both of them together because I like music and I like video games. But once I got here and got into the program, I found that I actually really liked it and started really [working on] all aspects of game design like programming and graphics.
CC: How are you planning to use the Kickstarter money?
JH: Commercially, it would be nice if we could sell enough copies to pay rent and feed ourselves, but that aside, we want to make something that we're proud of, especially so early in our careers. The biggest thing we want to do with it is to publish the game onto the Sony PlayStation and to raise money to be able to pay the licensing fees. The licensing fees are upward of $20,000, so we would really love to find the money to get it out on PlayStation because that would be really cool.