Talent Pool buckles up and buttons down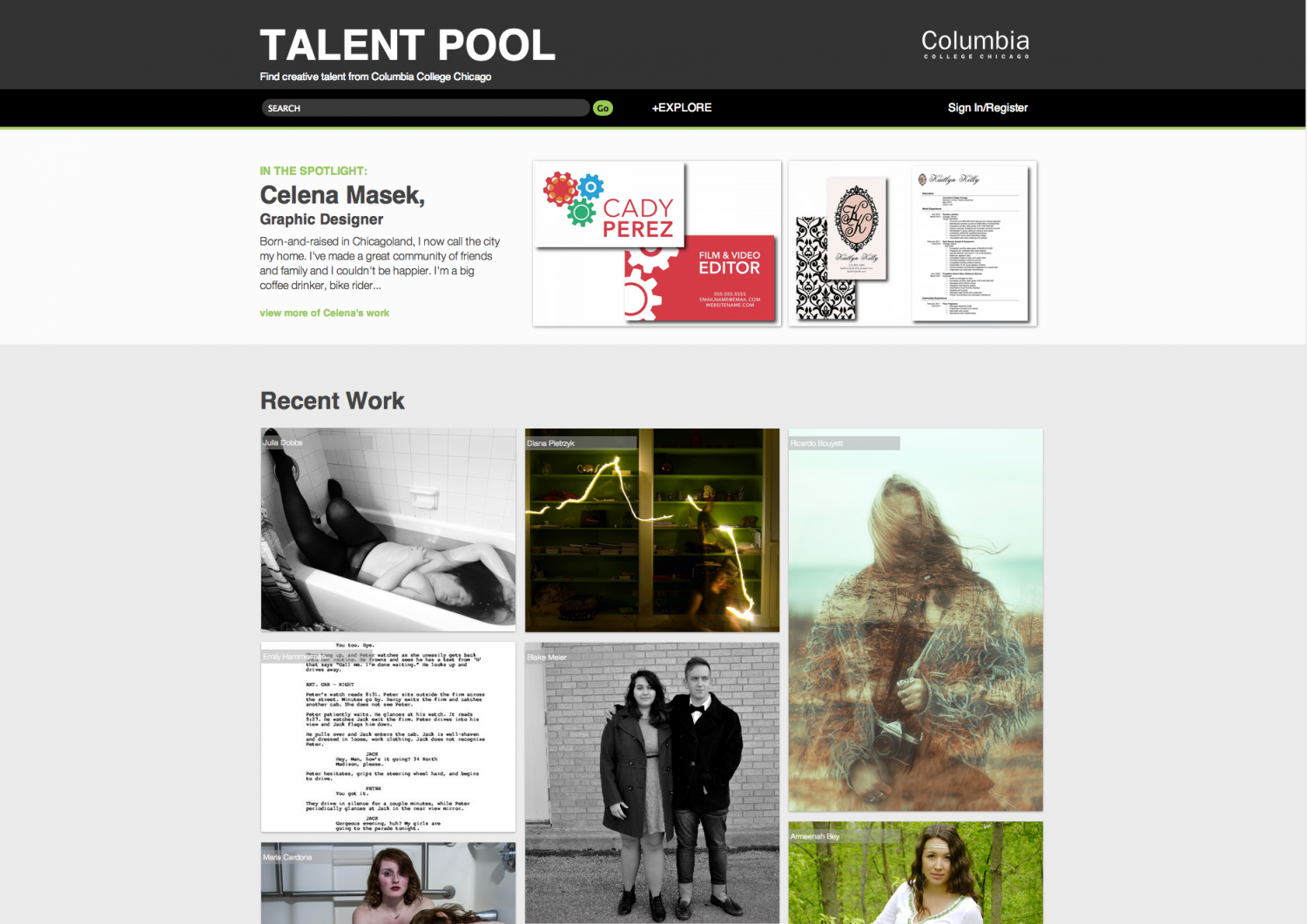 An improved version of Columbia's Talent Pool website launched April 2 with a revamped interface.
Talent Pool, a website created by the Portfolio Center in 2010, is a platform used to flaunt students' work and lure prospective collaborators, according to Dirk Matthews, interim director of the Portfolio Center. Matthews said the site was redesigned to give students' work a more professional appearance and make it easier for students to find each other and collaborate.
"This has been a long time coming," Matthews said. "The new website is really about showcasing student work and we've added a couple features to reinforce that."
Although the original Talent Pool interface was developed by the Portfolio Center, the new update is a collaborative effort between the Portfolio Center, the office of Information Technology, the office of Creative Services and the office of Web Development, according to Matthews.
The updated interface includes features that enable students to use a preferential name, display projects, upload media faster and copyright their work through Creative Commons.
"In an ideal world, every student would have a Talent Pool profile," Matthews said. "It makes students more available for collaborative opportunities. [Professionals] are looking to scout talent, and now they can view student work prior to contacting a student."
The Portfolio Center planned to launch the update earlier, but it was postponed because of a lack of resources, Matthews said. The Portfolio Center lost resources after its initial launch in 2010 but was able to make the update this year, Matthews added.
"We've been waiting awhile to make the system more user friendly and bring work more to the forefront," Matthews said.
Additional updates are coming in the future, though, Matthews said, adding that the Portfolio Center will be working throughout the summer to make the search engine more sophisticated.
"We hope to continue working on this over the summer and will slowly be rolling out features," Matthews said. "The main method of searching is not as intuitive as it should be to make the search more dynamic."
Abigail McLean, Talent Pool designer, said she wanted student work to be featured similarly to the way posts appear on Pinterest.
"I felt like [the new site] needed an area to highlight the work visually instead of by dots," McLean said. "I came up with a concept of a curated spot for students' work to be featured."
Justine Olson, a sophomore theater major, said she uses Talent Pool often and has been contacted by fellow students and people outside the college to collaborate on short films.
"I think that anything that can advance technology and networking for the art community is great because we all need to work together," Olson said. "We pay so much to go here. We need to get ourselves out there now so we can succeed."