Rahm pulls strings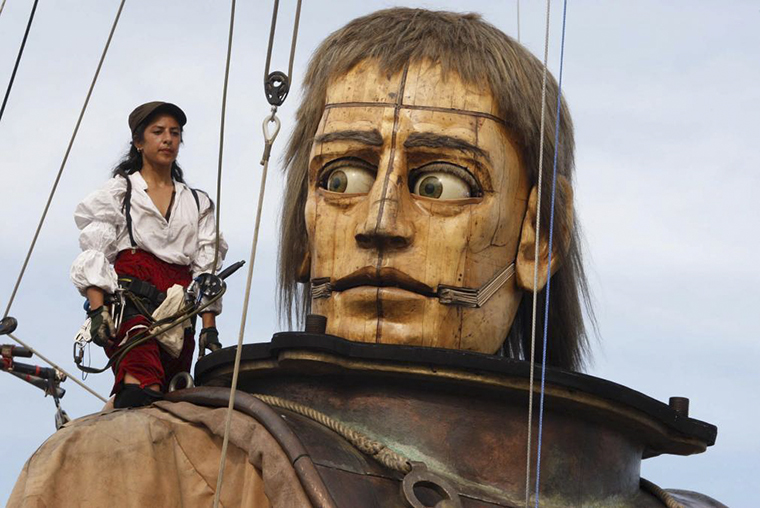 By Arts & Culture Editor
May 12, 2014
City officials are reportedly pulling some strings to bring gigantic puppets to Chicago.
Mayor Rahm Emanuel is currently negotiating a multimillion dollar deal with Royal de Luxe, a French street performance company that creates marionettes towering as tall as 50 feet, to bring its unique street puppetry to Chicago in summer 2016, according to an April 18 Chicago Tribune report. Although the city's puppeteering community is enthused, locals are questioning whether the money would be better spent elsewhere.
Royal de Luxe's productions, which have never graced U.S. streets, feature a team of puppeteers who dash wildly about the street while manipulating enormous marionettes suspended by large cranes and lengthy braids of rope. Marionettes such as an elephant that sprays water on observers and a gargantuan man clad in a diving suit star in plays such as  Luxe's 2010 "The Deep-sea Diver, his Hand and the Little Girl-Giant," which ran for several days in Antwerp, Belgium.
According to the Tribune report, the Department of Cultural Affairs and Special Events has been tasked with procuring the puppets to bring new cultural experiences to the city. The department declined to provide The Chronicle with a comment on the deal.
David Herzog, Great Lakes Regional Director of the Puppeteers of America and owner of Dave Herzog's Marionettes, said he thinks Royal de Luxe would entice both locals and tourists.
"I just think from the sheer size [of the puppets] they're going to appeal," Herzog said. "[It could be] a major cultural event that will bring in people from all over the place."
Frank Maugeri, producing artistic director of Redmoon Theater, 2120 S. Jefferson St., said he had the opportunity to travel to Nantes, France, several years ago on a Theatre Communications Group grant to visit Royal de Luxe's workshop.
"It was without a doubt one of the most extraordinary, magical experiences of my life," Maugeri said. "They are doing something absolutely singular. Nobody's making the kind of sophisticated objects manipulated live before the audience in the way they are producing anywhere on this planet."
Many local puppet enthusiasts are thrilled, but some residents are skeptical, if not a bit alarmed. 
Ameere Jordan, 20, a freshman studying audio production at the School of the Art Institute of Chicago, said he thinks the funding that would be used to bring Royal de Luxe to Chicago could be better spent elsewhere. He said he thinks the city should examine its priorities and use city dollars to reduce crime.
Jonathan Castejon, 33, shared Jordan's sentiment and said the puppets' appearance makes him   very uncomfortable.
"There's so much more we could do with that money other than bring some damn puppets," Castejon said. "I'm all about the arts as well, but those puppets are creepy."
Herzog said he is not surprised that some people have had a negative reaction to the proposed puppet deal, but he said he thinks it has little to do with the marionettes.
"That's always the question, isn't it? Funding for the arts," Herzog said. "Here in Chicago, people don't mind millions of dollars being spent on sports teams and events… I'm all for the city spending this kind of money to bring a cultural event that will give pleasure to hundreds of thousands of people. [Tourists] will bring in income to the city. People shouldn't think that the city is just spending all this money on these 'dumb' puppets."
Maugeri said he has seen the positive effect Royal de Luxe has had on communities in the past.
"I think that if you take a look at the impact, the economic impact especially, that Royal de Luxe has on other cities when they travel there, the kind of tourism that it attracts, the kind of attention that they get and the kind of motivational spirit that the scale of the puppet and the tremendous craft of those objects generate, there is an incredible benefit to the city of Chicago," Maugeri said.
Liverpool, England is hosting Royal de Luxe for its production, "Memories of August 1914," this summer to commemorate the centenary of World War I. In 2012, the city hosted a performance of "Sea Odyssey: Giant Spectacular" to honor the Titanic's sinking in 1912.
The giants were chosen to honor the somber occasions because they resonate deeply with Liverpudlians, said Liverpool City Events Manager Andy McNicholl. 
"Royal de Luxe [was] very clever in the way they [told stories about the historical events] and they used the emotion of those tragic events and turned it into a show showing the human side of it," McNicholl said.
The shows honor historic events affecting Liverpudlians. Luxe's "Sea Odyssey: Giant Spectacular," told the story of a small girl who sent a letter to her father, who was aboard the Titanic when it sunk. This year's performance will pay reverence to the bands of Liverpudlian men who volunteered for the service in 1914, not yet aware of the horrors of war, McNicholl said.
During the "Sea Odyssey" weekend, an estimated £32 million, or $54,230,400 million, was spent in Liverpool, McNicholl said. He added that there was a flood of requests to bring Royal de Luxe back for a second time before the city agreed to host them again this year.
"The one question we've been [repeatedly] asked since the giants' visit is, 'When are they coming back? When are they coming back? When are they coming back?'" McNicholl said. "We don't normally do things twice, [but] it's right across the demographics of Liverpool, [from] your 8-year-olds to your 80-year-olds. Everyone just got it and kind of got absorbed [into it]."
McNicholl said the puppets were brought to areas of the city that needed regeneration and that citizens are overwhelmingly in favor of funding the marionettes' second run.
"Since we've announced they're coming back again, no one has even mentioned the money," McNicholl said. "Liverpool, like most cities in the U.K., is going through some tough times in terms of spending cuts, but no one has once said we shouldn't be spending money on the giants."