Chicago 'to bring in the light'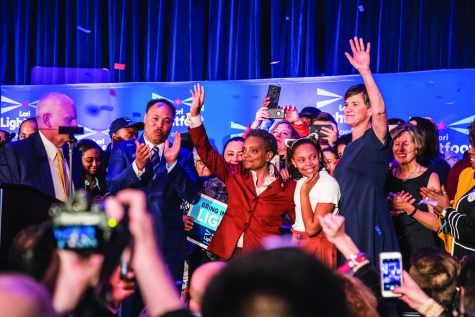 While it may be short-lived, Mayor-elect Lori Lightfoot is enjoying a political honeymoon after a landslide victory over Cook County Board President Toni Preckwinkle, making Chicago the first major U.S. city to have an openly gay, black woman at its helm.
In the days following the election, Lightfoot began to mend fences with Preckwinkle, who remains in charge of county government, after a vitriolic campaign. She met with Mayor Rahm Emanuel to get a briefing on the major issues she will face when she takes office May 20.
But first, she took time for reflection and celebration.
"Out there tonight, a lot of little girls and boys are watching. They're watching us, and they're seeing the beginning of something, well, a little different," Lightfoot said during her April 2 victory speech. "They're seeing a city reborn, a city where it doesn't matter what color you are, where it surely doesn't matter how tall you are. Where it doesn't matter who you love, just as long as you love with all your heart." 
The election was a complete rejection of Preckwinkle's mayoral aspirations as Lightfoot won all 50 wards—including the 4th Ward where Preckwinkle was alderman in the '90s. Lightfoot obtained 73.7% of the vote compared to Preckwinkle's 26.3%. The last mayoral landslide of this scale was in 2003 when Richard M. Daley took 78.46% of the vote. 
Despite the blowout, voter turnout was low, at only 31.28%, according to the Board of Election Commissioners for the City of Chicago. According to data from the election board website, voters aged 18–24 accounted for only 8% of all voters.
Erik Schiller volunteered for the Lightfoot campaign while the 13 other candidates were still running and her chances of landing in the runoff seemed slim.
"Seeing it grow from a few people to a whole city voting for her is pretty incredible," Schiller said at Lightfoot's election night party. "She is more and more what the face of our country is, and she is definitely the face of our city."
While Schiller was working with the Lightfoot campaign, his friend Sisco Hollard did not even know who she was.
"When [Schiller] came back talking about Lori Lightfoot … I [said], 'What are you talking about? Who is this candidate?'" Hollard said. "But when [he] started talking about her platform and how she was an anti-machine politician … I [said], 'Oh man, you are probably onto something here.'"
Chicago has not had a female mayor since Jane Byrne left office in 1983. It will also be the first time since 1989—when Richard M. Daley defeated Eugene Sawyer—that Chicago has had a black mayor. Sawyer succeeded Harold Washington, who became the city's first black mayor in 1983.
In the runoff elections for City Council seats, the biggest upset came in the 40th Ward where 36-year incumbent Patrick O'Connor lost his seat to AT&T Statewide Area Manager and Democratic socialist Andre Vasquez.
First-time aldermen will also take over in the 20th and 25th Wards, with Jeanette Taylor replacing Ald. Willie Cochran (20th Ward) and Byron Sigcho-Lopez taking over for Ald. Danny Solis (25th Ward).
However, some City Council incumbents managed to hold onto their seats, including Ald. Roderick Sawyer (6th Ward), Ald. Howard Brookins Jr. (21st Ward) and Ald. Ariel Reboyras (30th Ward). 
In the race for city treasurer, State Rep. Melissa Conyears-Ervin defeated Ald. Ameya Pawar (47th Ward) to replace Kurt Summers. 
Preckwinkle still holds significant power in her position as Cook County board president and pledged to continue her civic service during her election night concession speech.
"While I may be disappointed, I'm not disheartened," Preckwinkle said. "For one thing, this is clearly a historic night. Not long ago, two African American women vying for this position would have been unthinkable … I still believe in the power of public service. It's why I've dedicated so much of my life to it. It's why I'll continue to dedicate my life to it."
Lightfoot reinforced her campaign promises of police department reform, economic and job development, affordable housing and an end to machine politics in her election night victory speech.
"When I was a little girl, I remember singing the song 'This little light of mine, I'm gonna let it shine,'" Lightfoot said. "We've said it's time to bring in the light, and it's sure shining on all of us tonight."