Women of color-owned vintage store Her & Ziba celebrates grand opening in Ravenswood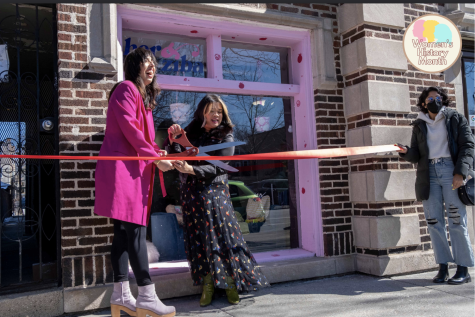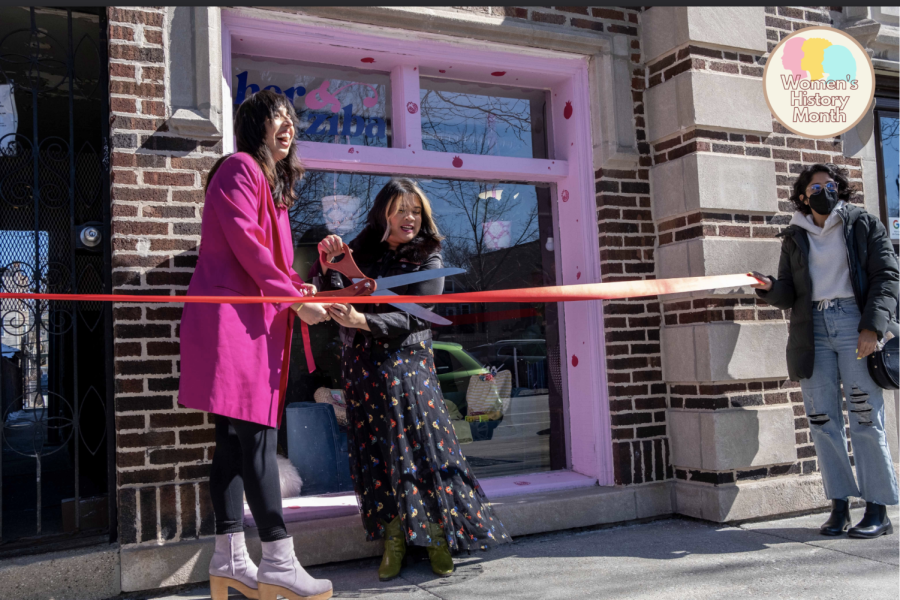 A vibrant pop of pastel pink and purple followed by the aromatic smell of incense welcomed guests as they walked into Her & Ziba in Ravenswood Saturday. The shop dog, a black chihuahua mix named Mushroom, excitedly greeted visitors as they browsed. Elhom Karbassi, co-founder of Her & Ziba and Mushroom's owner, was seen walking around the shop serving free drinks and offering limited edition, branded tote bags to celebrate its grand opening.
The cold wind and chilly weather did not stop Karbassi and co-founder and stylist Leslie Castromayor as they cut a scarlet ribbon outside the shop to symbolize the store's official launch.
Her & Ziba, 4919 N. Damen Ave., carries a variety of vintage clothing from the 1960s to the 1990s that features eccentric prints, silk lingerie, fur coats and bold accessories from their sustainably sourced curations.
"I try to do less thrifting and more sourcing from individual sellers," Karbassi said.
Castromayor wants Her & Ziba to help customers explore their fashion styles no matter their gender or sexuality.
"At our core, we are here for bringing the community together and bringing fresh styles to everyone," Castromayor said. "We welcome all walks of life and want vintage to be accessible."
The friends have previously hosted market events, such as Vintage & Flowers at Ørkenoy brewery, located at 1757 N. Kimball Ave., to uplift small business owners and promote ethically sourced designs. Her & Ziba focuses on combating the gentrification of thrift stores and uplifting local community creators, as the two founders are both first-generation Brown women.
The goal of the shop is to create a welcoming space for all shoppers and vintage lovers.
"[Her & Ziba] creates a space where anybody can come in and feel welcomed and can find clothes that fit their body, their mood and their gender," Karbassi said.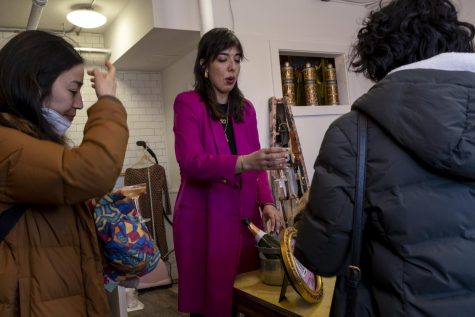 Before selling fashion at local markets and launching Her & Ziba, Castromayor sold vintage clothing separately under the name "Never Heard of Her Vintage." Karbassi's business was called "Ziba Finds," as it relates to her Persian background, and "ziba" means "beautiful" in Farsi. Through combining their previous store names, Her & Ziba was formed.
"We are both first-generation, so that was a big inspiration," Karbassi said. "We decided 'Ziba' was really important to me because keeping the Persian part of my name in [the business title] was cool."
Karbassi previously worked at a nonprofit for combating domestic violence and sexual violence prevention and left in 2020 to focus on selling vintage at markets full-time, where she befriended Castromayor.
"I got really burnt out with the nonprofit industrial complex and a lot of the white saviors when it comes with that and decided I wanted to leave nonprofits," Karbassi said. "[Vintage selling] was my thing that brought me joy on the side while I was still doing domestic violence and sexual violence prevention work."
Castromayor has always worn secondhand clothing ever since she was a kid and received hand-me-downs from her two older sisters.
"I just liked having or creating a wardrobe that already had a story to tell," Castromayor said.
Sarah Saladino, design engineer and customer of Her & Ziba, is drawn to the store because it's a women-owned business and shopping vintage allows her to be more environmentally conscious.
When asked why it's important to support women-fronted businesses, Saladino said, "Money talks, and I want to spend my money where it matters."
Her & Ziba is open every weekend from 11 a.m. – 6 p.m. on Fridays and Saturdays and 11 a.m. – 5 p.m. on Sundays, with Mushroom making an appearance every Friday. For more information on the brand's fashion launches and local flea market events and pop-ups, visit the shop's Instagram.