With a lifelong passion for writing, Columbia alum publishes first novel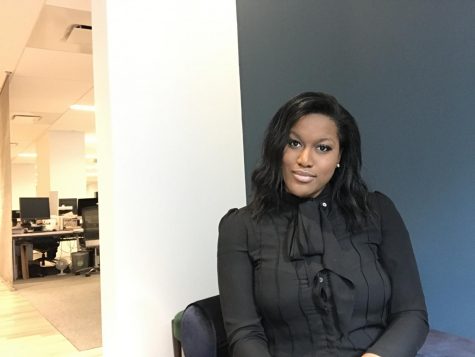 Christian Cook's love for and dedication to writing dates back to when she was merely 3 years old.
Cook, a 2019 public relations alum, has turned her passion into a blossoming writing career with the release of her debut novel, "I Hate Gray," published July 30 by Leeds Press Corps publishing company.
Based on her own life, Cook said "I Hate Gray" chronicles the experiences of Krista Clark, a young woman who moves to Chicago for college and has trouble finding where she fits in.
Growing up in a suburban environment, Clark moves to the city for the first time to attend college and struggles with being on her own. While battling anxiety and being an introvert, Clark proceeds to fall in love for the first time and struggles with her relationship with God and the religious views she was raised on.
"She kind of feels like she's in this huge in-between phase in her life, caught between being a teenager but also trying to be an adult," Cook said. "[She's also] caught between her morals and what she thought she believed and what she is learning."
Cook said the "in-between" phase that Clark navigates in the novel is what inspired the book's title.
As a student at Columbia, her passion for writing grew when she got her first piece published through the publishing company Scriggler, Cook said. This was also around the time she took a J-Term course in Paris through the college, which she said reignited her passion for writing at a time when it was dissipating.
"I really didn't feel motivated to even tell stories because a lot of my work was getting turned down prior to that trip," Cook said. "It made me more motivated."
Internship and Career Adviser Jennifer Halperin said the one thing she remembers most about Cook from her time at Columbia was how eager she was to gain career experience.
"When students are so quick to act on opportunities, including opportunities where there is no compensation, it usually shows a high degree of interest in expanding their network [and] expanding their skill set," Halperin said. "That stood out right away."
During her freshman year, Cook would journal "practically every single day" about her experiences living in the city for the first time, which she called a "culture shock" after growing up in Farmington Hills, Michigan, a suburb of Detroit.
"I would read [my journal] and be like, 'This is actually really interesting,' but these [were] things I wanted to keep to myself," Cook said.
Those snippets of writing formed the basis of what would eventually become her first novel.
After her freshman year, Cook went on a mission trip to Los Angeles, where she said her way of connecting with others was through telling stories she had written in her journals.
"They'd be like, 'Oh, you're really funny! You should write a book!' as a joke, and I would laugh right along with it," Cook said.
Following the mission trip, Cook went back to her parents' house in Michigan, where she took the next semester off so she could work and save money before returning to school. During that time in 2015, in a period of boredom, Cook locked herself in her parents' basement and spent about a week writing her first novel.
"I didn't have much to do," Cook said. "I went from going to classes as a full-time student and having a part-time job and hanging out with friends and doing all these things, to going back to Michigan where I didn't want to socialize with people."
The culmination of Cook's week spent in isolation was "I Hate Gray."
Despite being written during the fall of 2015, Cook said the editing process took years because she had trouble getting past a desire to "censor" herself.

"Originally, I felt very attached to the work itself," Cook said. "I overanalyzed it; I was a little nervous. Did I really want to say certain things?"
Cook said general experiences such as moving out of her parents' house to live on her own for the first time made her realize that she "didn't care anymore."
Michelle Ware, a preschool teacher and Cook's mother, said "I Hate Gray" will resonate with a diverse audience because of how many topics it touches on.
"It's geared towards any age and gender," Ware said. "It's clever. It touches on love, life, career and faith."
Cook said she hopes to release more novels in the future and sees writing as her "truest passion," adding that she hopes the book will resonate with others.
"I feel like a big part of my true self is in the world now," Cook said. "It's awesome that I have art that people can enjoy or possibly relate to."