'What am I going to do?' Younger workers, including students, hit hard by unemployment rise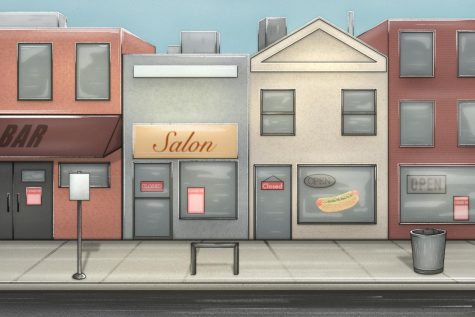 When Madalyn Rain realized she was unable to return to all three of her part-time jobs because of the coronavirus pandemic, she grew uneasy with the fact that she would not be making money.
"To be honest, I freaked out," Rain said. "Since I got out of high school, I've been working non-stop. I was like, 'What am I going to do?'"
Rain, who attended Columbia for a semester during the 2018-19 school year, is a freelance seasonal photographer at Gurnee Mills mall, where Easter photoshoots have been canceled for the year. She also works as a photo trainer at Six Flags Great America and B Toys Zone, both in Gurnee, Illinois, and both closed because of the coronavirus, or COVID-19.
Like Rain, many younger workers, including Columbia alumni and current students who are a part of the creative community, rely on working part-time service-industry jobs to help make ends meet. Given that most service industry jobs are considered non-essential, they have been hit particularly hard by the pandemic.
Rain, who lives with parents, said one of the hardest parts of being unemployed is the uncertainty, especially because the money she was making helped provide for her family.
"Having the stress of, 'How is this bill going to get paid?' has me up at night," Rain said.
Rain has not received any form of compensation from her employers but has started receiving unemployment checks, she said. Though she is unsure of whether she qualifies for a stimulus check or not, the unemployment checks are helping her with paying the bills, she said.
From March 29 through April 4, over 200,000 unemployment claims were filed in Illinois because of the pandemic, according to illinoispolicy.org. That topped reports from the previous week, which were more than 178,000.
Noah Smith—a sophomore audio arts major who was living on-campus at the 30 East Apartments before Columbia closed its residence halls for the remainder of the semester—had to quit both of his part-time jobs, one at Garrett's Popcorn and the other at Lids sports gear store, to move back home to his parents' house in Joliet, Illinois.
"It's just something in my brain that, like [says], 'I need to be working.' I've always had that drive," Smith said. "I don't like not having a job."
With no clear indication when nonessential workers can return to work, long-term payments or bills could be affected.
Freelance musician Vanessa Vaca, a Chicago resident who was recently furloughed from their position at the Paper Source store, said once the money in their savings is gone, they do not know how they will be able to pay their bills.
"If the rent is … pushed back, will we still have to pay that later?" Vaca said. "Or, will it be affecting our income taxes? There's so many unknowns."
Last month the U.S. Senate passed a $2 trillion stimulus package to help ease the economic burdens of the coronavirus pandemic. The CARES Act, or "Coronavirus Aid, Relief, and Economic Security Act," will provide a one-time relief check to taxpayers. Beginning this week, those who are registered as independent taxpayers on their 2019 forms and who have no children and earned less than $99,000 are expected to receive a check or direct deposit of up to $1,200 from the Internal Revenue Service.
The CARES Act also allows borrowers to postpone student loan payments through Sept. 30, and interest will not accrue on federal loans during this time period.
Senior television major Logan Parks, who works as a cocktail server at Celeste Chicago and as a concierge liaison at Gage Hospitality Group, has been out of work since March 14. But unlike Rain, she is receiving some compensation from both employers.
Parks said although she is not being paid, she has been provided with "well-balanced" meals on a weekly basis and groceries while she is out of work. Gage Hospitality Group started a GoFundMe campaign to raise money for their employees, to which Parks said her boss contributed $30,000 to and was at $123,881 as of Sunday, April 12.
The support she has received from both her employers has helped her make sense of the situation, Parks said.
Kylie Bruetman, a Lakeview musician who works as a busser for the Beatrix restaurant in River North, said working for a big restaurant chain has allowed him to receive compensation in the form of groceries, despite being furloughed until further notice.
Bruetman also works part-time for the Arts and Business Council of Chicago, a nonprofit organization that does consulting work for arts organizations throughout the city, and said the entire office is now working remotely.
"I, fortunately, have that keeping me afloat," Bruetman said. "There are a lot of people who work in restaurants who don't have that flexibility."
Bruetman said knowing that other workers are going through the same thing has helped him keep things in perspective. He and his co-workers at Beatrix have started a group chat to keep in contact and also started a video diary series to let everyone know how they're coping with the circumstances, he said.
"Knowing that [the] support is there, it means a lot," Bruetman said. "It lets people know that, 'Hey, people are still worried about more than just themselves.' That's a really comforting thing to know—that we're still all in this together, even if we can't be in the same room."