'We're not going to be quiet anymore': Hundreds gather to support AAPI Chicagoans
Hundreds of demonstrators holding up signs reading, "I'm not a virus" and "#StopAsianHate" took over Chinatown Square to call attention to the recent rise in hate crimes against Asian Americans and Pacific Islanders.
The Rally for Community Safety & Stop Anti-Asian Hate Crime was hosted on Saturday, March 27 by the Chinatown Security Foundation and the Coalition for a Better Chinese American Community, along with more than 65 Asian advocacy organizations.
Demonstrators began in Chinatown Square, at the intersection of South Archer Avenue and West Cermak Road with another group of protesters from Grant Park later joining the main group.
Anne Shaw, co-host of the rally and board member of the Midwest Asian Health Association, said she was compelled to organize the rally after other Asian American women shared with her they "did not want to look Asian anymore" after the mass shootings at several Atlanta-area spas on March 16.
"I realized that I have to do more," Shaw said. "I have to do more to not only tell the world, 'Hey, we're human beings too; we're not this quiet person in the corner that you can scapegoat, but we're actually human beings that care. And we love, we have families and … we're part of this American history.'"
The rally took place the day after the National Day of Action and Healing, a day created by the #StopAsianHate Movement to call for an end to the rise in anti-Asian attacks across the country, and less than two weeks after the Atlanta spa shootings that left eight dead, six of whom were women of Asian descent.
Nearly 3,800 incidents of anti-AAPI attacks were reported between March 19, 2020, and February 28, 2021, according to the Stop AAPI Hate National Report.
Illinois ranked seventh the U.S. with California placing first for the highest number of anti-Asian hate crimes and incidents.
Shaw said she wants to help her community heal and give it a voice because the AAPI community has been forgotten and ignored for too long.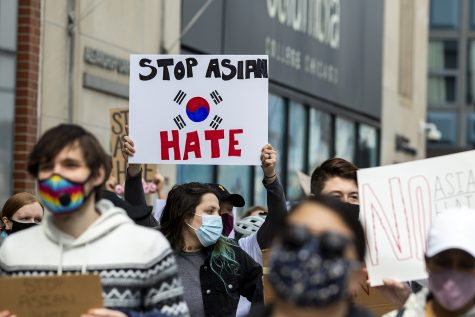 Referring to the attack on March 20 against a 60-year-old Vietnamese man in the Uptown neighborhood, Shaw said many AAPI hate crimes go unreported because of language barriers, fear or embarrassment and not knowing to whom it should be reported.
Shaw shared the five demands from the Chinatown Security Foundation and the Coalition for a Better Chinese American Community with the crowd.
Demands included increased public safety in Chinatown, taking anti-Asian hate crimes seriously, creating a website to report anti-Asian hate crimes, passing the Teaching Equitable Asian American Community History Act and funding outreach for the AAPI community.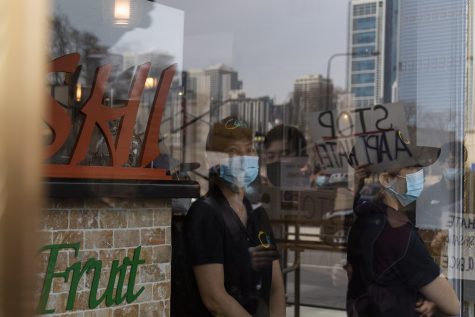 Notable city officials such as President of the Cook County Board of Commissioners Toni Preckwinkle, State Rep. Theresa Mah (D-Chicago) and Cook County State's Attorney Kim Foxx also spoke to the crowd about policies to fight racism.
The speakers stood on a long platform facing into Chinatown Square as protesters held their signs up high acknowledging their words. People of all ages attended from young children sitting on their parent's shoulders to elders sitting on the white foldout chairs provided.
"I know, as a former history teacher, that much of the hate we are fighting comes from ignorance of our own history in this country," Preckwinkle said in support of the TEAACH Act. "The flames of bigotry do not burn in a vacuum. We must teach inclusive history that embraces the diversity of our nation."
The TEAACH Act would amend the Illinois School Code to include a unit on Asian American history in every public school in Illinois.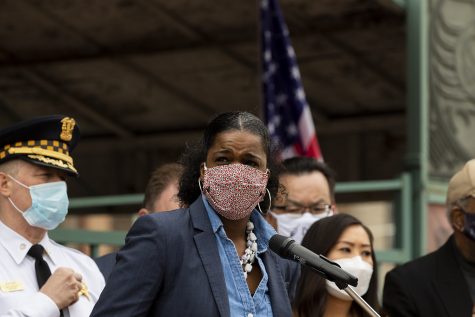 "We stand ready to advocate on your behalf for those who will choose to target this community," Foxx said. "We will seek justice and accountability, and we will stand with you not only today, but every day to end racism now."
Haley Beube, a South Loop resident and University of Iowa alum, said people come to Chinatown for its food and culture, but they overlook the struggles of the community.
To address it, she said proper representation of Asian experiences needs to be highlighted more because of the history of erasure.
"What's most scary as an Asian female is the threat of male violence," she said.
Beube said men fetishize Asian women's fear of violent interactions and the stereotypes often assigned to Asian women such as being exotic or subservient.
Shaw said Chinatown leaders will continue to work with city officials to pass legislation like the TEAACH Act to advocate for the AAPI community and to host live virtual panels to educate others on what a hate crime is and how to report it.
"We're not going to be silent anymore," Shaw said. "I don't feel like we're out of the dark yet. I think it's probably going to get worse before it gets better, but at least we're fighting back."