Welcome back Columbia: Here's what campus looks like now
By Paige Barnes, Audience Engagement Editor
September 4, 2020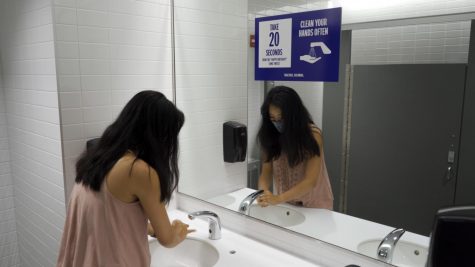 From before leaving home to arriving on campus, the Chronicle is going to break down what students, faculty and staff can expect when returning to Columbia, from the Daily Pre-Check to new capacity limits.
Mandatory coronavirus knowledge training
Before leaving one's house, all students, faculty and staff will need to complete the coronavirus knowledge training and the Daily Pre-Check. The coronavirus knowledge training can be found under the "Together, Columbia" reopening campus training. This provides the information needed to complete the 10 question certification quiz that is synced to MyColumbia ID cards. Quiz links are unique to each individual's ID card and were sent out to everyone's Office 365 email address.
The quiz must be completed by 4 p.m. the day before an individual plans to return to campus to allow their ID card to sync with the quiz results. If the training is not completed in advance, the ID scanner will turn red and entrance will be denied.
If a person's training is completed after 4 p.m. and they intend to be on campus the next day, they must print or screenshot the digital certificate to show building security guards.
Daily Pre-Check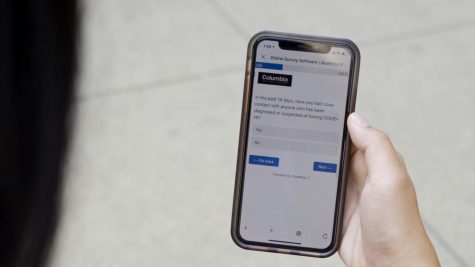 Every day before arriving on campus, anyone entering a building must complete the Daily Pre-Check questionnaire on their mobile device or computer. The questionnaire can be found on the MyColumbia app under "Building Entry Pre-Check" or accessed through a web browser here.
These questions ask members of the campus community to assess their health for the day, including whether or not they have a fever, if they suspect they have come in contact with someone who has the coronavirus and whether they are in compliance with Chicago's Emergency Travel Order, which is updated every Tuesday and goes into effect the following Friday at 12:01 a.m.
Members of the campus the community need to take a screenshot of their clearance because all campus security guards will require students, faculty and staff to show it upon entering each campus building.
Students who do not clear the Daily Pre-Check due to coronavirus-related health reasons and have to miss face-to-face instruction should email Student Relations at studentrelations@colum.edu and their professors.
Mask requirement
Face coverings are now required inside all campus buildings and must be worn at all times including in classrooms, shared workspaces and common areas.
An Aug. 21 collegewide email said bandanas, neck gaiters, knitted masks or face coverings with exhalation vents or valves are not permitted and will prevent anyone from entering a Columbia building.
All students will receive a one-time distribution of two face masks on campus. They can pick up their coverings until Sept. 25 at 916 S. Wabash Ave., Monday through Friday, 8:30 a.m. to 4 p.m.
Employees will have their face coverings mailed to them.
NanoSeptic stickers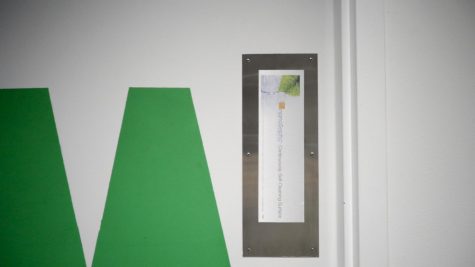 New anti-bacterial stickers have been placed on commonly touched objects such as door handles and elevator buttons.
The stickers are self-cleaning and use "a mineral nano-crystal, which acts as a catalyst, charged by visible light … that creates a continuous, powerful oxidation reaction," according to the NanoSeptic website. The oxidation reaction breaks down organic material into base components such as CO2.
Columbia's Facilities and Operation's team chose NanoSeptic because it is "the best line of defense against touch-based infection," along with frequent hand washing and sanitation.
Keisha Cowen, senior director of Campus Communications, said in a July 31 email to the Chronicle that the college prioritized surfaces that will be commonly touched and where using an elbow is not possible.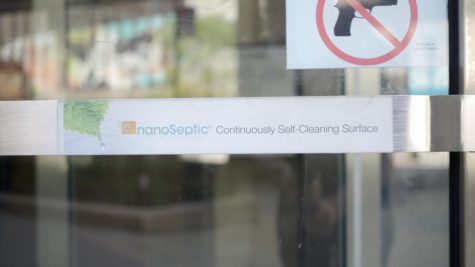 The stickers have not been placed on door keypads because they would interfere with the technology or on paper towel dispenser handles due to their grooved surfaces.
Stickers work effectively for 90 days and will be replaced regularly.
Temperature scanners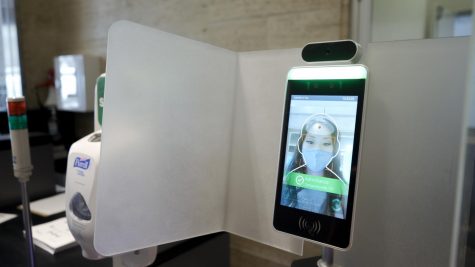 Everyone entering a building will have to scan their Columbia ID and will need to pass a temperature check, as a high temperature can be a potential indicator of the coronavirus, according to the Centers for Disease Control and Prevention.
The college is following guidelines from both the CDC and the City of Chicago. Cowen said although the CDC considers a fever to be 100.4 degrees, the college is deferring to local health officials, meaning 100 degrees will be used as a baseline for determining a fever.
The college has also placed hoods on all scanners to "help to enhance individual privacy."
There is also technology to scan an ID on the temperature scanners, but Cowen said Columbia has not integrated syncing IDs to one's temperature because of privacy and data management concerns.
Any students who have a health condition that causes their temperature to exceed normal ranges should speak with the Student Health Center at 312-369-6830.
Foot traffic patterns
All buildings have new foot traffic patterns and markings on the ground to ensure "traffic is one-directional" to help with physical distancing. There are now entrance-only and exit-only doors and stairwells designated as only up or down, except in an emergency.
Though many of Columbia's entrance points are revolving doors, Cowen said automatic doors will remain an option for people with a disability.
Lambrini Lukidis, associate vice president of Strategic Communications and External Relations, said the college has reduced foot traffic greatly, as on a Friday last year the college would expect nearly 2,000 people on campus, but college officials expect around only 500 this Fall semester.
Elevator capacities
Elevators in all buildings now have a posted elevator capacity, ranging from a maximum of six people in some elevators to a maximum of just two in others. Floor markings with images of feet on them have also been placed on the ground to indicate where to stand during the ride up or down.
Cowen said the capacity limits were determined by the elevator's size, its button panel location and overall accessibility with entering and exiting.
However, the college encourages students to take the stairs if they are physically able and have moved some classes to lower floors in the building.
Closed water fountains
Water fountains and water refill stations have been closed off for the time being to prevent people from taking their face masks off. Additionally, sharing food in communal spaces is prohibited.
Bathrooms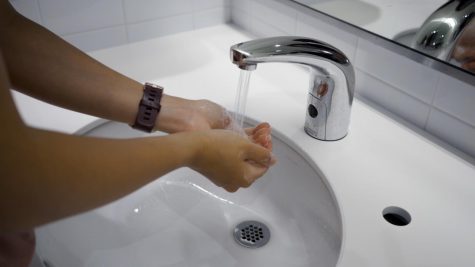 New capacity limits also affect the bathrooms and are noted on posted signs. The college's reopening plan suggests students, faculty and staff avoid touching door handles if possible, use a paper towel or their shoulder to open the door and wash their hands for at least 20 seconds.
Automatic sinks have been installed in most of Columbia's bathrooms and will be installed in all bathrooms on campus by the start of the Fall semester, Cowen said.
Classrooms
There are special markers for where students can sit so six feet of distance can be maintained. Face coverings will be required in classrooms, "except in exceptional circumstances driven by pedagogy where other precautions will be in effect," according to Columbia's reopening plan.
Exceptions made for not wearing a face-covering in the classroom must be approved by the Provost's Office.
Additionally, the college updated its heating, ventilation and air conditioning systems in nine of its buildings with Ultraviolet Germicidal Irradiation (UVGI) technology, as reported by the Chronicle August 7.
Contact tracing
Columbia's Campus Safety and Security personnel have undergone training on contact tracing to help inform members of the campus community, as reported by the Chronicle Aug. 25.
Those who have tested positive for the coronavirus, are experiencing symptoms, or have come in close contact with someone who is sick or is experiencing symptoms should alert Campus Security at securitycommand@colum.edu and Student Relations at studentrelations@colum.edu.
COVID-19 reporting dashboard
Each day, students, faculty and staff can stay up to date with the number of positive coronavirus cases on campus. These include "students, employees, college contractors or visitors who tested positive for COVID-19 and were in a campus facility, including residence halls, during the time they were contagious."
The dashboard can be found on the Reopening Columbia site under the COVID-19 Case Updates and Testing Information tab.
Residence halls
Students have been allowed to move back into campus residence halls. To promote physical distancing, only one person is assigned to each bedroom. No guests will be allowed in any apartment or room until Sept. 21. From Sept. 21 until the end of the semester, only guests living within the same building will be allowed in an apartment or room, with a capacity of six people in each unit. Guests from outside a building will not be permitted for the fall semester.