Web series celebrates Manifest's 20th anniversary, work by seniors and alumni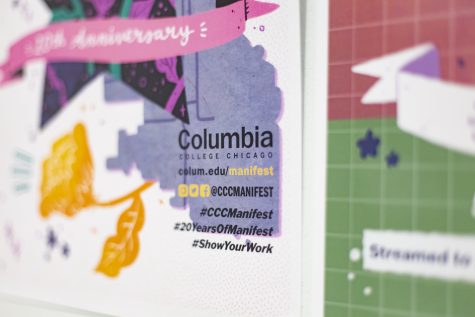 While the official livestream began at 7 p.m., Jello Thompson had to have everything set more than 90 minutes ahead of time to make sure on-air talent were cued and all elements for the stream were in place.
"Being one person trying to manage a stream, it can be done, but there's a lot of things I have to worry about [to] make sure that things are running smoothly," said Thompson, a senior film and television major.
Thompson was one of many Columbia seniors working on the first ever Manifest live web series, a group that also included student co-hosts Ora Damelin and Jori Roberts and co-producers Alejandra Marroquin and Paige Brunsen.
Marroquin, a senior social media and digital strategy major and co-producer of the series, said the livestream series acts as a documentation of the Manifest process leading up to the actual festival that will begin May 10.
Manifest Urban Arts Festival is Columbia's annual student-run event that highlights graduating seniors' work and celebrates the end of the school year. In previous years, Wabash Avenue has been blocked off for Manifest activities and hosted live music, art galleries and more.
Due to the pandemic, last year's Manifest was held online and organized remotely just a few weeks before the event. But this year, students began working remotely on Manifest during the Fall 2020 semester in order to properly celebrate its 20th anniversary.
"I feel very connected with Manifest," said Brunsen, a senior editing and post-production major. "It's a senior showcase at its heart, so it's been awesome to see [it] through a producing lens and also have my work shown this year as a senior."
The Manifest web series showcased the work of graduating seniors and alumni, along with a behind-the-scenes look at the production of the festival, a live makeup contest and an announcement of this year's headliner, the musical group Boy Pablo.
The series had a total of five episodes and streamed through the Department of Exhibitions, Performance and Student Spaces' Twitch channel. Select alumni and past Manifest creative directors JJ McLuckie and Paulina Ryt were among the people showcased on the series.
The first episode debuted April 1, and a new episode was released every Thursday, with the final episode streaming May 6.
Damelin said it can be difficult for people to truly understand what Manifest is and that the web series helped build excitement for the festivities to come.
It also allowed students and student organizations to learn and interact throughout the process by commenting in the Twitch chat or participating in activities to win prizes like a Manifest PR box with a water bottle, face mask and tote bag sporting the Manifest logo designed by Sol Salinas, a senior illustration major.
"[The web series] is putting you in the buildup so you really do get this feeling that you're working toward something, that you're watching something being made, and that's what Manifest is," Damelin said.
On Monday, May 10, the Manifest festival kicks off with Columbia upbeat musical artist T-Star Verse, a senior music business major, followed by a showcase from the English and Creative Writing Department on Tuesday and the HAUS mural reveal on Thursday, among other virtual and limited in-person activities throughout the week.
Marroquin focused on student engagement and program coordination with co-producer Brunsen. Brunsen edited the live content while collaborating with Marroquin on the preparation of the production schedule, writing scripts and reaching out to alumni and seniors to be on the stream.
LeAnna Toles, a senior television executive producing and entrepreneurship double major and content producer at Frequency TV, worked on the editing and graphics for alumni videos for the Manifest web series.
Toles said the idea for the Manifest web series originated from their experience working as a content producer at Frequency TV. After talking to Carlos Diaz, the student activities coordinator at Columbia, they were able to bridge the gap between students and alumni through interviews.
Starting in the Fall 2020 semester, Toles said it took them between 20 and 30 hours a week to get in touch with alumni and record and edit interviews over Zoom for the series.
In comparison to last year's online Manifest, Thompson said the biggest difference was the web series incorporating live content.
"This year, it was taking what we learned from last year with Manifest and making it even better," Toles said.
Thompson said the web series is a useful resource for current and graduating students.
"Getting the chance to interview the alumni was a lot of fun," Toles said. "Now other students can reach out to these alumni to get help and find resources on how to further their careers."
Damelin said the web series gave her a lot of creative freedom to be herself.
"[Manifest] is a celebration of the creative process, not just the end result, which I think is so wonderful," Damelin said.