'We know how to build peace in our communities': Organizers demand passing of Peace Book proposal
Tywone Lee, 40, survivor of gun violence, shared her story of losing her son and nephew to gun violence in Illinois. As Lee spoke into the megaphone, tears ran down her face.
An end to gun violence was one of the demands at a rally organized by the youth community organization Good Kids, Mad City, outside City Hall, 121 N. LaSalle St., on Monday, June 21. in light of Juneteenth.
The group of South and West Side community members gathered to demand the City Council's support of the Peace Book ordinance, a proposal created by youth to ensure free mental health care, reparations and alternatives to police in communities that are under-resourced and over-policed.
"The peace book is a resource directory meant to invest in our communities and divest from the police and put that directly into our community," said Jai Simpson, 21, member of GKMC. "That would be [used] to fund restorative and transformative justice programs [and] ordinances that will support our communities and also teach our youth how to deal with situations in a restorative manner to build us back up."
The proposed Peace Book ordinance is described by organizers as a safety hub with easy access to therapists, social workers, crisis workers, rental assistance, food and financial security and reparations, among other necessities that would be coupled with programming.
"We know that we need to be the ones in the community doing this work," said Taylore Norwood, co-founder and communications director of GKMC and the head of the organization's housing initiatives.
Norwood said organizers have already been actively doing the groundwork, but getting support from the city to pass the Peace Book proposal will make these resources more accessible to all.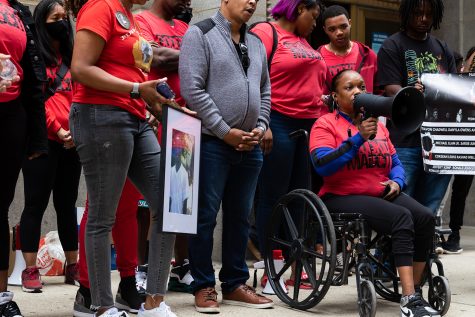 Norwood said the organization has approached Mayor Lori Lightfoot with the proposed policy.
"This is not a theory, this is not just something that we are just throwing out there, this is an actual policy, an actual plan that has been written up detail by detail," Norwood said. "We have teams together, we have people who are supporting it, we have something that can actually be put into action, we just are asking for our city's support to save our lives and [Lightfoot is] choosing not to do that."
Members of GKMC and partnering organizations such as Purpose Over Pain, Organized Communities Against Deportations, Black Lives Matter: Women of Faith, Nita's Love Train and Erase the Gang Database, as well as Illinois Sen. Robert Peters (D-Chicago), chanted together in support of the proposed Peace Book ordinance.
The rally included speeches from families impacted by gun violence, youth organizers who have played a vital role in the creation of the Peace Book, a community psychologist and a reading of 181 names of youth killed in Chicago by police violence, gun violence, suicide and car accidents from Sept. 12, 2020 to May 29, 2021.
LaShawn Littrice, community psychologist from National Louis University and Collaborative Community Consulting is a member of Make Noise for Change and co-founder of Black Lives Matter: Women of Faith. Littrice works closely with GKMC on addressing the root causes of mental trauma and other systemic issues in communities where resources are not available.
Littrice said community psychologists have the perspective to understand both sides of unaddressed mental trauma: those who are committing crimes and those who are victims of it.
"There is an extreme amount of value as community psychologists because we don't diagnose, we examine root causes and the thing is much of what happens in our communities with Black and Brown people and Indigenous people are interrelated," Littrice said.
The current MoveOn.org petition to support The Peace Book ordinance has more than 3,800 signatures.