WAR programs muscle up to deliver inner peace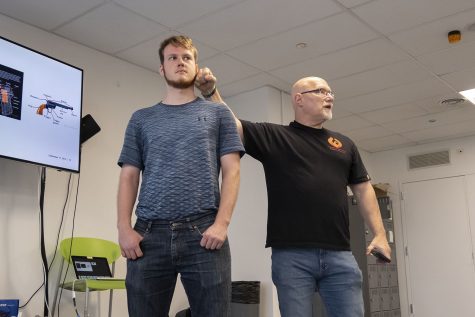 Following the grand opening of the Student Center, the Wellness, Athletics and Recreation program is making the most of its new space in the Center, and its initiatives may soon branch out into the classroom as a potential wellness minor.
The college has partnered with Kinema Fitness to operate the new Fitness Center located in the Student Center, 754 S. Wabash Ave. Kinema Fitness is working with the Wellness, Athletics and Recreation, or WAR, program to reach beyond physical health to focus on other aspects of wellness, such as mental and emotional health, said Mark Brticevich, coordinator of WAR and adjunct professor in the Science and Mathematics Department.
"This body is a manifestation of what goes on in your head and your heart," Brticevich said. "That is what wellness is all about."
A wellness minor may be available at Columbia "very soon," Brticevich said, though nothing is in place yet. He said the minor would likely require six courses to complete, with each course addressing a different aspect of wellness.
"The wellness minor will be something that will go with [students] the rest of their lives," he said. "My dream is, if the wellness minor does well, somewhere down the road we'd actually have a wellness major. We could develop some life coaches."
Until the new minor comes to fruition, Brticevich hopes to get more students involved in wellness through the peer-to-peer  Wellness Ambassador Program.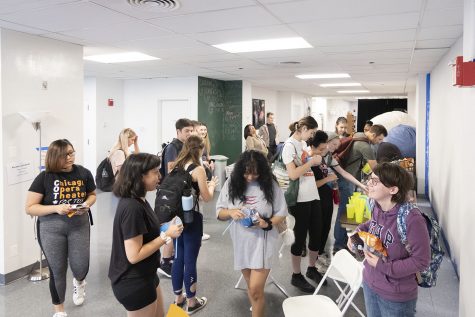 To become a Wellness Ambassador, students take a quiz to gauge their state of well-being, then attend various WAR events over the course of the year to improve wellness, said Avery Otten, co-programming director of  WAR and senior cinema art and science major.
"Now that the wellness minor is moving forward, [Brticevich] wanted the wellness ambassadorship program to start," Otten said. "It's a whole scheme to get people to care about their well-being."
Brticevich said students must bring a friend along to at least half of the programs in keeping with the program's mission, which is for students to get others involved. At the end of the year, ambassadors can win prizes for participating.
"It's a way of cajoling students into thinking about themselves in a holistic way," Brticevich said.
One of the ongoing programs is a series of roundtable discussions designed to help students vocalize their experiences, said co-programming director of WAR and junior illustration major Kira Berkoff. Keynote speakers and Counseling Services facilitate peer-to-peer discussions about topics like eating disorders and domestic violence, Berkoff said.
WAR is broadening the definition of wellness, even when it comes to exercise. Otten said he leads a class that combines heavy metal music and stretching.
Self-defense is also a form of wellness, and Brticevich said the "Kick @ss Self-Defense" program dissects the tendencies of perpetrators and teaches students how to use what they have to defend themselves.
WAR is also expanding beyond the Fitness Center space. Berkoff said upcoming DIY projects like bullet journals will make use of the Makerspace on the second floor of the Student Center.
"[Wellness is] part of everyone's journey," Brticevich said. "Whether they realize it or not."