Votes still being tallied, 'the most contentious election of our lives' continues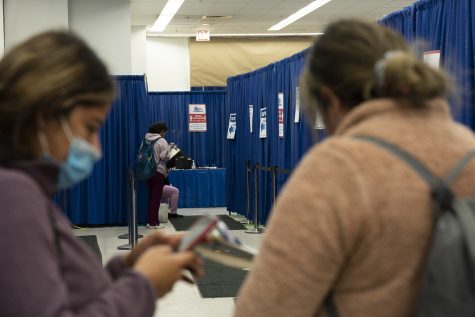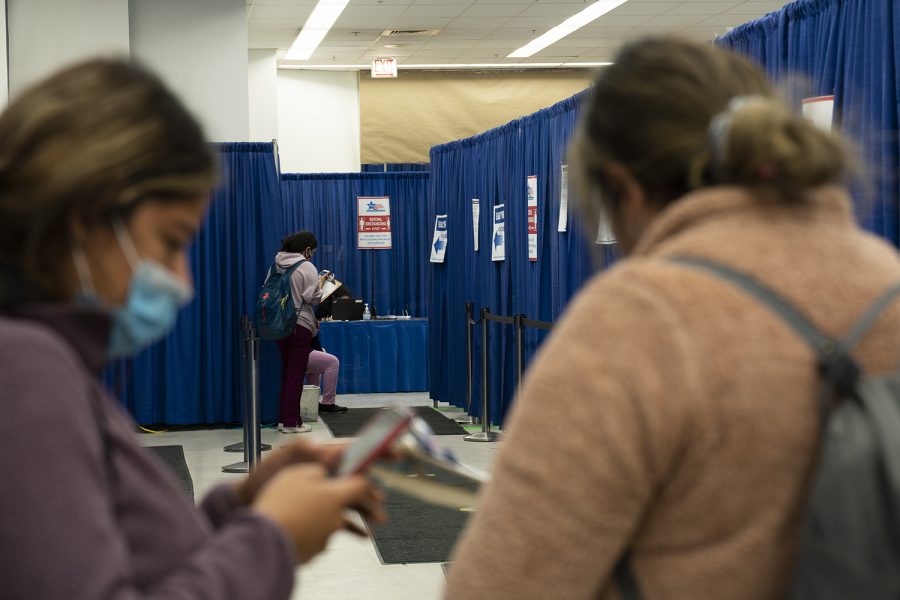 Taya Bhavsar said she woke up before the sun rose on Election Day and marched straight to Jones College Prep High School in the South Loop to register to vote for the first time because "our futures depend on it."
"I wanted my voice to be heard, and I want to make an impact in this election," said Bhavsar, a senior computer animation major. "I wanted to make sure that whoever is president … won't take our rights away."
The votes for president by more than 5 million Illinoisans have been counted, according to NPR. Data from the Illinois Board of Elections shows there are more than 8.3 million registered voters in the state of Illinois.
Following a pattern throughout the country, early and mail-in voting played a key role in the results. An estimated 3.6 million Illinoisans voted early, according to the U.S. Elections Project.
Illinois' deadline for receiving absentee ballots is Nov. 17, so official results likely will not be complete for another two weeks. But after a long election night, here is what we know as of 10:45 a.m. Wednesday based on results compiled from the Associated Press and the Cook County Clerk's office through the Chicago Sun-Times.
Illinois presidential voting results – Former Vice President Joe Biden with 55.1% and President Donald Trump with 43% with 88.9% of precincts reporting.
Illinois U.S. Senate – U.S. Sen. Dick Durbin (D-Ill.) with 52.3% and Republican Mark C. Curran Jr. with 40.9% with 88.3% of precincts reporting.
U.S. House District 7 – Danny K. Davis (D-Chicago) with 80.5% and Republican Craig Cameron with 13.3 % with 96.3% of precincts reporting.
Graduated Income Tax Amendment – "No" votes with 55% and "Yes" votes with 45% with 97.6% of precincts reporting. The vote requirement to pass the amendment is either 60 percent of votes cast on the ballot or a majority of all of those voting in the election, according to the Associated Press. Mail-in ballots are expected to factor into results.
Illinois Supreme Court, 5th District – Republican David Overstreet with 62.8% and Democrat Judy Cates with 37.2% with 93.8% of precincts reporting.
Illinois Supreme Court, 3rd District Retention of Judge Kilbride – "Yes" votes with 56.4% and "No" votes with 43.6% with 97.7 of precincts reporting. In order to win retention, Illinois Supreme Court judges require 60% of the votes cast to be "Yes" votes, according to the Sun-Times.
Cook County State's Attorney – Cook County State's Attorney Kim Foxx (D-Chicago) with 53.7% and Republican Patrick W. O'Brien with 39.7% with 97.9% of precincts reporting.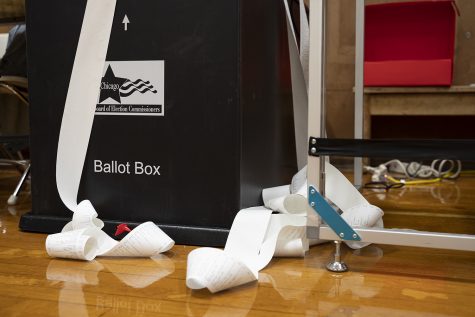 Patrick Foley, a junior musical theatre major, voted at Grace Place Episcopal Church on Dearborn Street on Election Day and said it was his first time voting in a presidential election.
He said it was important for him to vote in order to support his BIPOC and LGBTQ+ friends. Although he is hoping for Biden to win the presidency, he is aware anything could happen and is slightly worried Trump will remain in office for another four years.
Cruel Valentine, a graduate student in the arts management program, said because of the pandemic and a past experience with having their vote suppressed, they decided to turn in an absentee ballot rather than voting in person.
"We are in the midst of the most contentious election of our lives," Valentine said. "It's very crucial that we take our political system in a different direction than it's going right now. I've been determined to not just research smaller elections … but I've also been very passionate about speaking out and helping to educate people about the voting process."
Valentine said while they are nervous about the outcome of the election, as a teaching assistant they are hopeful about the fact that over 90% of their students had already voted or planned to vote on Election Day.
Freshman game art major Drusillah Bernhardt, who recently turned 18, said she was not planning on voting until she found out same-day registration was possible on Election Day.
"Even though you feel like your vote doesn't matter, because like, 'I'm like one person,'" Bernhardt said. "Once I [voted], I felt super proud of myself. I was like, 'Wow, I did this, and it was actually super easy."
Sophomore television major Karel Ramirez said she chose to vote early and in person a week before the election to avoid the lines and "make sure that [my ballot] was counted right then and there."
"The stakes are so much higher than they were four years ago," Valentine said. "The outcome of the election and how we deal with it will say a lot about us as a country."
In the South Loop, a number of businesses and buildings boarded up their windows with plywood, and the Wabash Street bridge, just south of Trump International Tower, was raised on Election Day.
However, in spite of these cautionary measures, the downtown area remained relatively placid throughout the night.
In a Nov. 3 press conference, Mayor Lori Lightfoot urged residents not to resort to violence based on eventual election results.
"This election has evoked a lot of emotion and understandably so," Lightfoot said. "It is absolutely the most consequential in my almost 60 years of living on this planet. But whatever the outcome, we need to lean into the history in Chicago of peaceful protests."
Barbara Allen, the director of college programming for The Poynter Institute—a non-profit journalism school and research organization—said this election is interesting because it is like the country is watching March Madness.
Allen said the 2020 election has turned into a sport, where everyone has a unified interest in hearing the results.
Allen said this year is especially different because of the pandemic; there is a large number of mail-in and absentee ballots, which take longer to count. Fatigue also comes into play this year, she said, as people have been overstimulated with election information and have had a "heightened sense of awareness."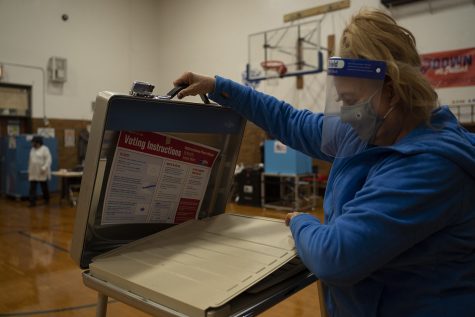 Various broadcast news stations covering Election Day live, like CNN and NBC, emphasized that maps displaying current election results do not show the full story and that it is still "too early to tell" who will win the race.
During a live broadcast on Nov. 4, Chief Washington Correspondent for CNN Jake Tapper said while many people were hoping for an early decisive outcome on election night, that is not a realistic wish in 2020.
"This isn't an hour and a half thriller, where you find out who did it and it's all over," Tapper said. "This is like a Netflix 10-part mini series."
With the likeliness of official election results taking another few days or even weeks to come in, Allen said people need to accept that the election will not come to a simple or quick end.
"This is American Democracy in progress … a few more days is not going to hurt," Allen said. "Patience is the name of the game, and we should embrace it."