Voters experience pre-runoff jitters, calling for unity with concerns around crime, transportation 
March 1, 2023
2023 ELECTION
---
A day after incumbent Mayor Lori Lightfoot lost her bid to keep her job, city voters called on their leaders to unite. 
Lightfoot, the city's first Black woman and first openly gay mayor, is the first incumbent in 40 years to lose re-election. 
She will be replaced by the winner of a runoff election held April 4, which will be between former CEO of Chicago Public Schools Paul Vallas and Cook County Commissioner Brandon Johnson. 
A run-off happens when no single candidate gets 50% of the vote.
Advancing from a race of nine candidates, Vallas won almost 34% of the votes on Tuesday, while Johnson picked up 20%, according to the Chicago Board of Election Commissioners.
Vallas, 69, was the only white candidate and had a key endorsement from the Chicago police union. Johnson, 46, who is Black, had the backing of the Chicago Teachers Union. 
Overall voter turnout was 32.67%, according to the Chicago Board of Election Commissioner. 
The majority of voters were in the 55-64 age range at 19%. The age range with the least amount of turnout was 18-24 with only 3% turnout in the age group. 
Columbia College Chicago's new polling location at 1104 S. Wabash Ave. had a voter turnout of just under 37% in 2018 before it moved to Columbia's campus.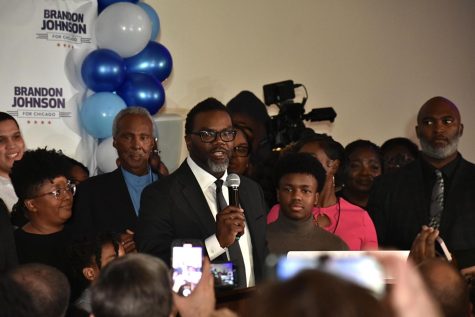 Tyler Frazier, who lives in Bucktown, said that regardless of who people voted for, Chicago needs to come together and rebuild the city. 
"It's important for both citizens living in Chicago and everybody in the mayor's office to actively meet in the middle and respect the fact that not every decision is popular," said Frazier, who graduated from Columbia in 2022 with a film degree. 
"I'm nervous but excited; Brandon Johnson is my first choice and so I was happy he made it to the runoff," said Katie Malate, a senior creative writing major. 
Ornella Alagbe, a first-year public relations major, said she hopes Johnson wins the run-off. 
"I really like his ideas," Alagbe said. "The promises he's making, I think, are a little bit different from the others." 
Rep. Jesús "Chuy" García lost his second run for mayor with under 14% of the vote. Earlier in the campaign, he had been a front-runner. 
Wilfredo Cruz,  an associate professor in the Department of Humanities, History and Social Sciences, said he was disappointed that Garcia didn't make the run-off and attributed it to him getting into the race late.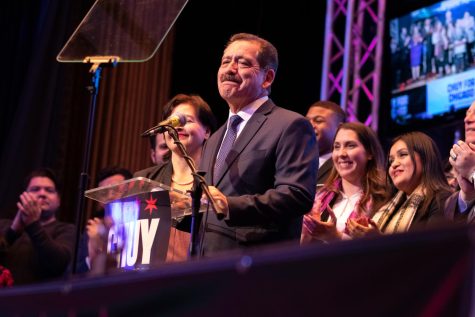 Garcia announced his run for mayor in November 2022. By that time, the teachers union had already endorsed Johnson. 
"He would have been the first Latino mayor of Chicago," Cruz said, whose book, Latinos in Chicago: Quest for a Political Voice, was published last fall. "That would have been very historic." 
Cruz said he is happy that Johnson is in the runoff against Vallas because he represents the progressive wing of the city. 
"In a city that's [majority] Black and Latino, I don't know if the city is going to vote for" Vallas, Cruz said. Vallas is a conservative Democrat. 
Emma Bloom, a sophomore graphic design major, hopes the next mayor focuses on marginalized communities. 
"I need to know that the next mayor cares about the Black community, sex workers, the trans and queer community and the homeless population," Bloom said. 
Holly Angus, a sophomore broadcast journalism major, said that the top priority of Chicago's new mayor should be to address the issues of Chicago's segregation.
"There's a lot of underrepresented groups and minorities in Chicago. I think it would definitely be a priority to put that to an end and promote these underrepresented groups and really give everyone a voice," Angus said.
Columbia students, professors and community members told the Chronicle that addressing crime and transportation were among the top issues for them.
---
Caydence Claypoole, a first-year journalism major, said she is sometimes afraid of riding public transportation or walking around campus. 
"I think it's an important issue to all citizens of Chicago," Claypoole said. 
David Nasca, an adjunct professor in the Art and Art History Department, said reforming the police department is a top priority for the new mayor.
Nasca said he supports Brandon Johnson, who campaigned on investing in police training and community resourcing. 
"He seems to be the only candidate who really is taking a serious look at the racist history of the Chicago Police Department and addressing violent crime by community-based programs rather than just spending more money on cops," said Nasca, who has lived in Chicago for a decade.
Jabari Z. Ware, a music business major, said police funding should be redirected into programs that improve health care and involve education. 
"I feel like just not completely [defunding] the police, cause we obviously still need police officers," Ware said. "They risk their lives for us everyday, but at the same time, I feel like more money should be distributed evenly to different programs." 
Albert Fernandez, a senior film and television major, would also like to see the root causes of violence to be addressed. 
"We need better leaders who know the communities they protect and how to address the issues [of] crime," Fernandez said. "I'm concerned on how the city is approaching crime and would rather have the city focus on youth [and] social programs to better communities."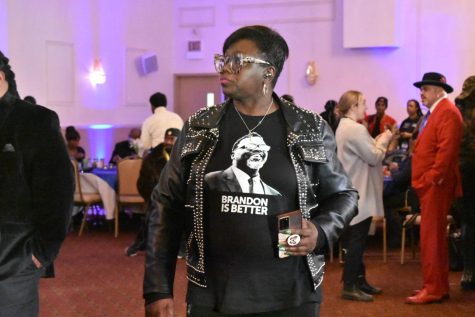 Jim DeRogatis, an associate professor in the English and Creative Writing Department, said the issue of crime has been over exaggerated on the priority list for Chicagoans in comparison to other historically overlooked matters.
"Yes, there is crime and there are tragic shootings and we don't want to have that, if you look nationally though, Chicago is not the most dangerous city in America," DeRogatis said. "What we have to do is look at root problems like the inequities in education and in our neighborhoods, the fact that the south and west sides are not prioritized the way Andersonville or the Gold Coast or Wrigleyville are."
Nikita Johnson, a loctician from the Chatham neighborhood, would like to see more mental health and community services for Chicago youth.  
"There's things to do when you're really little and as an adult, but there's a whole section of teenagers that don't have anything to do, don't have anything positive to look forward to," Johnson said.  
For Brittany Rose Lonergan, a junior dance major, the issue that mattered most to her was the use of the city's budget. 
"What are they going to do with the city's budget? Especially when it comes to schools and education, because Chicago Public Schools are severely underfunded," Lonergan said.
Nayehli Álvarez, a sophomore arts education major at the University of Illinois at Chicago, said she believes the top priority of the future mayor of Chicago should be  "working on a plan to provide affordable housing for all" regardless of income level. 
"The cost of rent being raised leads to people being pushed out of their homes and communities," Alvarez said, who lives in the Little Village neighborhood. 
Addison Annis, Amanda Burris, Amaris Edwards, Elias Gonzalez, Andres Guerra, K'Von Jackson, Cierra Lemott, Justice Lewis, Abra Richardson, Vivian Richey, Uriel Reyes, Elizabeth Rymut, Amina Sergazina, Leah Love, Kaelah Serrano, Robin Sluzas, Avery Timmons, Sam Tucker, Kailey Ryan, Zoë Takaki and Kimberly Vazquez contributed to this report.