Virtual talk with Dr. Kim addresses COVID testing, tuition, the end of the Columbia Chi app and more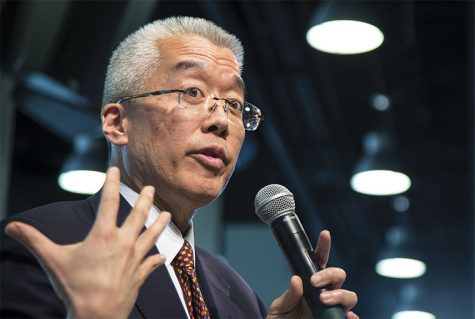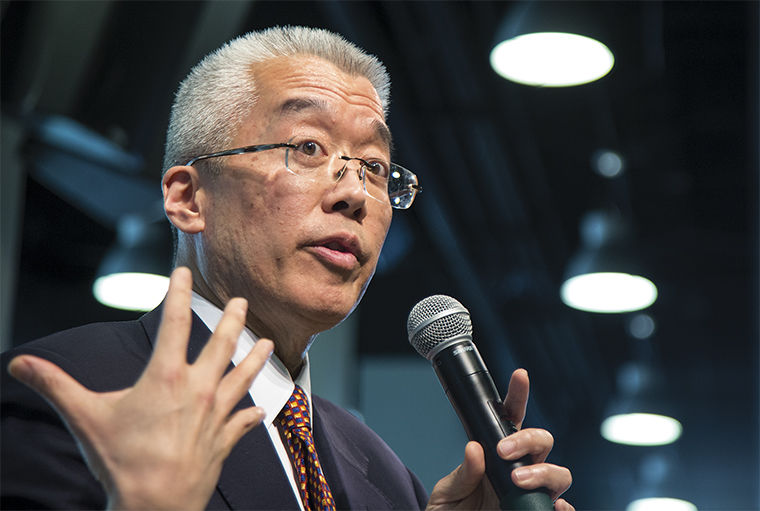 In an open virtual talk with the Student Government Association, President and CEO Kwang-Wu Kim and other college administrators announced changes to the Columbia Chi app and the college's COVID-19 response, with mention of no tuition increase for next year.
During the Tuesday, Nov. 10 talk on Zoom, students and faculty raised concerns about the safety and comfort of using the Columbia Chi app. After "recent negativity" on the application, some students sought clarification on what was being done to address future instances of toxic behavior.
Because the app is difficult to monitor and is "extraordinarily problematic," it will no longer be functioning after Nov. 22, said Associate Dean of Student Life Kari Sommers. The Engage Columbia platform, which launched prior to the start of the year for student organizations, will take its place.
"I am proud and pleased to announce, with the cooperation of strategic marketing and with [information technology] and other awesome folks around the campus, that we are going to be launching the new Engage Columbia platform and app in a week," Sommers said.
The Engage app is already available for Android phones but the iPhone version is not yet available in the Apple App Store.
Another topic of interest among participants was what the college is doing about COVID testing, especially for commuter students. Although COVID-19 testing is open to students who live off-campus, testing procedures may be different during the Spring 2021 semester.
"One of the differences between this fall semester and the upcoming spring semester will be the way that college uses testing more strategically," Kim said. "Testing is going to become more available, and that is going to make a big difference."
Currently, testing is available to all students, faculty, staff and other employees. If a student is symptomatic, they can go to the Health Center at 916 S. Wabash Ave. after first calling the Health Center for a phone screening or telehealth visit.
"We are continuing to monitor whether [mandatory testing] is needed in other departments," Chief of Staff Laurent Pernot said during the virtual talk. "Obviously this situation is always evolving."
The college will continue to be in conversation with the University of Illinois about getting rapid saliva tests for students, which may change the scope of on-campus testing next semester.
"We are still not looking at testing everyone all the time," Pernot said. "It certainly would be an expensive proposition, especially under current technology. But … our conversations with a lot of health experts validate that people see people getting too relaxed."
Students will see another change during the Spring 2021 semester. As reported by the Chronicle Nov. 2, "Making Week" will replace the usual spring break and will take place a week before the final week of the spring semester.
Senior Vice President and Provost Marcella David said because the semester is broken up into sections with courses beginning and ending at different parts of the semester, it was difficult to sprinkle in five days off into the calendar.
"It is irresponsible to have a spring break in a traditional sense," David said. "We touched base with faculty, deans, chairs and others about different kinds of options."
Kim also revealed the college will not increase tuition in 2021.
"Coming into this year, the board sat together and agreed that with the impact of COVID-19 on so many families, we needed to be sensitive to families' financial realities," Kim said. "[The board] decided we are not going to increase tuition for another year after this. We are going to hold it the same again as a sign of recognition of how difficult times are for our families. "
Tuition was originally slated to increase by 2%. The Board of Trustees has created something similar to a rainy day fund, Kim said, which will help the college continue operations despite pandemic-related expenses and the drop in expected revenue, but it does create roughly a $34 million deficit for this year.
"Ninety-nine percent of our … operating costs are covered by tuition," Chief Financial Officer Jerry Tarrer said. "We have planned increases for tuition on an annual basis. The rollback on the 2% tuition increase that was planned for this year has and will have a material impact on [our future] operating performance."
Although the majority of classes are online, the bulk of tuition costs go toward the salaries of faculty and staff, Tarrer said.
"We made a conscious decision that we would try to preserve employment to the best of our ability in this environment because it's now tough for you and your families," he said.
In the packed Zoom session, Kim left students, faculty and staff with a few words of advice for when they are missing non-online interactions.
Kim said although everyone is missing in-person interactions, students can think of the words plastered on the frosted glass in the Student Center: "Shape what's next. Have your hands be part of determining what comes next.
"You have an opportunity that other generations will not have to actually shape what is next," Kim said. "And we as a college are going to continue to do everything we can think of to make that possible for you. That is why we are working … on behalf of you and your futures and your ability to shape the future."