Vice President Kamala Harris visits UIC supporting Pritzker's reelection, abortion rights
Vice President Kamala Harris came to Chicago, alongside Gov. J.B. Prtizker and Lt. Gov. Juliana Stratton, and rallied an enthusiastic crowd of students and Chicago locals that signaled abortion would be a major topic in the Illinois midterm elections and governor's race in November.
"This year's election is so important and I know I say that every election cycle, and it is true," Harris said. "But what is at stake this year in these midterms is so apparent, and I do believe that when you know what we stand for, you know what to fight for."
This is the second time Harris has been in Chicago since the U.S. Supreme Court overturned Roe v. Wade.
Other politicians, including Speaker of the House of Illinois Emanuel "Chris" Welch, Mayor Lori Lightfoot and Illinois Attorney General Kwame Raoul, spoke at the event in support of reproductive rights, women's rights, the approaching midterm elections and upholding democracy.
To fire up the crowd, Welch promised that "Roevember" is coming, referring to the push this November for protecting reproductive rights since the overturning of Roe v. Wade.
"Roevember is coming. You heard me, Roevember is coming. In Roevember, we will show them that Illinois votes," Welch said, referring to the impact he expects reproductive rights to have on upcoming elections.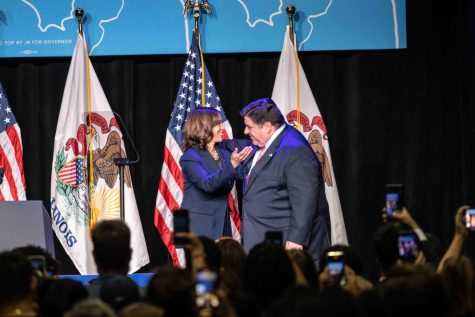 Harris reminded the audience that the U.S. Supreme Court recently stripped a recognized constitutional right from the people and women of America and that further restrictions have been discussed in the form of a proposed nationwide abortion ban.
"Right now … so-called leaders, extremists … are passing laws to criminalize healthcare providers and punish women around our nation," Harris said. "They are calling for a nationwide abortion ban, that would include Illinois."
During the rally, Lightfoot promised solidarity to immigrants and refugees, the LBGTQ+ community, people of color and women in Chicago.
"We got to show people who we are … that we stand strong with the LGBTQ+ community, we stand strong with people of color and we stand strong with women's right to determine when and if they want to be pregnant," Lightfoot said.
Stratton called out Republicans for attacking women's rights and reproductive rights.
"We all know that women's rights and reproductive freedoms are under attack by republicans all over this country. Senate Republicans introduced a national abortion ban, confirming this was never about states' rights. It was always about control," Stratton said.
Pritzker assured the audience that in Illinois, reproductive rights for women are protected, and this is something his opponent, Darren Bailey, voted against.
"With the signing of the Reproductive Health Act, we enshrined into Illinois law a woman's right to choose, and every Republican, including Darren Bailey, voted against that," Pritzker said.
Raoul told the crowd his daughter had recently graduated and is on her way to becoming a lawyer to uphold the United States Constitution.
"I want that to be a constitution that protects her as an equal, that's why in two weeks, we'll be in D.C. arguing for the Equal Rights Amendment to be the 28th Amendment of the United States," Raoul said.
The overturning of Roe v. Wade has become an important issue for voters and students.
"I think abortion rights is most important," said Rattryna Yim, a junior at the University of Illinois Chicago. "I care about that because I have a little sister and I don't want her to grow up in a world where she doesn't have any rights like that."