Unpacking New York Times reporter's year of traveling
Among 13,000 applicantsfor one job, Jada Yuan was selected to become The New York Times' inaugural 52 Places Traveler. She visited every destination that was on The Times' "Places to Travel in 2018" list, published Feb. 12, 2018, writing about her experiences and the significance of those locations.
Yuan's career has also included writing celebrity profiles and feature articles, such as one about what it was like to date using the online dating app Tinder in cities around the U.S. for Cosmopolitan. Looking for something different in 2017, she stumbled on an opportunity to journey off the beaten path.
After a full year trekking through deserts and taking countless planes, boats and trains, Yuan finished her journey in January. Looking back on her travels, she shared her tips, must-visit destinations and trip highlights with The Chronicle.
THE CHRONICLE: How did you react when you found out you got the job?
YUAN: Total shock. They said they would let me know on a Friday. On Thursday, they asked me to hop on the phone again. I was fighting for my life, fighting for this job. I wrote out all these talking points. I got all revved up to argue my way into this job, and then I got it. They recorded the reaction, but they've never used that footage because it was super boring. I was just like, 'Oh, wow. Thanks.'
Have you traveled a lot throughout your life?
I had not traveled this extensively, ever. The longest trips I'd taken were all in college. I did a summer in Italy. I always thought I'd get to do more travel. I got accepted to a study abroad program my junior year. It was not financially and economically feasible for me to do it. I always thought I would get that chance again—a year of traveling. Life sort of happened. I lived by the idea that if I had enough money to pay my rent and eat and travel, then I was good. I didn't need anything more than that.
What was the best and worst part of your travels?
I really liked waking up for sunrises. In New York, because I work in publishing, no one wakes up early. I never purposefully was waking up for sunrises, and because I had this whole new photography aspect, I was often orienting my days around getting shots. That time of day is a really beautiful time of day to take a photograph. It was always worth it to wake up for a sunrise. A place that was not the greatest fit for me was Disney Springs, Florida, just because I didn't have enough time there [and] Disney requires a lot [of] planning. I didn't even make it into Disney World, so my experience was wandering a gigantic parking lot and eventually getting roadside Peruvian food, which was delicious.
Did you ever feel like giving up on the project?
When I got to Chile, I was having a really hard time. It was mostly about the writing. It was really hard for me, as someone who had grown up doing feature writing, to be working on this schedule where I wasn't getting any sleep and then also had to be turning things in on deadline. I was working for a big publication and wasn't always getting things right; the internet was not always kind to me. At some point, that piled up. I called a friend, and I started talking about quitting. She talked me into giving it a couple days, and it went away. It was hard, but it was really amazing. I ate great food. I met amazing people. I saw some of the most beautiful sights I've ever seen in my life, and I learned a lot about myself. I learned how to travel; I learned to rely on myself.
What are your tips for students traveling on a budget?
I would suggest hostels over Airbnbs … if you're solo traveling. You'll meet more people; you'll have friends to go out with; you'll save a lot of money. The one caveat I have about them is you meet lots of travelers, but you don't meet locals because you're all hanging out in your hostel bubble. Just take an area and [use] as much local transport as you can. Trains and boats are the best forms of transport. Travel slowly. The more you settle into traveling as your way of life, the journey [becomes] more important than the destination [and] the better time you have.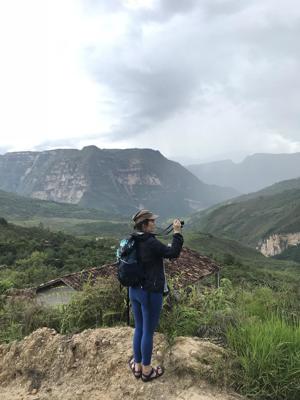 What places do you think every traveler should visit?
Go to Patagonia, if you can, in Chile. [Also visit] Palermo, [Italy], and go south; go as far south as you can get until you're at the very bottom of the Amalfi Coast. I [also] found it really easy to travel in Southeast Asia. Go to Siem Reap, Cambodia, as a starter place, which is where Angkor Wat [temple] is.
Why is it important to travel?
It expands your idea of who people are in the world. Everyone in the world is trying to put food on the table and live their lives. There are universal things whether or not you speak the same language. We live in a really divisive time right now in America, and it's important to remember those commonalities among different groups of people. Traveling really helps you understand yourself when you're stripped of your possessions and your sense of comfort.