Tom Dowd named interim dean of the School of Media Arts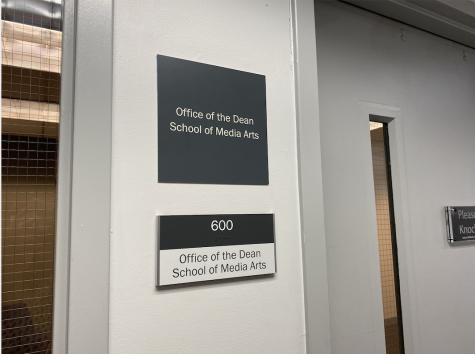 Tom Dowd, the current associate dean for the School of Media Arts will serve as the interim dean for the school starting this summer.
Dowd's appointment will begin on June 1, 2023, after Dean Eric Freedman leaves Columbia to be provost at Truman State University, in Kirksville, Missouri. 
In his own words:  "SMA has been my home at Columbia since I started as an adjunct almost 30 years ago. So many things have changed over that time, but we've never lost our commitment to forward-looking education and experiences for our students," Dowd said in an email to the Chronicle on April 21. "I'm very much looking forward to working with the SMA department chairs, faculty, and staff as we continue to look to the future and prepare new paths for our students while refining the tried and true."
In the background: Dowd, an associate professor in the Interactive Arts and Media Department, joined Columbia's full-time faculty in 2006 after previously working as an adjunct. He is an expert in game design, game production, project management, narrative design and cross-media storytelling. Dowd was selected as SMA associate dean in 2017. Dowd holds both a bachelor's of Fine Arts and a master's degree in Communication Arts from the New York Institute of Technology.
What the current dean has said: Dowd "has been a tremendous asset to the SMA dean's office leadership team. I have truly valued the balanced skillset [Dowd] has brought to my team and the open dialogue he has sustained with colleagues across the college. He is well-equipped to move the school forward," Freedman said in an announcement from the Provost's Office on April 21. 
What the Provost's Office is saying: Dowd "has been an essential partner throughout the pandemic, contributing important insight and analysis on a wide range of topics central to the safe and effective delivery of courses in Media Arts and across the college," Senior Associate Provost Nate Bakkum said in the email announcement. "He continues to be a key communicator within and beyond SMA, serving as an invaluable resource for faculty, staff, students, and their families."
Senior Vice President and Provost Marcella David said the Provost's Office will work closely with the School of Media Arts leadership to ensure a smooth transition. 
Dowd will stay in the interim role as Columbia searches for a new dean, through a national search conducted in partnership with Isaacson Miller, an executive search firm.
For context: The college announced in January that Freedman would leave the college at the end of the spring semester.