Thirsty for something exotic? Chicago's international restaurants share hand-crafted cocktail recipes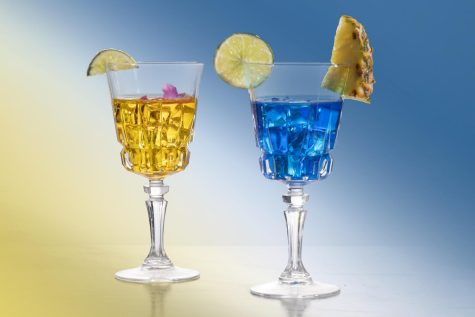 Editor's note: This article is from the Communication Department's award-winning Echo magazine.
Whether it's for a romantic evening at home, a summer barbeque with friends or an afternoon spent binging your favorite sitcom, each drink will transport you to a new destination and allow you to live out your mixologist dreams vicariously — without having to travel any farther than your own kitchen. 
Esmeralda's Lounge – 2539 W. Division St.
Transport yourself to Malaysia with the Jungle Bird, a cocktail brought to us by the co-owner of Humboldt Park tropical lounge Dino Vulpitta. The cocktail, which is said to have originated in the 1970s and was traditionally served in a bird-shaped porcelain glass, combines Blackstrap rum, Campari, pineapple and lime to transport you to a beach-side island vacation. 
Jungle Bird cocktail recipe
1 ½ ounces of blackstrap rum 
¾ ounce of Campari 
½ ounce of lime juice
1 ½ ounces of pineapple juice 
½ ounce of simple syrup 
Alcohol substitute option: Ritual Rum Alternative 
Demera – 4801 N. Broadway 
Ethiopian fare makes way for tangy, spicy nightcaps at Demera, the venue that brings authentic, traditional dishes to life and to those who may be missing home. Chef and owner Tigist Reda moved to Chicago from Ethiopia in the early 2000s and has made it her mission to share flavors from home with every bite, sip and taste. Named after the Southern Ethiopian city, the Arba Minch is the perfect blend of mango, basil, lime and, let's not forget, vodka. 
Arba Minch recipe
3 ounces of vodka 
1 ripe mango 
4-5 fresh basil leaves 
1 splash of lime 
Alcohol substitute option: ArKay Alcohol Free Vodka 
HaiSous – 1800 S. Carpenter St. 
Michelin-starred Vietnamese eatery HaiSous got its start when husband-and-wife duo Danielle and Chef Thai Dang opened its doors in 2017, and it has since made its mark on Pilsen. Mango lovers are in for a treat with the venue's frozen mango margarita — tangy, zesty, sweet and perfect for summertime. 
Frozen Mango Margarita recipe
1 cup frozen mango cubes 
1/4 cup sugar
1/4 cup water
1 ½ cups of tequila or Mezcal 
1/2 cup triple sec
1/2 cup lime juice
Add all ingredients into a blender and blend them until smooth. Microplane lime zest into kosher salt before rimming your favorite serving glass. Garnish further with a lime wedge. 
Alcohol substitute option: Ritual Zero Proof Tequila 
14 Parish – 1644 E. 53rd St.
Home to jerk chicken, coconut shrimp and chardonnay salmon, 14 Parish Restaurant and Rhum Bar blends Jamaican-inspired fusion fare with hundreds of rum offerings to create an island paradise smack dab in the middle of Hyde Park's 53rd Street. Owner Racquel Fields gifts us with a recipe from the venue's menu, named Mermaid Bathwater after its fluorescent turquoise shade and bubbly flavor accents, including coconut and pineapple.
Mermaid Bathwater recipe
2 ounces of dark rum 
1 ounces of coconut rum 
¾  ounces of coconut cream 
2 ounces of pineapple juice 
1 ounce of lime 
1 ounce of Blue Curacao 
Alcohol substitute option: Rosin Rum Alternative 
You can read the entire 2022 issue of Echo, as well as previous issues, on our website.