'They're bold, and they're bright': Civic Media students document Bronzeville community with interactive exhibition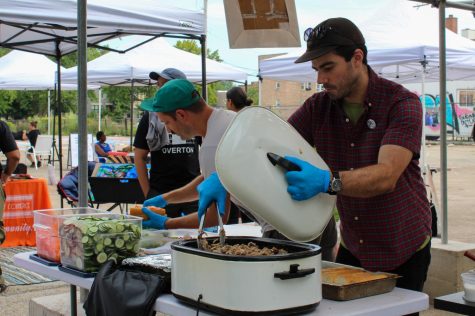 Canopy tents, local artwork and live music filled the plaza of the former Anthony Overton Elementary School in the heart of Bronzeville, one of 43 Chicago Public School buildings that were shut down in 2013 and transformed into community resource centers.
Overton Community Days is part of the Creative Grounds initiative organized by BORDERLESS Studio, which aims to utilize closed CPS grounds for community-centered events.
Students in Columbia's Civic Media graduate program in collaboration with Open Architecture Chicago were invited to present their interactive exhibition of work done during their Summer 2022 semester at Overton on Aug. 27.
Francia Garcia Hernandez, who is in her final semester in the Civic Media graduate program, said the goal of this interactive exhibition is to ask community members what participatory action research, or PAR, means to them. The students hosted and recorded onsite conversational interviews about community needs structured by community members as part of their research.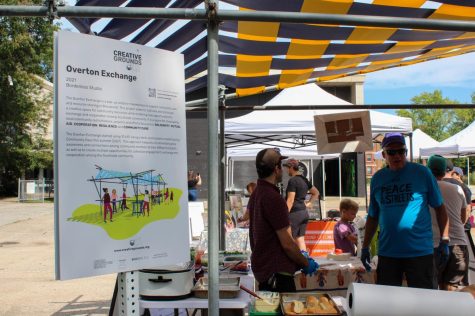 This exhibition is part of the "Participatory Action Research" class in the Civic Media graduate program.
"A lot of [the Civic Media program] is exploring what Chicago has to offer and connecting with community partners and organizations that are doing media work and civic engagement work," Hernandez said. "We had to take it to the field, and this is what we're doing now."
Hernandez said she hopes the impact of their work aids community groups by showcasing different ways to engage with Bronzeville community members.
"Bronzeville has a wonderful history that has so much legacy to learn about, but I think also needs some renewed energy," said Paola Aguirre, founder of BORDERLESS Studio and organizer for Creative Grounds as part of Overton Community Days. "I love that students connect with the neighborhood, with the history of [Overton Elementary] School, with the committee members that come here and connect. I think Overton, for me it's a place where new relationships [and] new collaborations emerge."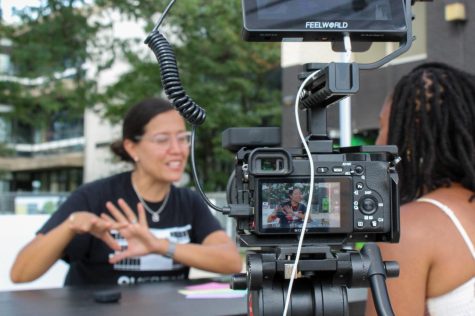 Dave Pabellon, assistant professor of graphic design and summer instructor in the Civic Media program, taught the "Participatory Action Research" class over the Summer 2022 semester in which students developed their project.
Pabellon said what aided in teaching this course was avoiding any form of micromanaging and giving the students the autonomy and independence to work collaboratively with each other.
"I find it extremely powerful because it's different than the way I would have approached it," Pabellon said. "Their interview process is something that I'm terrified by as a person that's an introvert. … They're bold, and they're bright, and they're confident in the way that they approach this subject matter."
Creative Grounds through BORDERLESS Studio hosts Overton Community Days every month and has been doing so since 2016 with the continued goal to provide similar resource exchanges through its pop-up community market.