These Columbia students 'stan' Elizabeth Warren for her policies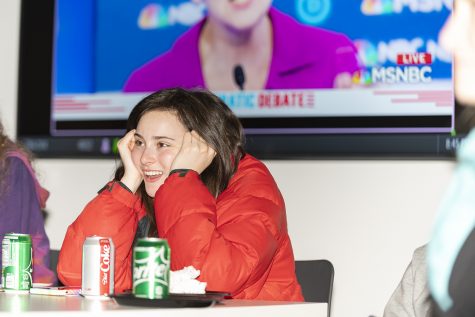 Four eager students gathered around a table with posters featuring Sen. Elizabeth Warren (D-Mass.) scattered about, all of them staring intently at the TV screen in front of them as they positioned "Students for Warren" buttons onto their shirts.
As Warren delivered passionate remarks and jabs at former New York Mayor Michael Bloomberg, the students clapped and cheered for what many politicos called Warren's best debate performance.
The small but enthusiastic group gathered for a night of discussion on Warren's vision for "real, structural change" and to watch the NBC Democratic debate held in Las Vegas over cheese and pepperoni pizza and soda at the Student Center, 754 S. Wabash Ave.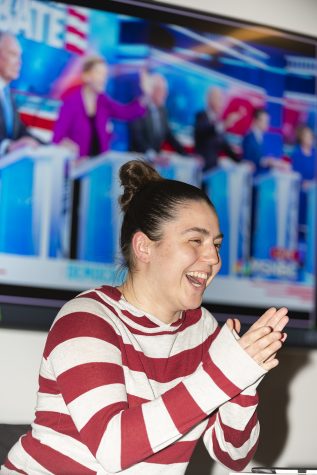 This was the first event held by the "Students for Warren" group, created  by watch party organizer Anna Busalacchi, a freshman public relations major, with the help of her faculty adviser, Anne Marie Mitchell.
Busalacchi said theirs is the first student group supporting a current presidential candidate, that she is aware of, at the college.
Kick-started just two weeks prior, the Warren supporters are not officially registered as a student organization at Columbia yet. However, Busalacchi said they are working on becoming sponsored by the Communication Department.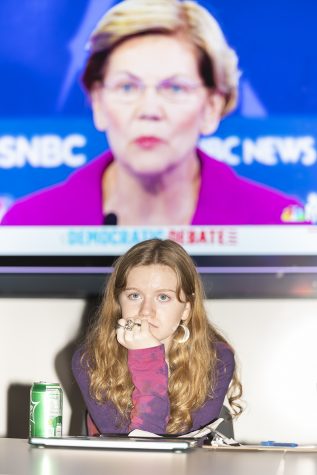 Mitchell, an associate professor in the Communication Department, said it is crucial for students to get involved because the outcome of the election impacts them, whether they know it or not.
"The problem is a lot of students don't really clearly understand or feel the connection of what's happening in our political life to their own life," Mitchell said.
Jake Eisendrath, a junior radio major, has been a Warren supporter for years. Not only is he impressed with the work she has accomplished as a senator, but he said her personality resonates closely with him because she is "open, honest and real." 
"That is not what you would usually get from a typical politician," Eisendrath said.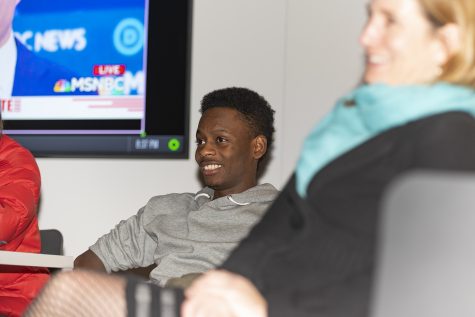 Warren, similar to Sen. Bernie Sanders (I-Vt.), is known for heralding progressive issues, such as increasing taxes on "the wealthy," raising the minimum wage to $15 an hour, eliminating the Electoral College and—most appealing to college students—making higher education more affordable and cancelling student loan debt for nearly 42 million Americans.
Although Warren supports many of the same policies Sanders does, Eisendrath said Sanders is a bit "too much" and "in people's face." He added that Warren feels like an everyday person rather than a rehearsed politician.
Throughout Warren's campaign, Busalacchi said the senator has shown great inclusivity and that Warren is clearer and more organized in her vision for America.
Although Warren's polling numbers have dropped recently, she is positioned in third place in terms of delegate count with 8 total, thus far, behind Sanders' 21 delegates and South Bend, Indiana, Mayor Pete Buttigieg's 23 delegates.
Despite those in attendance all supporting Warren, each had varying choices for a back-up candidate if she were to drop out of the race, with names ranging from Sanders to Sen. Amy Klobuchar (D-Minn.) to any Democratic candidate with an affordable higher education plan.
William Pettway, a senior theatre major, said it is dangerous when people lean toward one candidate simply because of "stan culture," without questioning them critically and keeping it policy-based. As such, Pettway is still open to candidates.
Busalacchi said no matter who the Democratic nominee is, it is important to be educated about politics and the government.
"It is so important for students to vote," Busalacchi said, "especially youth, because we need to be active with that right and use our voice."