There's a club for that: Involvement Fair showcases student organizations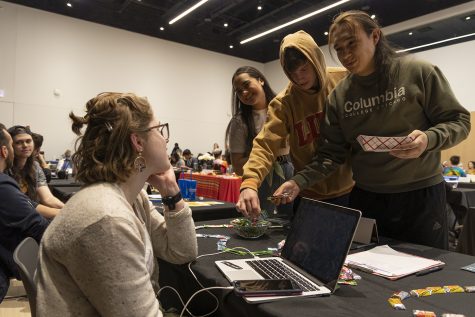 Athletes, female creators, Christians—there's a community on campus for everybody.
To help bring these communities together and increase student engagement on campus, the Student Organizations and Leadership office held an Involvement Fair in the Student Center, 754 S. Wabash Ave., Tuesday, Feb. 18 and Wednesday, Feb. 19.
Stephaine Villanova, the coordinator of Student Organizations, said the office decided to host the fair because several organizations were looking to grow their membership base.
"Students want that engagement; they want to build that community space," Villanova said. "I'm hoping [the fair] will pull in as many people [as possible]."
The event showcased 60 different official clubs and organizations. Many well-known Columbia organizations such as the Renegades athletic teams, the Student Athletic Association, the Black Student Union and the Student Government Association were represented, as well as several newer organizations such as the Coalition of Female Creators and AD Club.
Lillian Pugh, a freshman filmmaking major and member of the Coalition of Female Creators, said the club is a creative outlet for women and non-binary students to gain support in their various majors, as well as to create a bias-free space for practice and critique.
"It doesn't matter your major, we're just here to support each other," Pugh said.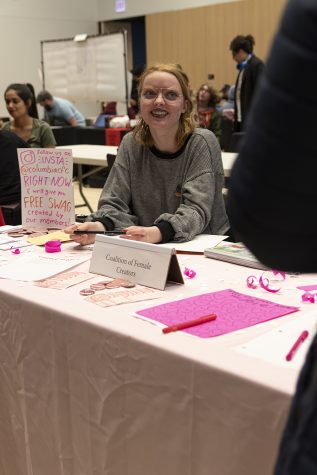 Another club, Columbia XA, is a faith-based organization aimed at sharing "God's love to the Columbia College student body," according to its Columbia group page.
Freshman journalism major Kamy Smelser said the group, which participates in worship with five other colleges on a weekly basis, is open to all religious beliefs and faiths.
"We just like to have good fellowship in community with one another," Smelser said.
Avery Otten, a senior cinema art and science major and member of the Student Athletic Association, said while student engagement has improved over previous years, all organizations should still be proactive in reaching out to students.
"Instead of being passive and waiting for students to show up to our events … [we should] go to the students to try and get them involved from the beginning," Otten said.
Villanova also said it is vital for organizations to retain engagement as students become more occupied in their classes, part-time jobs and other obligations.
The Student Organization and Leadership office offers organizations opportunities for collaboration, support and monthly training sessions to help clubs best interact with students, Villanova said.
"Students want to be more engaged because they're already doing that work on their own before they even get to us," Villanova said. "We're trying to give students more tools to be able to retain their members as well as us trying to do more general recruiting for everybody."