Theatre Department's first in-person performance since the pandemic tells the 'Tales of Berlin'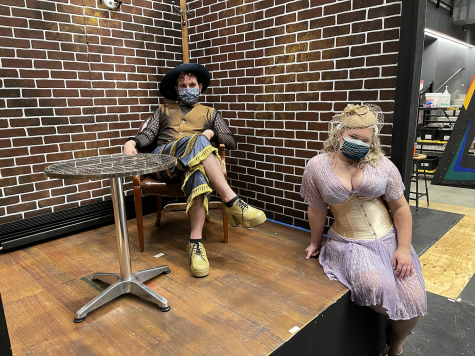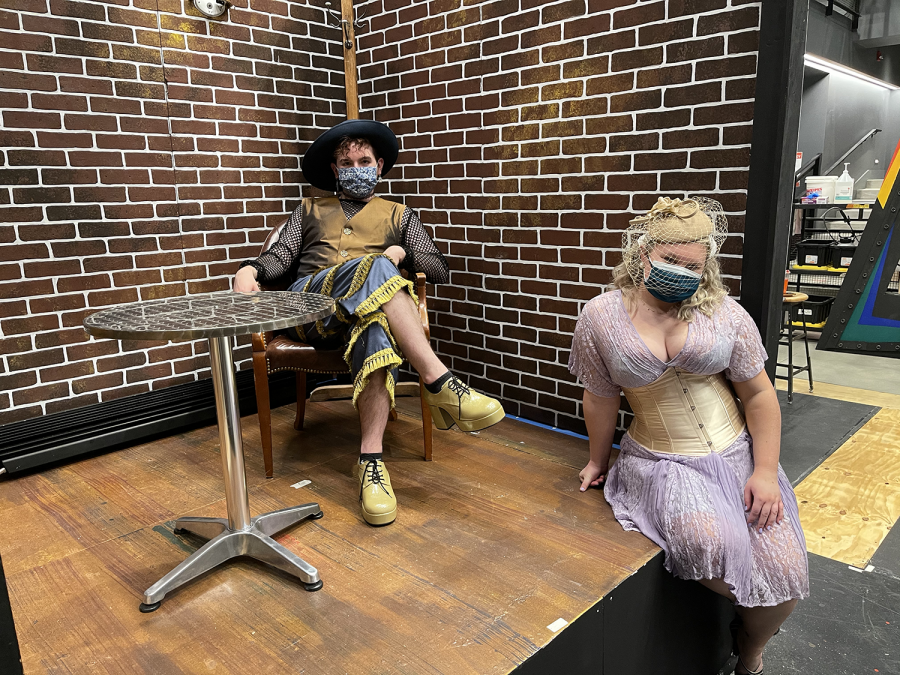 A corridor with images of Hitler-era Germany lining the walls, a montage of audio clips from the Black Lives Matter protests in 2020, a news broadcast from the AIDS epidemic in 1981, and noise from the 16th Street Baptist Church bombing in 1963 prepare theatergoers for Columbia's first in-person theatre performance since the start of the pandemic.
"Tales of Berlin," an interactive experience put on by the Theatre Department from April 14 to April 17, used Hitler's regime in Germany to comment on modern politics.
Carin Silkaitis, director of "Tales of Berlin" and the Allen and Lynn Turner Theatre Department chair, said the play had been in production since Spring 2020 via Zoom. Originally, Silkaitis said the production was supposed to be the musical "Cabaret," but the show had to be changed because the mask mandate would have impeded actors' singing.
The play was an original work created by students in the "Production & Performance" and "Creating a Performance" classes based on the musical "Cabaret," Silkaitis said.
Justin Christensen, a junior musical theatre major who played Bobby, a gay man in love with his friend, said he was "at a loss for words" when he saw the set for the first time and the feeling sunk in that the play would be in-person with a live audience.
"I was nervous about doing this process because we haven't done live theatre in so long," Christensen said. "It's obviously a little different, but I feel incredible and so happy about it. … I get to do what I love again."
Viewers received a content warning at the beginning of the show from a crew member about racism, anti-Semitism, eating disorders, violent images and self-harm before being greeted by another cast member welcoming them to Germany.
The Courtyard Theatre, 72 E. 11th St., was transformed into individual box-like rooms with props like tables and backdrops to create the individual settings from different periods of time. A large, clear plastic curtain allowed actors to perform their scene in each room in front of the standing audience. When each scene was finished, viewers walked across the theatre to the next room.
Silkaitis said students used "moment work," a technique created by the Tectonic Theater Project, where actors and designers create theatrical units like improv scenes, dialogues and costumes that are then combined into a whole play. 
"When [students] saw [how the play] happened, and they saw it evolve, … I think they were amazed by their own brilliance," Silkaitis said. "I was so moved by all of the gorgeous work that they were able to create and so proud of them."
Lele Lima, a senior musical theatre and marketing double major said the "moment work" required everyone in the class to trust the process.
"I had never done device theatre before, and it was interesting to see how little gestures [and] how little moments became scenes [and] monologues," Lima said. "We had to be really passionate about acting to stick with it because 'Zoomland' is completely different than actually putting on a show in person."
Lima played the role of Zen, an immigrant and ex-soldier from Germany. It was her first performance in the U.S., as she is an international student from Brazil.
Morgan Schoenecker, a junior musical theatre major who played the character Kost, a German woman who gets more involved with Nazism over time, said the play's message is to look at the past and reflect on the similarities between now and then.
Schoenecker said audience members are meant to learn from past events of discrimination to prevent a similar future.
Lima said she is happy with the message the play sends about people who are being discriminated against and are unwelcome in their own nation, but still stay strong because of their belief in who they are. 
"I really hope that people can feel that it's okay to be different, it's valid to be different—even when your government [and] … the world says you can't be different," Lima said. "Embracing our uniqueness is our most powerful virtue."