The stars align for Venusian Glow makeup
Jennifer Chavez
Junior acting major Myah Seay has astronomical dreams for her new astrology inspired makeup brand, Venusian Glow.
In addition to eventually becoming the world's first female two-time Emmy, Grammy, Oscar and Tony Award winner and opening a performing arts high school, Seay said one of her goals is to get Venusian Glow on Beyoncé's directory of black-owned businesses and be a beauty brand on par with Glossier.
"My brand is centered on out-of-this-world beauty," Seay said. "[People can] feel super powerful and confident in what they look like and their astrological identity at the same time."
Venusian Glow, which Seay officially launched July 6, combines her love of makeup with her passion for astrology.
She received her first play makeup kit at age four, and Seay said since then she has used makeup as a way to express herself artistically. She said astrology has influenced where she directs her energy, from reading horoscopes as a child to now reading birth charts, which are "the map of your life as told by the stars."
Seay first got the idea to create her brand in April after watching a YouTube video on how to start a lip gloss business. With more than 88,000 followers on her astrology-focused TikTok account, Seay realized she had a large base of potential customers.
Jaelyn Evans, a political science major at Randolph College in Virginia and Seay's close friend, said they were stunned by the initial news of Seay's brand.
"When she first told me I wasn't even sure she was serious," Evans said. "I was like, 'This sounds insane. Are you really ready to do it?'"
Evans said their shock quickly turned to excitement when they saw how passionate Seay was about her business; from designing the website, to filing to become a limited liability company, to creating the products.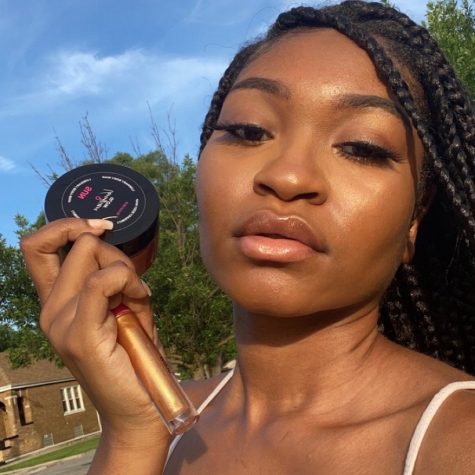 Seay said the brand's "soft glam lux cloud core" aesthetic is meant to emanate Venus, the planet of beauty, love and feminine energy. The name "Venusian Glow" is a byproduct of Seay's Libra sun sign, which is ruled by Venus, and her favorite makeup product, highlighter.
"I'm a Gemini Rising so I have a bunch of different personalities," Seay said. "The commonality between my personal and professional aesthetic is definitely glam."
While her mom occasionally helps package orders, Seay said she runs Venusian Glow by herself—managing social media, marketing, making the products and teaching herself book keeping to stay on top of tax payments.
To decide when to launch Venusian Glow, Seay enlisted the help of Blaze-Max Hiigli, an 18-year-old self-taught astrologer.
Hiigli, who has a significant following on Twitter, said Seay came to him for an electional astrology consultation, a service often sought by clients who want to start a venture during a certain period.
"The goal of the electional astrologer is to find the most auspicious time within this timeframe to undertake that endeavor to reap the most success from it," Hiigli said.
Hiigli said he picked July 6 at 12:52 p.m. in Chicago for Seay to debut Venusian Glow as it placed the sun at 15 degrees of Cancer and in the 10th house, which is representative of career success. At this time the moon was also in the fifth house, which represents beauty, creativity and fun.
After conducting extensive research, gathering all her ingredients and sanitizing her kitchen and dining room workspace, Seay spent hours mixing oils, flavoring and colors to perfect her product formulas.
In the end, she developed two types of lip scrubs, two Luminary Body Whips in gold and silver, and 13 AstroGlosses—one gloss for each astrological sign and a clear lip gloss.
For "brutally honest" feedback, Seay gave samples to nine of her closest friends.
Evans, who received a trial sample of the dark pink Sagittarius lip gloss, said they love the way it does not get sticky over time and how Seay made her products with Black people in mind.
"She gave me this hot pink color to try out and she knows I hate all hot pinks, so I was confused," Evans said. "[Then] I called her as soon as I put it on, like, 'This is gorgeous, how did you get it to look like this?'"
Seay said for inspiration she primarily looks to beauty YouTuber Jackie Aina, who advocates for visibility of people of color in the cosmetic industry, as well as Black female astrologers.
When the time came to launch, Seay said everything worked out "just like the stars said" and she received 34 orders within her first three days of business, nearly selling out of her available stock.
"It really brought tears to my eyes because I was so grateful for all the support from friends and family and strangers," Seay said. "It was just so amazing. I wasn't expecting so much all at once."
Junior musical theater and acting double major Breanna Brandenburg, who had several classes with Seay, bought a lip scrub, a body whip and lip glosses in her sun and moon signs.
"They smell like cake batter, which is literally the best thing ever," Brandenburg said. "I find that a lot of lip glosses are drying but hers are super moisturizing and they give the perfect tint."
Seay said she has plans to expand her product line during the next restock, and is in the process of developing discount codes and a loyalty rewards program. She hopes to reach 200 orders during her first year of business.
As an avid astrology fan, Brandenburg said she recommends Venusian Glow products and plans to continue supporting the brand.
"Not only are they really nice products, but I think it's really important to support Black owned, woman owned businesses, especially right here in our Columbia community," Brandenburg said.
Seay said moving forward she will work on balancing life as a full-time student and business owner, while promoting and growing her brand.
"I feel so much pride in wearing my products," Seay said. "I would love for [Venusian Glow] to be looked at as high quality, accessible and something that all different types of people enjoy."