'The P*ssy Paragraphs': A new and freeing, trans-affirmative comedy show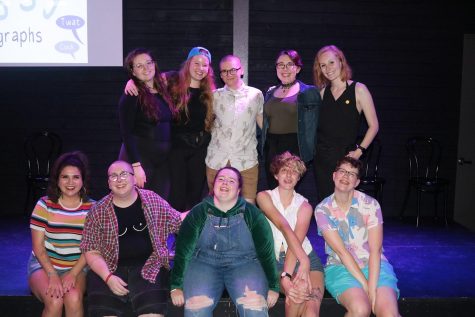 Inspired by "The Vagina Monologues," a new comedy show, "The P*ssy Paragraphs," introduces stories on body, gender and sexuality through a transgender-affirmative and intersectional female lens.
"The Vagina Monologues" was written by Eve Ensler in 1990 and inspired women at the time to talk about their bodies in a new way. But Madeline Brittingham, senior music business management major and "The P*ssy Paragraph's" executive producer, said Ensler's production was not inclusive and did not allow the women featured to tell their own stories.
However, the cast and crew of "The P*ssy Paragraphs" will bring its hour-long show to life, hoping that audience members will feel empowered to tell their own stories after the performance, Brittingham said.
"There is a great value in telling a variety of stories from a variety of different backgrounds and experiences," Brittingham said. "A big part of that value also comes from them telling their own story and being able to put their own spin on it."
The show will run for four weeks at the Laugh Out Loud Theater, 3851 N. Lincoln Ave., at 8 p.m. on October 11, 18, 25 and November 1. Tickets are $10 for students and $15 for general admission and are available on the Laugh Out Loud Theater's website.
The creators of "The P*ssy Paragraphs" recognized that in order for the production to be truly inclusive, it was necessary to use transgender-inclusive language, Brittingham said, in reference to the asterisk in the title of the show.
"Pussy has a very cis-female connotation to it," she said. "Not everyone who identifies as a woman has a vagina, [nor] everyone who has a vagina identifies as a woman."
The show initially started out as a sketch written by 2018 comedy writing and performance alumna Lucy Brooks for her semester at Second City, said Bethany Schmieder, senior comedy writing and performance major. In May, Brooks came to Schmieder and Brittingham with the project idea.
"We wanted to find that balance of taking ourselves seriously, [and taking] people's struggles and stories seriously," said Schmieder, the show's stage manager, "but, also using comedy as a way to make it more palatable for the audience."
River Coello, a writer and performer in the show, said the project was appealing because of the trans-affirmative lens the show has and how inclusive it is for transgender and nonbinary people.
"I feel very ready to share these parts of myself," Coello said. "They're a part of my story that I have watered and nurtured for a very long time."
Coello acknowledged the crowd may not be ready to take in transgender experiences, but Coello is prepared to be vulnerable and celebrate those experiences.
Director Sam Mauceri said the show matters because of the lack of transgender representation in the media.
"Trans people face innumerable difficulties in our lives that are imposed upon us by the society in which we live," they said. "We  don't get to see ourselves in any media representation. … We deserve better."
Mauceri said everyone should care about seeking out these "fresh and exciting" stories because transgender people exist all around and make art that is universal to all human experiences.
Writer and performer KC Horne said audience members don't need an invitation to feel welcomed.
"You may not have the same experiences as any of our castmates, [or] maybe you will," Horne said. "But, we are going to invite you in and bring you along for the ride."