The 'meme generation' creates humor to cope with coronavirus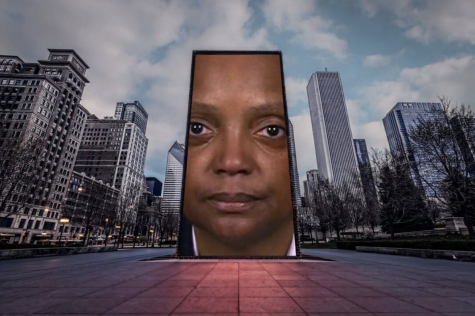 Memes of Mayor Lori Lightfoot popping up at the "Bean" or of SpongeBob SquarePants burning one of President and CEO Kwang-Wu Kim's emails may seem pointless or childish to some, but for others, it's a way to cope and connect.
Memes during the coronavirus, or COVID-19, crisis are a continuation of what they were before the global pandemic, said Samantha Close, an assistant professor in the College of Communication at DePaul University.
Close said photos of cute animals or other humorous formats have always been a means of communicating across distances. Now more than ever, they represent a coping mechanism.
"That's what communication is, really, in the different ways, is figuring out life and helping other people figure it out as well," she said.
Passed around in many formats online are humorous images and videos depicting people bored at home or feeling anxious in the midst of a pandemic, but Close said these ideas aren't relatable to everyone.
View this post on Instagram
"This feels very different for people who have gotten kicked out of their house, people who were already housing insecure or struggling with health difficulties or for my Asian American friends who've been harassed in public," Close said. "It's dangerous to see this too much as something we're all experiencing the same."
At the same time, memes about the coronavirus can also be a coping mechanism for an "imagined … collective experience," Close said, and are not always used to make light of a bad situation.
For Columbia students, that collective experience can be seen in the many memes posted by The Black Sheep Columbia satirical social media account, the same one responsible for the meme of SpongeBob SquarePants torching the Kim email.
Senior theatre major Maddox Schnur, social media contributor for The Black Sheep, said with his memes, he wants to help people feel less alone in their looming frustrations linked to the coronavirus. Schnur also uses the platform to make call-to-action posts, hoping to incite change and inform students about what Columbia administrators are doing in response to the coronavirus.
"Memes are the way we were raised to react to the situation," Schnur said. "Whether the coronavirus happened or not, we are the meme generation."
Posted Mondays, Tuesdays and Wednesdays, Schnur's latest content hones in on Columbia's response to the coronavirus, from campus closures to the cancellation then postponement of commencement to classes moving online.
Many Chicagoans are following the whereislightfoot Instagram account, which posts memes of the Chicago mayor popping up at various local landmarks—like Soldier Field, the Art Institute of Chicago and even on Columbia's campus—to warn residents to "stay home, save lives."
The anonymous creator of the account—who refers to themself as "the Peter Parker to Mayor Lightfoot's Spider-Man"—initially created it to repost others' memes about Illinois' stay-at-home order, recently extended until the end of May, but soon began to make their own.
With more than 5,000 followers as of April 19, they said the response has been much greater than expected.
The account's creator has received responses including: "Thank you for doing this. I appreciate looking at this. It made me smile," they said. "That's crazy."
The next step for whereislightfoot? Creating T-shirts and stickers with the viral memes. They plan to use the profits to sponsor the Remix Project, an organization that provides creative education to youth in underserved communities.
But for now, they hope to distract people from what is happening in the world for a little while through photos of Lightfoot standing next to shelves cleared of toilet paper.
Similarly, Corbin Eaton, video production manager at The Black Sheep, said being able to have a collective laugh has fostered a sense of online community among those at Columbia who would normally interact on campus.
As a senior cinema art and science major, Eaton said he is disappointed he will not have the opportunity to shake Kim's hand at graduation after years of cracking jokes about him on The Black Sheep. Still, he is trying to stay positive.
"Humor is really all we got," Eaton said. "If we aren't able to laugh and all join in unison … there's really no point in going on."