The first annual Wave Film Festival makes a splash at Columbia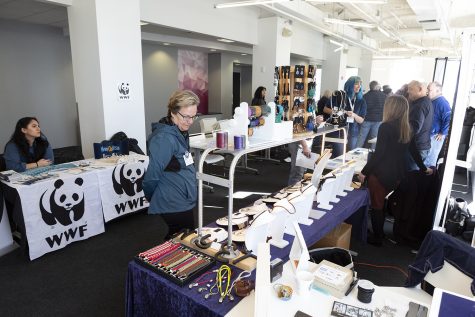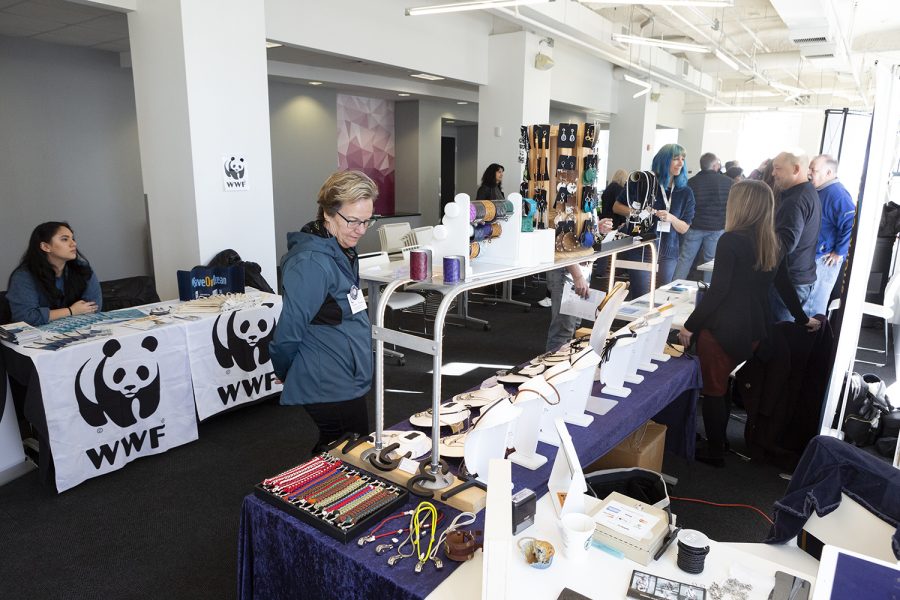 Columbia dipped its toes underwater by welcoming 12 subaquatic filmmakers, 13 environmental organizations and 20 short films to Film Row Cinema for the first Wave Film Festival.
The Saturday, Feb. 29 festival, which organizers plan on making a yearly staple at Columbia, was sponsored by "DocYourWorld," the Cinema and Television Arts Department, the Science and Mathematics Department and "Microcosm," one of the films featured at the festival. Beyond the shorts, the Wave Film Festival featured an art exhibit, 13 breakout sessions on a variety of topics, tables run by environmental organizations and Q&As with many of the filmmakers.
The festival originated from the cancellation of what would have been the 50th annual Our World Underwater Dive & Travel Show, which was supposed to take place in Chicago the same weekend but was cancelled due to organizers not being able to find enough exhibitors, according to X-Ray Mag.
The Wave Film Festival was conceived in December, soon after the advisory board formed, and before long, organizers began reaching out to the underwater filmmakers who had already booked their flights to Our World Underwater.
"We, of course, hope Our World Underwater's tent opens again," said Paul Cater Deaton, emcee of the Wave Film Festival. "Especially since we're dealing with powers that are not only indifferent but hostile to environmental protections."
The Wave Film Festival organizers wanted audience members to be conscious of the current state of the Earth's waters, which can be seen, not only from the contents of some of the featured films, but also during breakout group discussions ranging from biodiversity in the Philippines to coral reefs in Texas.
"Ninety percent of the Earth is water, and very little of it is explored," said Michael Caplan, one of the co-presenters and organizers at the Wave Film Festival who also teaches "DocYourWorld" and co-directed "Microcosm." "Understanding what the state of the oceans and the lakes and the rivers are will give us many important insights into how to adapt to keep the world habitable for humans and other animals."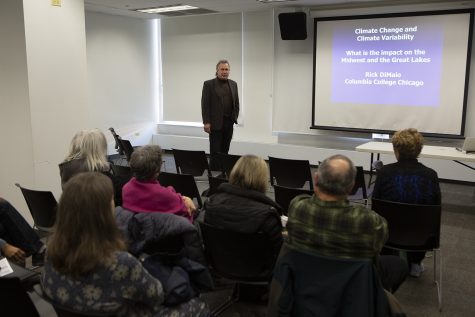 One of the presentations that hit closer to home for the Columbia community was Climate Change and the Great Lakes, hosted by meteorologist Rick DiMaio, an adjunct faculty member in the Science and Mathematics Department. The presentation covered how climate change led to the Midwest being cooler than usual in 2019 while the rest of the world was facing what would become the second hottest year on record; the deterioration of local beaches; and how Chicago's position between the North Pole and the equator, while being next to Lake Michigan, results in the city's unusual weather.
"The world is a living thing, and it's now showing the unmistakeable symptoms of being very ill," Deaton said. "For the survival of our host planet and ourselves, we need to really be worried about it and do something about it before it's too late."