The Exchange: an odyssey for hard-to-find pop culture items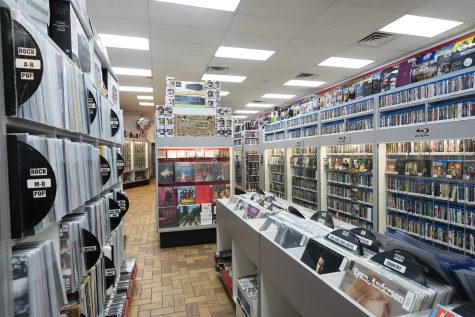 Walking around Milwaukee Avenue, MacKenzie Shumsky and Nathan Kornely were looking for different places to shop in Wicker Park when they stumbled upon The Exchange. The couple found something unexpected: an eclectic store carrying out-of-production DVDs.
Although he lives in the age of streamed content, Shumsky said he likes to have a physical copy of movies because he does not rely on streaming services, which keeps him returning to The Exchange time and time again.
Founded in 1975 by John Shahinian in Cleveland, Ohio, under the name Record Exchange, the store has expanded over the years into a company that sells video games, movies, CDs, records, figurines and all things entertainment in 30 stores across Ohio, Indiana, Pennsylvania and Illinois.
As the name would suggest, customers at The Exchange can bring in anything entertainment related along with their state ID or drivers license to exchange the item for cash or store credit. Under the Illinois Pawnbroker Regulation Act, The Exchange is required to ask for identification in order to keep track of where items were traded from. From there, the employees determine what they will or will not accept and assess the value of the item's payout.
Jordan Schaeffer, general manager at the Milwaukee Avenue location, 1524 N. Milwaukee Ave., refers to the store as a "little museum" because of its meticulously alphabetized collection of retro and newly-released entertainment in various forms of media.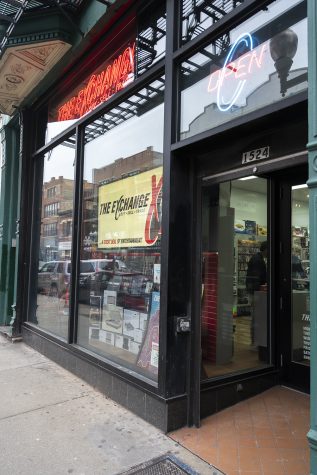 Customers who visit each store will find them distinctive because of their varying selections, such as Schaeffer's self-titled section "Island of Forgotten Systems" in the Milwaukee Avenue store. This section is comprised of vintage gaming systems, including TurboGrafx cards from the late '80s, 3DO Interactive Multiplayer consoles of the early '90s and rare  video games that are priced with collectors in mind.
"I have enough agency that I can say, 'We have the space, we have this product, let's make a nice spot for it,'" Schaeffer said. "[The company] gives us a little bit of room to cater to the things that people want."
Before the Lakeview store General Manager Grant Price started working for The Exchange four years ago, he said he was burnt out at his former job where he worked long hours behind a desk making cold calls for industrial services sales.
"There was so much pressure making a sale, or not being able to enjoy what I do, or have the satisfaction of making a sale," Price said. "I was always put in these situations where I was like, 'Sell, sell, sell, don't care about what you're selling.' I wanted to get out of it."
For Price, he enjoys working at The Exchange because he never knows how finding an item for someone will make their day.
"We find a lot of needles in a haystack for people. That's definitely rewarding," Price said.
The diversity and extensive amount of items in the store's stock led Nathaniel Uecker to become a regular shopper since 2015. Uecker said he has found miscellaneous and rare movies that he would not be able to find at other stores.
"They [have] a little bit of everything and a lot of everything," Uecker said.
While other brick-and-mortar stores that sell similar products are experiencing downsizing and layoffs, The Exchange maintains its freshness with its interactive customer service, ability to adapt with the times and capacity to guarantee niche products for customers, Price said.
"We figure out what are the things that people want [and] what can we do to cater to the needs of the people that are coming in here," Schaeffer said. "Just because it's not the most popular thing in the world doesn't mean it doesn't have a place here."