Endorsement: Kambium 'Kam' Buckner for mayor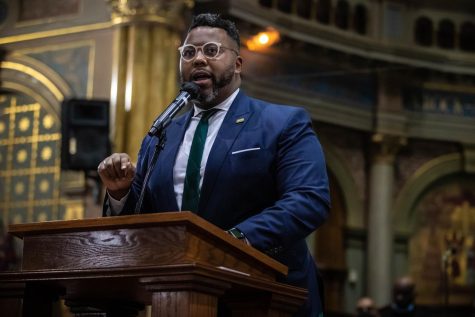 When it comes to addressing the issues and dissatisfaction brought on by the current mayor, the only candidate in the crowded field with solid plans for policing, housing and public transportation is Kambium Elijah "Kam" Buckner.
That is why the Chronicle Editorial Board is endorsing the Illinois state representative for mayor.
Buckner, who represents the city's South Side, told the Chronicle that the main reason he is running for mayor is to bring a true commitment to prioritizing public safety to City Hall. We believe him.
His public safety plan is designed to accomplish four key objectives: lower the murder rate, increase the clearance rate, repair the rift between communities and police officers and restore morale and accountability.
He promises to work to strengthen the existing public safety and justice structures in place, foster collaboration among law enforcement and the communities they serve, increase violence prevention investment, provide support for our first responders and solve more crimes.
Buckner also has a comprehensive housing platform to combat the crisis of the unhoused with a mix of affordable housing, emergency housing, temporary housing and permanent supportive housing.
He promises to partner with neighborhood builders to establish naturally-occurring affordable housing units in each community as well as create a coalition of neighborhood builders to advise on affordable housing opportunities citywide.
His housing platform will also prioritize housing development near CTA public transportation that can be developed quickly using transit-oriented development initiatives.
It is one of the most ambitious plans of all the nine candidates running for mayor.
He also plans to improve public transportation, something that is important for Columbia's commuter students, faculty and staff who rely on it to get to campus.
Buckner's public transportation plan will make key investments in the CTA, like electrifying the bus fleet and improving the reliability of trains and buses. He also proposed building non-automobile infrastructure and a completely connected and protected bike grid.
His plan includes instituting fare capping so no rider pays more than the price of a monthly pass as well as expanding innovative programs like the Cook County Fair Fares project, where Metra trains run more often, are more affordable and are better connected to CTA and Pace.
In regards to safety, Buckner's plan includes the implementation of CTA Transit Ambassadors who are trained in de-escalation techniques, ensuring the safety of every rider.
With the ongoing issue of police brutality, a nationwide epidemic that has uniquely impacted Chicago, proposals for increased police presence or overwhelming support to and from CPD made us reject the other candidates.
Tackling public safety and crime requires a new approach, one that Bucker and another candidate we liked, Ja'Mal Green, both understand.
We hope that Buckner if elected, would work with Green.
We know to defeat Lori Lightfoot, Chicago needs a strong, politically experienced candidate who can pull from a Democratic establishment—an establishment that is still not yet ready to take a risk on a progressive—or even dreamer, like Green.
Buckner would do well to listen to Green talk about crime being preventable at the root rather than the petal.
The issues of crime in Chicago are deeply systemic, so merely increasing the presence of police and allocating thousands of funds to the police department is not enough to reframe and heal our community.
That healing is something Chicago needs and deserves.
Kam Buckner is the one to deliver it.
The Chronicle Editorial Board is comprised of staff members who are independent of most news production. It has the same standards of fact and after debate among its members, presents the viewpoint of the Chronicle on issues of importance to the Columbia community.