The dream to play and say 'What is': Columbia's Andrew Whatley appears on Jeopardy!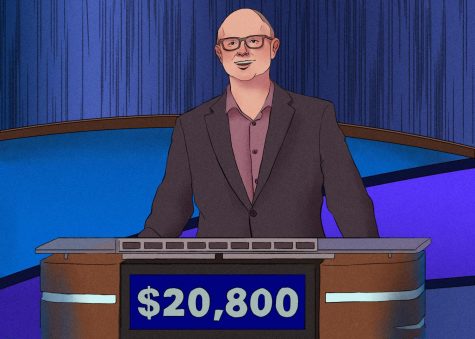 Andrew Whatley, the senior director of Enrollment Management Communications, got to participate in an episode of "Jeopardy!" where he competed against two other contestants for a cash prize.
Whatley said he has always been into anything trivia-related, and that this was not his first time competing. While attending high school in Alabama, his team won the state championship for quiz bowl twice back-to-back, as well a national competition.
"I remember watching 'Jeopardy!' pretty much all the way to when the current incarnation with Alex Trebek came on the air in the mid-80s," Whatley said. "I've always loved it."
Whatley has tried out for the show several times throughout the past 30 years, applying as both a teenager and as a college student.
"That third time, I finally got on," Whatley said, whose episode aired on Jan. 11.
"Jeopardy!" is a trivia game show where contestants compete for a cash prize; the contestant with the highest number of questions answered correctly wins. All questions must be answered in the form of a question, such as "What is…?"
Whatley said he prepared for his appearance on the game show up until the last minute.
"I had collected in my DVR, just a bunch of 'Jeopardy!' episodes that already aired and spent most of the day before, in my hotel room, practicing along with those [because] I was really focused on trying to do well on the show," Whatley said. "On the day of the taping, there's hair, makeup, wardrobe, all the things [which make] a television production."
Other parts of the taping day included an orientation and practice games.
"When my name was called I went out to the set [and] played my game … I [felt] like I played well, but I was up against a couple of people who were really good," Whatley said.
With 18 questions right, Whatley finished off in second place.
Whatley's work at Columbia involves managing the information sent to prospective Columbia students and their families, which helps them choose whether or not being a part of Columbia is the right college for them.
"Everyone in the office has been really excited for [Whatley]," said Ania Greiner, the director of Visitor Experience. "It's always really fun to just be in meetings with him because he shares a lot of his knowledge in his everyday conversations."
Derek Brinkley, assistant vice president of Undergraduate Admissions, agreed.
"[Whatley] had been trying for quite awhile to get on 'Jeopardy!' and I was excited to see that he could finally achieve his dream of making it on the show," Brinkley said. "If there's anyone I know in my life who would be a perfect person for 'Jeopardy!' it's Andrew Whatley."
Whatley shared some of his thoughts on the opportunity.
"It's been thirty-something years that I've been trying to get on 'Jeopardy!' and I finally did and it was great fun to have my shot at it," Whatley said.