The Columbia Chronicle picks up 29 awards at state convention, wins Sweepstakes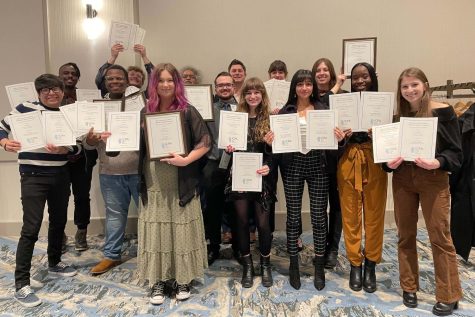 The student staff of The Columbia Chronicle earned 29 awards at the Illinois College Press Association's annual convention held this past weekend in Chicago. The Chronicle won first place in seven categories, including the Sweepstakes award for its class, for points earned across all contest categories.
The 2021 awards, announced Saturday, covered work produced between Dec. 1, 2020-Nov. 30, 2021. There were 27 competing schools and 769 contest entries submitted. The Chronicle competed in both "Open" categories among all schools and in the "Non-Dailies (enrollment) More Than 4,000" competition.
In most categories, each news organization could submit two entries. The Chronicle swept the competition in three categories, earning both first- and second-place recognition in the Feature Page Design, Photo Essay and Feature Photo competitions.
Erin McCarthy, interim chair of the Communication Department, offered praise for what the Chronicle has achieved during a time of transition.
"What the Chronicle staff has accomplished this year is notable—they are a young team; many veteran staffers graduated last spring," McCarthy said. "They had a steep learning curve as they returned to campus while maintaining their daily digital delivery and adding a return to print editions and [continuing] production of the Media Hub Minute."
This year's ICPA awards come from Chronicle work produced under the newsroom leadership of former editors-in-chief Mari Devereaux, Kendall Polidori and Brooklyn Kiosow and current co-EICs Camryn Cutinello and Noah Jennings.
"Being recognized for the hard work each member of our staff puts in day in and day out is certainly a gratifying feeling," Jennings said. "We don't do what we do for awards like these, but it's empowering to know the work done here at the Chronicle does not go unnoticed. I am ​proud of every member of this incredibly talented staff, and I'm honored to be a part of the group upholding the tradition and standard of excellence at The Columbia Chronicle."
Cutinello also expressed pride in the staff's achievements and talked about the unique challenges of the past year.
"Our staff had to balance a lot this past year, with a semester of remote work in the spring and a return to in-person learning in the fall," Cutinello said. "The Chronicle team has worked hard to continue to serve the Columbia community, and it's great to be recognized for this work."
The Chronicle's Director of Photography K'Von Jackson earned two first-place plaques for best Feature Photo and Spot News Photo.
Recent graduates Chloe McMullen, Valentina Pucarelli, Paige Barnes and Summer Hoagland-Abernathy also earned recognition in multiple categories.
Current Chronicle staffers Anna Busalacchi, Jackie Elliott, Amina Sergazina, Elias Gonzalez, Justice Lewis and Lucas Martinez, along with recent graduates Isaiah Colbert and Zachary Clingenpeel, also earned ICPA certificates for their work, in addition to numerous awards honoring the full staff.
"All of the work the Chronicle produces is a collaborative effort," said Travis Truitt, general manager for student media. "Beyond the individuals recognized by the ICPA is a full team of student editors and team members working to make every Chronicle story, photo, illustration, video, podcast, advertisement, social media post and print issue as strong as possible."   
The Chronicle's ICPA awards build upon the national recognition the news organization earned in October, when it received a combined 10 national awards from the Associated Collegiate Press and the College Media Association. 
This included the Associated Collegiate Press' Online Pacemaker, awarded to news outlets from 14 colleges and universities across the country. The ACP called the Pacemaker "the association's preeminent award."
"We couldn't do what we do without the support of the Communication Department and the journalism faculty who teach our students," Truitt said, noting in particular faculty adviser Curtis Lawrence, "whose knowledge of the city and the college, plus the wisdom he's gained from years as a reporter, is a tremendous asset to our students. We're lucky to have Curtis in our newsroom working with the Chronicle staff."
Truitt also expressed appreciation for the support from the Design Department, whose faculty "encourage so many talented illustrators and graphic designers to apply to the Chronicle. Our illustrations are one thing that sets the Chronicle apart from other college newspapers and news organizations."
The Chronicle's full list of 2021 Illinois College Press Association (ICPA) award recipients:
First Place – Overall Sweepstakes (non-daily newspapers, schools with enrollment over 4,000, based on points earned across all categories) – Staff
First Place – Feature Photo – K'Von Jackson
First Place – Spot News Photo – K'Von Jackson
First Place – Editorial Cartoon – Chloe McMullen
First Place – Graphic Illustration – Chloe McMullen
First Place – Photo Essay – Staff
First Place – Feature Page Design – Staff

 

Second Place – Online News Site – Staff
Second Place – In-Depth Reporting – Anna Busalacchi
Second Place – News Story – Amina Sergazina
Second Place – Column – Justice Lewis
Second Place – Critical Review (Other Than Film) – Summer Hoagland-Abernathy
Second Place – Feature Photo – Valentina Pucarelli
Second Place – Photo Essay – Staff
Second Place – Front Page Layout – Staff
Second Place – Feature Page Design – Staff
Third Place – Feature Story – Valentina Pucarelli
Third Place – Podcast (News) – Paige Barnes

 

Third Place – Graphic Illustration – Lucas Martinez
Third Place – General Excellence, Print – Staff

 

Third Place – Special Supplement – Staff
Third Place – Multimedia Reporting – Staff

 

Honorable Mention – General Excellence, Website – Staff

 

Honorable Mention – Multimedia Reporting – Paige Barnes and Jackie Elliott
Honorable Mention – Editorial Cartoon – Elias Gonzalez
Honorable Mention – Critical Review (Film) – Isaiah Colbert
Honorable Mention – Editorial – Summer Hoagland-Abernathy
Honorable Mention – Column – Valentina Pucarelli
Honorable Mention – General News Photo – Zachary Clingenpeel

 
2021 Pacemaker and Associated Collegiate Press Individual Awards (ACP)
Winner – Online Pacemaker Award – Staff
Finalist – Newspaper Pacemaker Award – Staff
Third Place – Environmental Portrait – Zachary Clingenpeel
Fourth Place – Diversity Story – Erin Threlkeld
Honorable Mention – COVID-19 Coverage, Design/Visual: Print or Digital – Lucas Martinez
Honorable Mention – COVID-19 Coverage, Broadcast: News or Features – Paige Barnes and Ignacio Calderon
2021 Pinnacle Awards, College Media Association (CMA)
Second Place – Best Special Section: More than Four Pages – Staff
Honorable Mention – Best House Ad – Vicki Lei
Honorable Mention – Best Photo Illustration – Camilla Forte and Savanna Steffens
Honorable Mention – Best Arts and Entertainment Story – Isaiah Colbert