The Columbia Chronicle picks up 21 awards at state convention
By Staff
February 29, 2020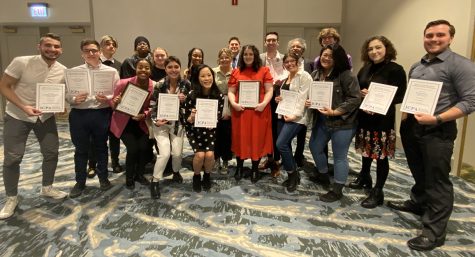 The student staff of The Columbia Chronicle took home 21 awards, including nine first place plaques and certificates, at the Illinois College Press Association's annual convention, held Feb. 21-22 in Chicago. The awards recognized work published between December 2018 and the end of November 2019.
The Chronicle was one of 27 competing college newspapers in open categories, and one of 11 in the "Non-Dailies – Enrollment 4,000 or More" category. ICPA reported 985 total entries.
"It's gratifying to see our students' hard work recognized in this way," said Communication Department Chair Suzanne McBride, who also singled out student media General Manager Travis Truitt and faculty adviser Curtis Lawrence for the counsel and guidance they provide the Chronicle staff year-round.
In the Open Division, the staff, led by Editor-in-Chief Alexandra Yetter, won for best Special Supplement for its 2019 Sex Issue. Zack Jackson placed second for an advertisement (less than full page), and Kendall Polidori placed third for a critical review (other than film). The Chronicle's Mike Rundle won the annual ICPA Photo Competition (pictured below), in which photographers from all competing state schools traverse the city seeking the perfect shot based upon an announced theme.
In its non-daily/large school newspaper class, the Chronicle also won: best Opinion Page (staff), News Story (Blaise Mesa), Sports Column (Mesa), Photo Essay (Orlando Pinder), Feature Photo (Pinder), General News Photo (Pinder) and Spot News Photo (Camilla Forte).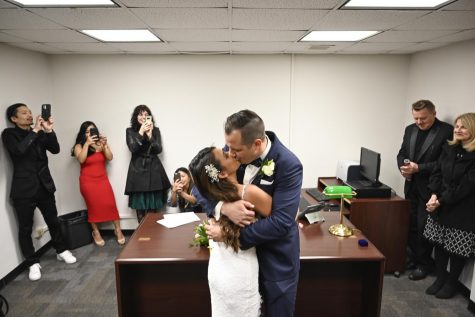 "Seeing all of the hard work, long hours and passion for journalism pay off for our staff at ICPA is one of the most rewarding parts of this job," Yetter said. "Better yet, our staff always walks away inspired by the work our fellow collegiate journalists have accomplished, eager to continue improving next year."
Chronicle staffers Miranda Manier, Ignacio Calderon and Grace Senior also walked away with individual certificates, and the staff was collectively recognized for front page layout, multimedia reporting and headline writing. Mesa, Rundle, Jackson and Pinder received multiple awards.
The Chronicle's success comes on the heels of national recognition from the Associated Collegiate Press and the College Media Association announced at the ACP/CMA National College Journalism Convention in November.
In their annual award competitions among all 4-year colleges and universities, the ACP recognized the Chronicle in five categories, including diversity reporting, photojournalism, podcasting and marketing for its advertising rate card. Among weekly newspapers at the convention, the Chronicle placed sixth nationally for "Best of Show."
The CMA Pinnacles recognized the Chronicle in four categories, representing feature reporting, breaking news photography, design and layout.
For a comprehensive list of Columbia Chronicle awards, go to: https://columbiachronicle.com/awards