The Chronicle's Guide to Local Brews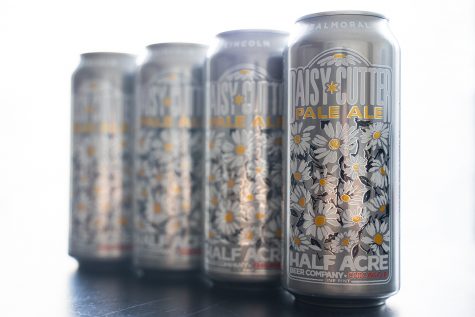 As we dive right into 2021, let's happily wave goodbye to 2020 and drink to a new year. The year 2020 was one of loss, fear and change, but 2021 could be a year full of hope, optimism and … beer.
Chicago has built a reputation as a leading beer city and even has its own nonprofit beer association—the Chicago Beer Society, which has recently dedicated it's website to supporting local breweries during the COVID-19 outbreak.
As the pandemic continues, the Chronicle has compiled a list of Chicago-based brews you should try—not only for your taste buds, but to continue supporting local businesses.
While it is impossible to include all of the creative and tasty local beer companies, here are just a few to get you started:
Moody Tongue Brewing Company: Caramelized Chocolate Churro Baltic Porter
Why separate beer from dessert? Moody Tongue uses "a chef's mindset to highlight flavors and aromatics in balanced beers," according to its website.
The Caramelized Chocolate Churro Baltic Porter is a medium-bodied Baltic porter— a type of beer known for its use of brown malt—with a coffee color and notes of vanilla, chocolate and cinnamon. While it may seem best to pair with desserts, you can also try it alongside a cheeseboard.
Moody Tongue, 2515 S. Wabash Ave., is not currently doing dine-in, but you can order for curbside pick-up or delivery here.
Hopewell Brewing Company: Table Salt and Tiny Waves
As far as sour beer goes, Table Salt packs the right punch of lemon and lime. Just pouring it into a glass at home allows you to practically taste the salt. It is a gose-style sour brewed with French grey sea salt, lemongrass, lime leaf and cardamom.

If sours are not really your thing, try Hopewell's Tiny Waves—a hazy India pale ale or IPA. It is a bit fruity, but not overly sweet. Tiny Waves' hints of peach and passion fruit make it a beer to drink year-round without missing out on the classic IPA bitterness.
Head over to Hopewell's website and order some beer for pick-up or delivery. Or drive on over to 2760 N. Milwaukee Ave. and grab some beer to go.
Whiner Beer Company: Le Tub
If you are looking for an Instagram-able beer, this is it. Set the can on your dinner table and snap a photo to add some color, cats and art to your social media feed. Le Tub, a farmhouse ale saison, tastes fresh and new.
With hints of white grapes and lemon tart, you will finish this beer and immediately reach for another.
Whiner Beer, 1400 W. 46th St., is open and available for delivery and pick-up through its website.
Revolution Brewing Company: Anti-Hero
Another tasty IPA is Revolution Brewing's Anti-Hero. If you have acquired a taste for IPAs, this local beer has a clean bitterness. The blend of warrior, chinook, centennial and amarillo makes it crisp and refreshing.
Revolution Brewing Company's brewery and taproom, 3340 N. Kedzie Ave., is open for curbside pickup.
Half Acre Brewing Company: Daisy Cutter
This is another can of beer you may want to photograph for Instagram if you are into the boho style. Daisy Cutter is a pale ale with a citrusy twist and a surprisingly dry finish. This was one of the first beers Half Acre brewed at its brewery, 4257 N. Lincoln Ave, according to its website.
Half Acre Brewing is currently open for curbside pickup and delivery here.
Goose Island Brewery: Natural Villain and SPF
Let's not forget to include a lager, especially a garage-style lager such as Natural Villain. According to its website, the Chicago band Twin Peaks came to Goose Island's brewery in 2016 and helped create an ideal beer to drink in your garage, on your front porch or at a music festival. The bread-y taste is perfectly balanced by the refreshing hop of this lager.
While it is still winter, we can plan ahead for our new go-to summer beer. Goose Island's SPF has earned its sunscreen-inspired name. This fruit ale hits the passion fruit and pineapple flavor head-on and makes you want to throw on a swimsuit and ride your bike to the beach.

Goose Island has multiple Chicago locations, including its brewhouse at 1800 N. Clybourn Ave. and its taproom at 1800 W. Fulton St., which are both open for outdoor dining and to-go orders.