The Asian Student Organization celebrates Wicked Week with a night of murder mystery, games and community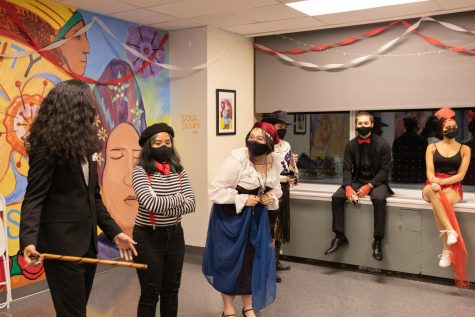 One by one, members of the Asian Student Organization were "killed off" at its Murder Mystery Party at the Circus, leaving guests with the task of working together to try to find the culprit.
No need to worry, no one actually died. This was all according to a plan that is cooked up annually by the ASO for its murder mystery events, which are a part of Columbia's Wicked Week festivities.
The ASO hosted its Halloween event Tuesday night in the Student Diversity and Inclusion multipurpose room on the 4th floor at 618 S. Michigan Ave. The party included various activities such as games, an origami setup, a ring toss and fortunetelling.
Julian Banzon, a senior acoustics major and president of the ASO, said this year's turnout exceeded expectations.
"We weren't expecting that many people at all. We were looking at maybe 20 to 30 people," Banzon said. "The space is rather small, so I cut off the registration at 2 p.m., and then I think around 30 to 35 people showed up."
Banzon joined the ASO as a freshman to explore his Asian heritage. Prior to joining, Banzon did not feel as connected as he wanted to be to his heritage.
"I never really had a connection to my Asian heritage and my culture. So I came [to the ASO]," Banzon said. "And I was just like, 'Oh, wow, this is a great community.'"
Banzon has made many friends throughout the years through the ASO and has taken away more than he imagined.
"I wanted to come [to the ASO] for a learning experience, and I got a lot more than that," Banzon said.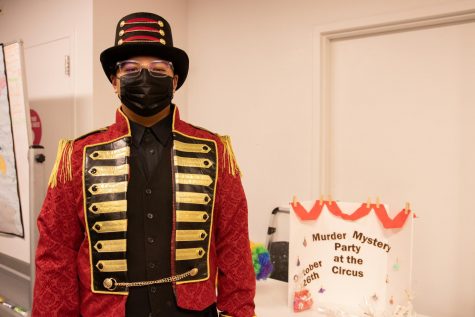 Yulian Leshuk, a transfer illustration major, joined the ASO in summer 2021, prior to starting at Columbia.
"I wanted to start making some connections with the Asian American community, especially because I was very involved with it at the University of Illinois-Chicago," Leshuk said. "I think it's very chill here. I always have a good time. I think it'll take some time for me to get closer connections with people, but I really admire all the work that all the board members do."
Prior to coming to Columbia, Leshuk was heavily involved in the mentorship program at the University of Illinois-Chicago and was on the board for the Asian American Organization there. She was shocked by the lack of diversity in the student body at Columbia.
"I have five classes [at Columbia], and only one of them has any Asians, and both of them are in my same class," Leshuk said. "Coming from a campus where I was obviously very well-involved in the community, it's definitely a shock."
Leshuk praised the ASO for spotlighting Asian American students with its club and events which are tailored towards Asian and Asian American students, as well as non-Asian American students who want to be involved.
"I think any time an event focuses on a community that doesn't necessarily have the widest scope or the widest spotlight is important," Leshuk said. "I think anywhere we can get something that's in our name and for us, while obviously welcoming other people, too, is really powerful."
Janssen Mitchell Jr., a sophomore animation major, credits the murder mystery event with helping him break the ice with a few acquaintances in the ASO.
"This is where I met Julian in-person. Events like these make it easy to get to know people outside of the internet," Mitchell said. "You build more and more [connections], get to know people through that."
The ASO meets every Tuesday from 5 to 7 p.m. at 618 S. Michigan Ave. on the 4th floor. The ASO has taken a hybrid approach: Some meetings will be in person while other meetings and events may be online.
Members can join the Discord and follow the email chain to be notified about whether the weekly meeting will be online or in person.
P.S. It was the magician, played by junior music major JR Villanueva!