'The Art of Banksy,' an ironic showcase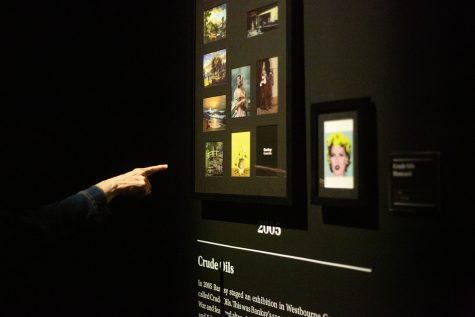 Eighty iconic and politically satirical works of Banksy, an anonymous yet internationally recognized UK graffiti artist, hung on the walls of a West Loop venue space this past weekend. Pieces such as "Love is in the Air," "Queen Vic" and "Girl with Balloon" are seen amongst others.
The Art of Banksy exhibit is the largest collection of Banksy artwork and includes works from private collectors around the world, estimated at $35 million.
Originally scheduled to open July 1, the exhibit underwent three different date reschedules and location changes, but has landed in the 360 N. State St.venue space and opened Saturday to the public, running until Oct. 31.
Corey Ross, CEO of Starvox Entertainment, based in Toronto, and producer of "The Art of Banksy," said the new space was chosen because of its central location and its open rectangular shape.
Ross, who is also the CEO of Lighthouse Immersive and producer of the Immersive Van Gogh exhibit, said there were complications with the formerly announced second location at the Epiphany Center for the Arts.
"The Epiphany Center had its own ideas about how the art should be displayed and when we got to the brass tacks, it didn't work," Ross said. "[It]wasn't going to be the way that we intended the public to see the pieces and that became impossible for us, so we decided we needed to change venues," Ross said.
Refunds were issued, and customers were allowed to change the date of their ticket, however an additional fee of $9.99 per ticket was added to change the date with less than 24 hours notice.
"The Art of Banksy" is not in affiliation with Banksy themself, and Banksy is not involved in the curation or profit share of the exhibit. Instead, Ross said the curator of the exhibition works with collectors to present the works in a historical progression. Ross said to his knowledge, Banksy has not responded to their exhibit.
"Banksy has been paid for these works and that's where for him, it stops," said Michel Boersma, founder of Global Touring Productions, based in London, and executive producer of "The Art of Banksy." "And if the people who take the risk of a commercial venture like this exhibition make a profit, then profit goes to them."
The ticket prices vary based on the timing of the ticket and the package, costing at least $39.99 for adults during an off-peak time, and up to $99.99 for a VIP Prime ticket. A description of the different ticket options can be found onthe exhibit website.
"There are a number of pretty high profile folks who are collecting pieces," Ross said. "The reasons that we're able to get the pieces from them is that they recognize that this art deserves to be seen by a wider public because when it goes into collections, it'll go into either a warehouse, or maybe it's a private house, but many of these people are inspired to share because they want to share to the public and they think that that has value for them."
Ross said the exhibit is costly to put together, with the expense of transporting the pieces from the private collectors, who he says are mostly in Europe. In addition to the cost of the venue, other expenses for the exhibitors include paying their employees, investors and owners, as well as marketing for the exhibit.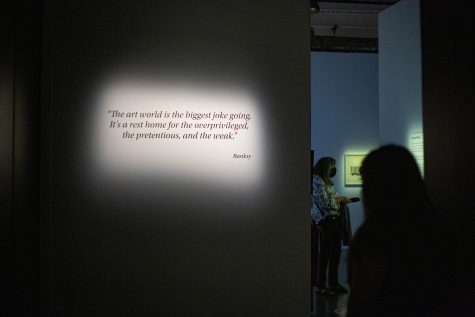 With numerous exhibits around the world, "The Art of Banksy" has been seen by more than 750,000 people, which amounts to at least $30 million in revenue, only taking into account their cheapest ticket price — making it possibly the most expensive art show in the world.
"When people attack us about [being] a commercial exhibition…and I go, yeah, but the free art that Banksy makes is paid for by the people he attacks," Boersma said. "That's the stone cold truth of it and there's an economy around Banksy, which Banksy is fully a part of, he's not being sidelined. He's fully part of and he plays with it on the good side and the bad side, but not a lot of people spend the time to actually think about that."
Chicago art manager Allan Weinberger, owner of BERGART, primarily represents muralists and graffiti artists, and released a statement on Instagram urging Corey Ross and Starvox Entertainment to commit 15% of the revenue in Chicago from "The Art of Banksy" to stay within the Chicago art community.
"I tried to meet with [Weinberger] to come up with some options that might work and we didn't come up with some options that work," Ross said. "We are supporting arts workers by employing them and certainly 15%, which would exceed the profit margin typically on one of the things, that is not an option … but we support local arts workers and artists in the normal course of our work."
The duality of Banksy is shown throughout the exhibit, in works such as "I Can't Believe You Morons Actually Buy This Sh–" and a quote from Banksy pasted on the wall in the exhibit saying, "The art world is the biggest joke going. It's a rest home for the over privileged, the pretentious and the weak."
The timeline format of the exhibition began with original screen prints, transitioning to Banksy's cultural collaborations, such as the Paris Hilton CD prank, and into the unique art pieces such as sculptures, works on wood and other large pieces. The exhibit ends with a replica of the pieces in Banksy's 2008 "Barely Legal" exhibit.
"We don't have pieces from the street; that was a decision [made] early on," Boersma said. "Those are street art. It's made for the street, it's made to be free. We have worked together with collectors who have bought the works from Banksy and where Banksy uses the images that he uses on the street, but then in a different format and different motives."
Customers can "exit through the gift shop" with T-shirts, mugs, tote bags and posters. Face masks are required in the exhibit and the floor is marked with red dots for social distancing, although distancing was not visibly enforced.
Steve Lazarides, an ex-partner of Banksy, worked together with Boersma when they opened "The Art of Banksy" in London, providing notebooks from the anonymous artist and other unique insight.
Boersma said while the exhibit has been in the U.S., other false exhibits have copied their logo, promotional blurbs and use inauthentic Banksy works.
"The Art of Banksy" exhibits in Melbourne; Tel Aviv, Israel; Auckland, New Zealand; Toronto; Miami; Göteborg, Sweden; Sydney; London and now Chicago, with an upcoming exhibit in San Francisco in November, are all produced by GTP Entertainment.
"The upcoming one in Atlanta is absolutely utterly fake, and that same one is in Warsaw, [Poland]; the same one is in Dubai, [United Arab Emirates,]" Boersma said.
Boersma said every work in their exhibits, including Chicago, is authenticated through Pest Control, Banksy's authentication website.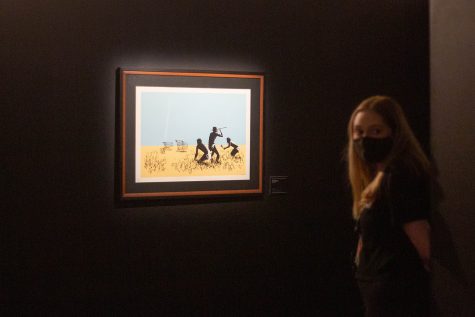 Alejandro Martell, a senior illustration major, originally thought the exhibit was fake and bought tickets thinking in the back of his mind that it could be a scam. He planned to go on his birthday in late July, before it was rescheduled.
"I think if [people are] a fan of Banksy, then they'll understand really quickly that this is not a normal show and [Banksy is] not really having [their] own thoughts, none of [their] input went into how most of this will go. It's just, you know, somebody else behind the curtain."
Banksy has conducted their own unique exhibitions before such as "Dismaland" in 2015, however none to this commercialized nature and collecting this large of a profit.
"They give [Banksy's] work completely different treatments than they would some of the other artists and then this has kind of caused some other graffiti writers to kind of go against him and have a graffiti war for a long time," Martell said.
Martell, being a part of the street art community himself, has watched the King Robbo versus Banksy "Graffiti Wars" documentary on YouTube, about the conflict between the two UK graffiti artists, which he said made him view Banksy negatively.
Martell said people have commodified Banksy's art through the preservation of it, something that is rarely seen in the street art world. He said Banksy's art has become more for the tourists than for the art itself.
"I got the selfie, I got the Instagram pic … you know what I mean? That's what I feel like these events are for," Martell said. "If you go there and you're an artist and your takeaway from the event is that this is bullsh–, then you can have that, but I feel like at the same time, they're all still real works and I mean, somebody had to f—– buy them."
Martell said he noticed many strong opposing reactions to the exhibit shared on people's Instagram stories.
"I had people who didn't really know anything about it, then tell me 'Oh, you're going to the event, it looks so sick, Banksy is a legend,'" Martell said. "It was completely polar opposite reactions where you had street artists saying 'this is bulls—, I can't believe people are coming to pay for this, you have artists who f—- just need $5 and they're charging $50 for a ticket.'"
Martell said he enjoys art shows and wanted to experience the exhibit himself and form his own opinion, even though he knows Banksy would never produce something like it.
Martell shares his work on his Instagram, but currently works a day job to fund his art supplies, bills and student loans. He said it is not ideal but "was bound to happen" and that he is sick of buying things.
"I guess for street artists, I think because they don't have the experience of putting their work in galleries or exhibiting their work, they don't know that life, but what they know is breaking the law and getting a name for themselves," Martell said. "And I think all they really want is this recognition. I think the best thing you could do for an artist, especially an artist at that stature, who's doing something illegal, I think the least you could do is just give them a platform, because they get shunned from like every single other thing."