'The Ancestry of Home': Cultural domestic traditions explored through Sylvie Harris' photography and art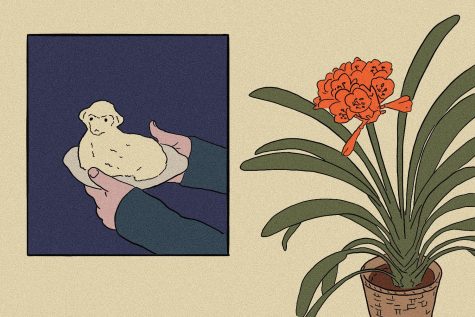 Generations of women in Sylvie Harris' far-reaching family each have their own clivia plant, all being repotted clippings from the original plant nursed to life by her great-grandmother. The plant became one of the inspirations behind Harris' need to explore the domestic cultural traditions and symbolic objects embraced and passed down by family members both past and present.
In 2021, Harris traveled to her great-grandmother's country of origin, Poland, to learn about and photograph her relatives for the purpose of connecting with her maternal line. The result is her exhibition "Sylvie Harris: The Ancestry of Home," which is showing now during Polish American Heritage Month and running until Nov. 29 at The Arcade, a gallery space located on the second floor of 618 S. Michigan Ave.
Harris got her start in photography at Drew University in Madison, New Jersey, and obtained her Master of Fine Arts in photography in 2022 from Columbia. Harris was also awarded the Stuart R. Abelson Graduate Research Fellowship Award in 2021, which funded her travel to Poland for the project.
"The exhibit is the endpoint of this project I've been working on for a long time," Harris said. "I've always been interested in family ritual, particularly how it pertains to my family, who's Polish, and what it means to carry on tradition such as who does it and what does it look like, especially in the domestic space."
She said the visual evidence of her family's traditions became the basis for her multimedia exhibit that includes photographs, video and textile installations.
Aside from the clivia plant, food is another physical manifestation of family cultural tradition that many people can relate to, Harris said.
"That is how a lot of people relate to their cultural heritage and it's also a tradition, in many cultures, done mostly by women," Harris said. "Food plays a big part in how I relate to my Polish culture but also how I relate to my family members too — all of us making these meals. It's also another thing that happens in the home. That's the thread that I was pulling between the plants in the domestic place, food; it's all kind of happening in the same place with the same people."
Mark Porter, senior exhibitions coordinator for the Department of Exhibitions, Performances and Student Spaces, said it is not typical for a photographer to work in a multimedia format.
What makes Harris' work in "The Ancestry of Home" unique is the deep, personal dive into her family history that invites people to participate in her process of self-discovery, Porter said.
"Sylvie is very good at communicating her own personal story, her family heritage," Porter said. "She stretches photography into several different processes. Her photography is featured in a traditional sense, but then she stretches that process out into a three-dimensional format where she takes some of the photographic imagery and embeds it into fabric to make sculptural installations."
These days, Harris said she is thinking a lot about whether she wants to have a relation to the home and domestic work like her grandmother who had nine children.
"I do think that it is beautiful what women are able to do in the home and how that has been expressed over the years, but it is complicated because although that work is very important and basically props up our whole society … it has been continuously undervalued. I don't want to be tied to it, but I also don't want to assume that it is less important than or less valuable than work that's done for capital outside of the home," Harris said.
August Miller, a senior animation major, relates their own Polish ancestry to Harris' exhibit. In contrast to Harris' story, Miller feels they are far removed from that part of their heritage and believes that as people immigrate, their origin culture can get assimilated into what American society is, resulting in a dilution of cultural traditions.
"I think that it's really neat that she was able to go back to her roots a little bit and explore the place that she's from; the recipe cards are really neat," Miller said. "I think it's really important especially because Chicago has so much Polish heritage."
Chicago's Polish population is widely recognized as one of the largest Polish populations outside of Poland.
"Even if people are not specifically Polish, I think a lot of people can relate to the redefinition of culture," Miller said.